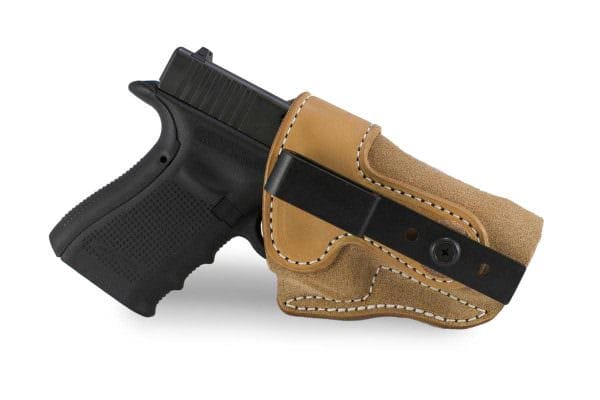 ABILENE, Texas -(Ammoland.com)- JM4 Tactical, leading manufacturer of top-quality magnetic holsters, recently announced the launch of another new product: The Longhorn Tuckable Holster.
This handmade holster is designed for adjustable cant and retention. In addition to their Double Shot Holster, that also requires a belt, the Longhorn Holster is another option for those who prefer the adjustable retention, ride height and tilt angle.
The company, which takes pride in their high-quality Texas-made holsters, continues to extend their product line to offer the highest quality IWB adjustable gun holster on the market.
JM4 Tactical makes holsters the right way, by using the best quality materials for the most durable and comfortable wear. The Longhorn Holster is made with top-quality, Hermann Oak Grade "A" steer hide leather. The leather is veg tanned and reinforced to provide long-lasting and durable quality that you can depend on. The exterior of the holster is designed with rough out leather to provide durable wear, while the inside features smooth veg tanned leather to be the only thing in contact with your gun.
JM4 designed the Holster to feature a pivoting Kydex belt clip. This feature allows you to adjust the cant, retention and the ride height. Also, the clip allows you to wear the holster anywhere on the waistline. The Longhorn can be adjusted for quick access.
Whether you cross carry, appendix, 3, 4, or 5'oclock, or carry on the small of your back, the Longhorn will provide the most comfortable and adjustable wear. Simply adjust the clip to your angle and height preference and tighten the screw to hold in place.
The Longhorn fits most handguns and offers a similar design for revolvers.
Along with their other products, the Longhorn holster is hand-made and hand-stitched by American hands which sets them apart from other holster companies.
JM4 Tactical takes pride in the fact that their holsters are never mass produced to ensure you that you are receiving top-quality products that will change the way you carry.
For more information about JM4 Tactical products, visit their website.
About JM4 Tactical:
JM4 Tactical is owned and operated by Chad and Shawndalyn Myers of Abilene, Texas. Chad has a history in production and is a former United States Marine. Shawndalyn has a background in office management and finance. The growing success of the company is a result of JM4 Tactical focus on product workmanship, quality materials and customer service.
JM4 Tactical prides itself on quality products, excellent customer service and integrity. All JM4 products are proudly made and manufactured in the USA.
For more information, visit their website.