by Kevin Reese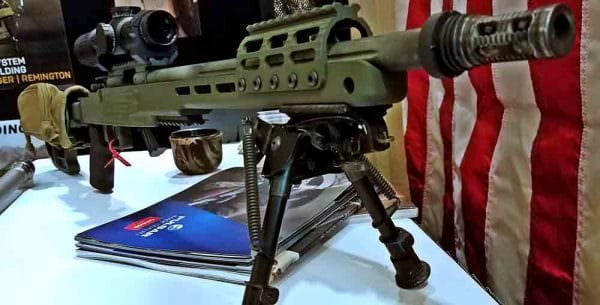 USA –  -(Ammoland.com)- Anyone halfwit with an ounce of observance (more specifically, me!) can recognize large-scale industry trends given the opportunity to browse the NSSF's world-renowned SHOT Show a few years in a row.
For me, the most obvious trend has been towards tactical, and for many of us, TactiCOOL products from firearms and their accessories to backpacks, body armor and even ancillary peripherals such as watches, belts, and pens.
Today, tactical inspired gear, gadgets, and guns are present in every corner of the floor from small booths in the furthest reaches of the "basement" to the LEO areas and even to the supersized exhibitor booths on the main floor.
While tactical has invaded virtually every nook and cranny of show floor, another layer of TactiCOOL has risen to the top. Amidst the sea of semi-automatic modern sporting rifles, including amazing AR-platform offerings, precision bolt-gun stock and chassis kits, as well as full-fledged tactical-style bolt-action production rifles are on the rise. Check out McRees' jaw-dropping yet affordable chassis along with three amazing production rifles sure to scratch your trigger-finger itch.
Beginning with… where it all began, let's talk precision chassis for DIY projects. From what my personal searching suggests, McRees Precision has been both a pioneer and frontrunner in precision manufacturing. Considering machined-aluminum tactical chassis and stocks for rifle builds… or resurrections, began with McRees, and their continued ability to produce some of the world's most precise and accurate build-kits has been proven, not just among recreational and professional shooters and hunters, but on the battlefield in the hands of operators in Iraq, Afghanistan and other places… even used to take out some of those high-value targets.
Scott McRee and company don't just shoot, they shoot A LOT, compete A LOT and win A LOT. Even more than shooting they are always thinking… of ways to build an even better sub-1/2MOA mousetraps regular Joe's might actually be able to afford!
McRees Precision manufacturers G5, G7 and now, lightweight G10 stocks, including a PRS model, designed to fit Remington 700 action and scores of others. Essentially, your barreled action, or action alone, using a Pac-Nor or other favorite barrel, turns your build into the precision rifle of your dreams, perfect for banging steel and rolling coyotes out past 1,000 yards, depending your caliber choice and ballistics. The barrel McRees offers guaranteed ½ MOA or better! As a personal favorite of mine, I currently own a McRees Precision BR10 in .308 Winchester (image above).
As precision tactical chassis relate, mid-writing this short feature, my squirrel mentality broke in and I spent over an hour pouring over Brownells.com, my favorite "candy" store (top-shelf customer service), for a handful of  tools and accessories needed for my next build, another McRees Precision BR10… this time, my own personal build in 6.5 Creedmoor. Additional features of my OD/black cerakote BR10 beauty include a Pac-Nor barrel, Timney Trigger, Atlas Bipod and Sightmark Pinnacle 5-30×50 TMD FFP Riflescope.
I'll have high expectations out to 1,500 yards and beyond having, once again, grouped sub 3-in. at 900 with my McRees BR10 .308 and mass produced 118LR ammo not long ago! More on that build later; however, I'm not alone with the rise in interests related to precision rifle build projects. More and more folks are learning they can resurrect those tired, dust-laden bolt-action rifles into their best precision rifles ever!
IWI's DAN .338 Precision Rifle invades the U.S.
I may be unfairly pitting apples to oranges here since the 2017 IWI-US DAN .338 Lapua Precision Rifle ranks at the highest price point of these featured rifle systems, although this feature is simply about showing you buzz-worthy SHOT Show floor finds – nothing to do with competition. That said, the DAN .338 Lapua is truly a premium precision production masterpiece! If you're looking for the best production rifle in the tactical wheelhouse and willing to drop serious hard-earned greenbacks (MSRP $8,999}, the IWI-US DAN .338 Lapua Precision Rifle not only commands respect, it demands (and rightly so) serious consideration!
The DAN .338 Lapua Bolt-Action Rifle boasts a skeletonized folding stock with adjustable comb, heel and length-of-pull; precision-machined quad-rail forend; cold-hammer forged, fluted interchangeable 28-in., 1:10-twist free-floating barrel; ultra-crisp two-stage adjustable trigger, Atlas BT46-LW17 PSR Bipod and a micro-adjustable monopod. The DAN also includes a Dewey cleaning kit, complete with 44-in. single-piece rod, two 10-round magazines and a heavy-duty locking rifle case. At just under $9,000, the IWI-US DAN .338 Lapua Precision Rifle isn't for everybody… but ANYBODY with a stash of cash to burn should seriously consider this amazing rifle system.
Maybe wishful thinking here but I would love to watch the sun set on some exotic firing line with this black beauty!
Bergara B-14 BMP: Lock, Stock and Badass Barrel
Bergara, a shooting industry name synonymous with one of the most respected barrel manufacturers on the planet, didn't stop with precision-machined barrels; the company also builds the kind of truly amazing, scary accurate rifles serious shooters want. Unfortunately, many hardworking shooting and hunting enthusiasts were unable to step into higher-priced Bergara rifles in years past. Now the good news… VERY good news. While Bergara models like the Long Range, LRP Elite, Stalker and Elite remain at price points people have come to expect from Bergara's premium lineup, others like the B-14 BMP ($1,699), HMR ($1,150), Timber ($945), Woodsman ($945) and Hunter ($825) provide perfect opportunities for cost-conscious folks to step into Bergara's world. For me, the B-14 BMP rises above the rest as the perfect storm of the tactical bolt-action setup, precision performance and blue-collared price point of $1,699 that has me itching for some range time – hopefully, I'll get my chance!
Bergara's 2017 B-14 BMP, available in .308 Winchester or 6.5 Creedmoor, boasts, as you would expect, a precision turned 4140 CrMo steel barrel guaranteeing 1-MOA or better, Bergara Performance Trigger and premium action with a single-piece body, cone-shaped bolt-nose ejector, 90° bolt throw, side-mounted bolt stop, hinged floor plate and a detachable magazine. For 2017, the B-14 BMP also features a skeletonized folding stock with adjustable comb height and length-of-pull, slim forend and integrated QD flush-cup mount.
The 6.5 Creedmoor includes a 24-in. barrel and weighs 11 lbs. The .308 employs a 20-in. barrel and weighs 10.15 lbs. Both Bergara barrels come ready to accept your favorite muzzle brake or can with a 5/8-24 threads. If you're after an affordable, precision-machined production rifle, overlooking the Bergara B-14 BMP could lead to a ton of regret, crying binges and a recovery group.
Remington 700 Tactical Chassis Rifle: Credit where it's due!
Absolutely! Since most of today's top precision tactical chassis artisans base their platforms on the proven performance of Remington 700 barreled actions, why not stick with the company offering such reliable, repeatable performance?
Based on a MDT Tac21 platform, the Remington 700 Tactical Chassis features a Magpul Mag 307 PRS Stock with adjustable length-of-pull and comb height; Magpul pistol grip; crisp, externally adjustable X-Mark Pro Trigger System; Model 700 3-Rings-Of-Steel 416 stainless steel barreled action with black cerakote finish; AAC 51-T ratchet-mount muzzle brake. Like other precision rifles in this class, the Remington 700 Tactical Chassis Precision Rifle guarantees 1-MOA or better accuracy.
The Remington 700 Chassis Rifle is available in .300 Win Mag., .308 Win. and .338 Lapua Mag. While the .300 and .308 feature 24-in. barrels, the .338 Lapua Mag. Comes with a 26-in. barrel; all barrels are 1:10 twist and threaded for muzzle brakes and suppressors. While I have not experienced range time with the Remington 700 Chassis Rifle, the system seems reasonably priced at $2,900 considering similar rifle systems ranging from $1500 to more than double the cost of the Model 700 Chassis.
The Final Shot
Let's be honest, since Killary and her cohorts were rocked back on their anti-gun, anti-Second-Amendment haunches and effectively fired, and California has essentially fallen into the toxic legalistic ocean of socialist, rights-infringing legislative Kool-Aid with more vomit-inducing anti-gun laws now in place that, last year, caused a surge in AR-style firearm purchases, AR sales have certainly slowed.
An important note here – I did not say sales are dead. AR's are still ultra popular; however, according to numerous discussions with industry manufacturers and dealers alike, sales have slowed, like it or not.
About Kevin Reese:
Kevin is an award-winning outdoor writer, photographer, videographer, speaker, host of Global Outfitters TV Show's GO Tips and a Marine Corps veteran. He owns and administers www.mainbeammedia.com and Main Beam Blog at blog.mainbeammedia.com. The Main Beam Blog offers great articles, press releases, outdoor industry news and reviews.