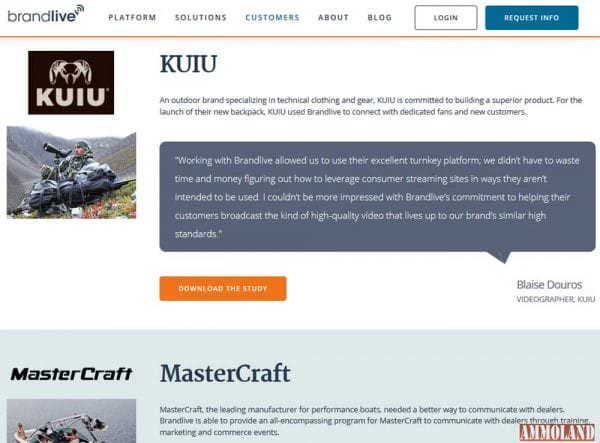 USA – -(Ammoland.com)-  Brandlive announced a major milestone in its history with the public availability of its next-generation Omni-channel Live Video Platform.
Brandlive is introducing customization features that make it easy for brands and retailers to launch, manage and measure live video events across brand-owned sites, mobiles apps and social channels including Twitter, Facebook and YouTube Live.
The new roll-out includes the following features:
Easy Simulcasting to Social Channels: Broadcast directly to Facebook, Twitter and YouTube, and easily share and track events on any platform
New "At-a-Glance" Dashboard: Companies can now get a comprehensive view of their live video initiatives including: registration info; live and on-demand viewing data viewer retention and product marketing and sales activity, as well as easily access more specific details on any events that are either coming up or being viewed on-demand
Visual Event Set-up: Setting up a new live video event is now a breeze with a visual page builder where content, images, theming, settings and registration are all easy to create, preview and publish
Expanded Analytics Understand event effectiveness in attracting, engaging, and retaining viewers with the Activity Overview, including number of registrations, live event pageviews, live event viewing activity, live viewer retention, product activity, and commenting activity
Brandlive's new data collection and display for viewer data is a major shift in how brands can report on the success of their live video efforts for both public and private events. The company will hold a live video unveiling on April 27 at 11am PDT. To see the platform revealed live, register here.
"Live video is no longer a check-box or something to experiment with. It's quickly becoming a vital part of the marketing mix," said Fritz Brumder, CEO and co-founder of Brandlive. "Brands are now recognizing the opportunities that live can bring to training and sales through their owned and operated web properties."
Brandlive's live video platform has powered more than 6,000 enterprise events to date, partnering with leading brands such as adidas, Cabela's, Levi's, The North Face, REI, and many others. Built on the needs and requirements of sophisticated marketers, the platform is helping to shape the way live video efforts are managed and reported for both public and private events.
"Brandlive's turnkey platform got us up and running quickly in the live-streaming space. Our specific eCommerce focus demands flexibility to support both episodic and larger seasonal shows, and Brandlive has been a strategic part of our ability to innovate with different formats," said Peter Bavaro, Vice President of Video Advertising and Integration at Triad Retail Media. "To date, our live events have reached new audiences and allowed some of the world's largest brands to demonstrate, discuss and naturally sell products directly on their own sites, and we're excited to adopt new platform features as they become available."
Today's audiences, whether they are employees, partners, or consumers, demand inspiring experiences and real connections with the brands they love and trust. Brandlive has been helping companies build their brands, grow revenue and thrive in the 'authentic' economy since 2010, across a variety of go-to-market initiatives including internal townhalls, partner and sales associate trainings and consumer eCommerce and marketing events.
"With the addition of the Brandlive platform, Cabela's product training has been taken to the next level. We are now able to easily and efficiently collaborate with our vendor partners to provide effective product training to all of our associates in the field. We're extremely excited for our training program to continue to grow with Brandlive. Their new sleek and intuitive admin console is already helping us streamline production and we can't wait to continue using it," said Sean Fehringer, Learning & Development Instructional Designer for Cabela's.

"We've used Brandlive for both internal sales meetings as well as consumer-facing events, and are incredibly happy with both the product and the support that the Brandlive team has provided. We are especially excited about the new features Brandlive is offering and look forward to integrating them into our live video strategy as we expand upon the successes this platform has delivered for us," said Vince Mazzuca, Sr. Marketing Manager for Osprey Packs.
About Brandlive, Inc.
Brandlive provides an omni-channel live video platform for brands and retailers who use it for training, marketing and eCommerce events. The end-to-end live video platform enables brands to connect their best product experts and influencers directly to global digital audiences, who can then interact with those experts. Customers such as GoPro, Levi Strauss & Co., The North Face, REI, eBay, Walmart and Cabela's use Brandlive to launch products, increase eCommerce sales, create innovative live marketing programs and conduct more cost-effective internal events and training. Brandlive is headquartered in Portland, OR and found at http://www.yourbrandlive.com.
Industry clients utilizing the Brandlive platform include:
Feradyne (16 brands)
Vista Outdoors (Federal, Savage, Bushnell, Primos, Blackhawk, etc)
Hunter Safety Systems
Cabela's
Sig Sauer
Beretta
Leupold
Zeiss
Smith & Wesson
Gerber
Sitka
GLOCK, Inc.
Remington Arms Co.
The North Face
REI
Nike