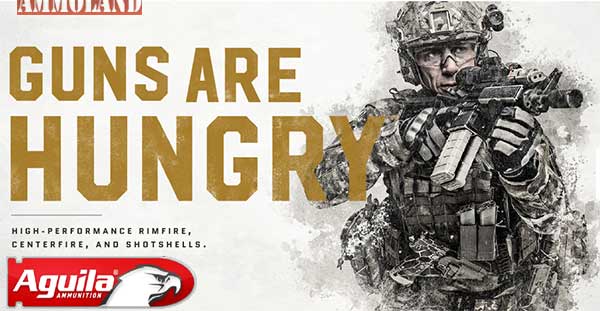 CONROE, Texas -(Ammoland.com)-
Aguila Ammunition and Texas Armament & Technology are pleased to announce they have been selected as a Bronze winner in the 38th Annual Telly Awards for their piece titled "Guns Are Hungry."
The 30-second television spot focuses on what guns crave most – ammunition. It was produced in conjunction with Shine United LLC based in Madison, WI and Rockhouse Motion based in Geneseo, KS. The spot opens with stationary gun range targets and solitary ammunition. The voiceover is slow and deliberate. The pace begins to build with the loading of magazines and firearms.
The spot reaches a silent climax, the calm before the storm, and suddenly a symphony of gunfire erupts. Music, sound design, and quick cuts of firing and recoiling handguns, rifles and shotguns sells the concept of the need to feed your firearm with Aguila Ammunition.
The Telly Awards was founded in 1979 and is the premier award honoring outstanding local, regional, and cable TV commercials and programs, the finest video and film productions, and online commercials, video and films. Winners represent the best work of the most respected advertising agencies, production companies, television stations, cable operators, and corporate video departments in the world.
A prestigious judging panel of over 500 accomplished industry professionals, each a past winner of a Silver Telly and a member of The Silver Telly Council, judged the competition, upholding the historical standard of excellence that Telly represents.
"The Telly Awards has a mission to honor the very best in film and video," said Linda Day, Executive Director of the Telly Awards. "Aguila Ammunition's accomplishment illustrates their creativity, skill, and dedication to their craft and serves as a testament to great film and video production."
"With over 13,000 entries from all 50 states and numerous countries, this is truly an honor," said Kristi Drawe, Director of Marketing for Aguila Ammunition/TxAT. "We are very proud of the bold marketing campaign we've produced for Aguila over the past 18 months. It's rewarding to see our work being recognized at the national and international level."
About Aguila Ammunition:
Aguila Ammunition, founded in 1961, is manufactured in Cuernavaca, Morelos, Mexico by Industrias Tecnos, S.A. de C.V. As one of the largest rimfire manufacturers in the world, Aguila utilizes cutting-edge technology to manufacture quality rimfire, centerfire and shotshell ammunition. Aguila offers a complete range of products for the self-defense, sport shooting, hunting, law enforcement and military markets. Texas Armament & Technology is the exclusive North American distributor for Aguila Ammunition.
About Texas Armament & Technology:
Texas Armament & Technology (TxAT) is a veteran-owned business, and is the exclusive distributor of Aguila Ammunition in the U.S. and Canadian markets. TxAT's mission is to provide technical support and assist in selecting the best ammunition, equipment, and training for customer requirements – ranging from weapons to counterterrorism and national security. TxAT also provides training, consulting services and technical support for clients in the aerospace and defense industries.
For more information on Aguila Ammunition, visit the company website.