Reverend Norris lays out his picks for the best gun magazine loader, with some curated video demonstration and review.
USA –  -(Ammoland.com)- Let me confess that I've never thought much about ammunition magazine loaders or speed-loaders. Just like I put my pants on, one leg at a time, I load my cartridges like everyone else, one at a time.
Glock and some other manufactures include a mag loader with their handguns, but I never used them. I do own a Maglula UpLULA, but honestly, due to habit, it just lives in my range bag and gets rarely used.
However, recently during a Fighting Pistol class in Camden, TN, I found myself wanting more time for conversation and paying attention during the line changes devoted to reloading. Several of my fellow classmates were effectively using their mag loaders and completing their refills much more efficiently than me. So I fished around in my range bag and found my UpLULA. It's quite handy actually.
It is hard to break old habits, but this is clearly a more effective process.
So as a recent convert to the value of mag loaders, let me direct you to a few options worth your consideration. I have limited experience with a few of these, but I'm intrigued by them all. I plan to put them to use and take time to discover my preferences.
Here are my pick of the best ammunition magazine gun magazine loaders that deserve your attention:
MagLULa UpLULA Magloader
StripLULA Rifle Magazine Loader
Mag Pump AR-15 Elite Magazine Loader
Caldwell AR Mag Charger
The UpLULA features robust construction and efficient design. It's made to use with virtually all 9mm- .45ACP single and double-stack magazines. Most .380 and 1911 mags will work, too. I own the UpLULA in black, but if I had it to do over, I think I'd buy one of the fancy bright colors for the contrast in my range bag and for easy finding when dropped. You don't want to lose this handy little contraption.
The StripLULA can't be found dancing at local clubs. She's a lady, thank you very much! The StripLULA is also made of military grade polymer and can be used to load stripper clips or (better yet) to load your AR mags ten rounds at a time. The StripLULA is also offered in a magazine loaders configuration made to use with Mini-14 mags.
Gun Magazine BenchLoaders?

If ten rounds at a time magazine loaders aren't enough for your intended task, the BenchLoaders maybe the ticket for you. The Benchloaders are intended for ranges and other hard use applications. The end user is likely someone who will be loading and Unloading hundreds of magazines. With this loader, you can load thirty rounds of 5.56/ .223 at a time in one stroke. This product is offered in configurations designed for AR15, HKG36, IWI Galil, or Styer Aug & AR15, so be sure to get the appropriate model for your intended use.
The new-kid-on-the-block is the Mag Pump, the marketing looks promising and the word on the street is favorable.
Mag Pump offers the MP-AR15 Elite, the MP-AR15, and the MAGDUMP. The first two in that list are a bit pricey, but they appear to facilitate rapid loading with a robust mechanical advantage. Mag Pump claims 30 rounds in 30 seconds, and that appears quite feasible. Cutting your loading time in half means more range time, and that's a good thing.
You can dump the ammo into the top funnel, and the device orients each round correctly as it feeds into your magazine with each lever activation. The Elite model magazine loader is CNC machined out of aluminum billet, and all three models hold a lifetime transferable warranty.
Last on our list of magazine loaders is the Caldwell AR Mag Charger. It is one of the most cost-effective options listed, and it's the only option that's designed to work with fifty round boxes directly. Its plastic design isn't as robust as some of the other options, but it's likely sufficient for many range plinking sessions. This probably wouldn't be your go-to option if you are working at a range loading hundreds of mags a day, but it may be a great option for those of you looking to charge a handful of mags and plink away.
Ultimately, the whole mag loader conversation comes down to one simple question, how do you want to spend your time? Loading mags or shooting? That seems like a no-brainer. I will skip the loading grind and go with a magazine loaders. It's your time; enjoy it.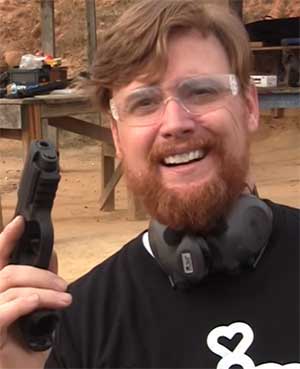 About Brian (Rev) Norris:
Brian (Rev) Norris, in addition to writing and talking guns and gear via video, is a pastor (hence the "Rev") who specializes in mentoring young men in the urban context. If he catches a moment of free time, you'll likely find him enjoying his family or heading to the range on his motorcycle. Brian has enjoyed the shooting sports since his father introduced them to him as a child. He's an outdoorsman who enjoys life to the full.