by Dr. Jim and Mary Clary
NM Rancher, JIm Clary reviews the SIG Sauer P320 ASP Air Pistol. SIG's newest firearms training tool.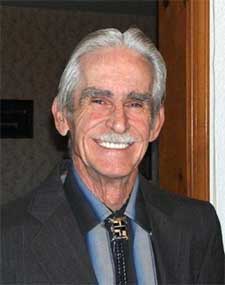 U.S.A. –-(Ammoland.com)- Over the past 10 years, more and more companies are manufacturing air pistols designed to look like some sort of real gun. And, they have been very successful, as long as you don't look too closely or ask them: "Which real gun do they mimic"? They usually reply that their air pistols are just stylized versions of real firearms. In other words, they are not intended to mimic or copy any particular real pistol.
The SIG Sauer ASP air pistols (and air rifles) are not designed as toys (although they are a lot of fun to shoot). SIG spent considerable time and resources (in house – not licensed) in the development of a P320 Advanced Sport Pellet (ASP) "clone" that would mimic the handling and function of the SIG P320 firearm. Their purpose was to produce an inexpensive replica that could be used by military and police units for training, avoiding the expense of high-value training weapons as well as costly ammunition.
With the development of the P320 ASP air pistol, SIG designed and produced a superb training tool for law enforcement as well as a very fine air gun for the civilian market. It will be especially useful now that the military has selected the SIG P320 as their standard service pistol replacing the M9.
Design characteristics of the P320 ASP Air Pistol:
This is a classic double-action only pistol. As with all double action triggers, it has a heavy pull (~6 lbs 5 oz).
The 3-dot sights make it easy to acquire the target for accurate placement of the pellets.
The magazine release functions much like the P320 centerfire pistol. Since there is no spent cartridge to "throw out", there is no slide stop/release, but that in no way detracts from this gun.
The magazine is unique in the market. The belt holds 30 pellets. Just make sure that you insert the magazine properly…. SIG etched the back of the magazine to make sure that we do it correctly.
To load the magazine, open the "loading gate" and hold the magazine at the top and rotate the belt on the right side DOWN as you load each pellet.
Note, the belt is not made to be completely removed from the magazine. The picture on the right, illustrates how it can be partially removed for cleaning out debris. If you try to push the belt up, it will likely jam up… no damage will occur, but it makes it difficult to load the belt. Once inserted, the magazine feeds flawlessly and ejects quickly for reloading.
To load the 12gram CO2 cartridges, simply "pop" off the back panel of the grip, drop in the cartridge and tighten the screw to activate the cartridge and put the panel back on.
This pistol is not made for hunting. It is a training, plinking and fun gun, so do not be concerned that the velocity is only rated "up to 450 fps". In fact, it is unlikely that you will achieve that given the effect of altitude and temperature on the pressure in the cartridge. At our altitude of 5,232 feet in New Mexico, we averaged 400-450 fps, depending on the temperature. However, the lower velocity does not affect the accuracy.
Sig Sauer P320 Air Pistol ASP Specifications:
Calibers: 0.177 (4.5 mm pellets or BBs)
Velocity: 450 fps (our tests registered 400 – 450 fps)
12 gram CO2 cartridge in grip
Semi-automatic
Magazine capacity: 30 belt-fed
Manual safety
Overall Length: 8 in.
Overall Height: 5.5 in.
Overall Width: 1.25 in. grip / 1.0 slide
Barrel Length: 4.7 in. rifled
Weight: 28.5 oz. (P320 – 29.4 oz)
Blowback action metal slide
Polymer frame
Fire Mode: Semi-automatic
Trigger Pull: 6 lbs 5 oz., lighter than the P320 firearm (7lb 1 oz)
Sights: Fixed white 3-Dot blade (2-dots on rear and 1-dot on front)
Picatinny Accessory Rail
Available in Black or Coyote Tan
MSRP: $119.99 ( less $$ online )
The Sig Sauer P320 Air Pistol is a very well-made air pistol. It is one of the best air pistol buys on the market today. If you get one, you won't regret it. And, if you are looking for a good source to purchase these, Airgun Depot.com is always well stocked.
About Jim and Mary Clary:
Jim and Mary Clary have co-authored over three hundred and fifty articles, (and counting) on shooting and hunting. You can read many of them on AmmoLand News.