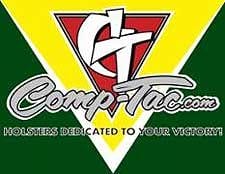 HOUSTON, Texas -(Ammoland.com)- Comp-Tac's latest innovation is moving to a new 12,000 square foot facility.
The new digs offer better production flow for more production, and a bunch of support operation improvements such as better offices, more efficient research and development, improved design capabilities and pre-production planning, sales, warehousing, and space for the future.
The improved production capability is the direct application of Comp-Tac's philosophy of using innovation and efficiency to improve production flow from concept to customer.
"We really are proud of this new facility," says Comp-Tac general manager Gordon Carrell. "Its size will allow us to expand as the need arises to produce more models of holsters and support equipment. The improved layout and production flow will enable even quicker customer response, all geared towards our continuing goal of providing the best product on the market with incredible customer service and satisfaction."
Comp-Tac even has a new showroom for folks to drop in and check out the latest gun gear and for customers in the Houston area to pick up items directly.
The new building is located at 3003 Farrell Road, Houston, Texas 77073, and the Comp-Tac folks would enjoy meeting you if you are in the Houston area and can come by.
About Comp-Tac Victory Gear, LLC:
Comp-Tac Victory Gear, LLC combines experience in personal protection and the tactical applications combined with the love of pistol shooting competitions into every product they develop. Comp-Tac strives to deliver high value, quality solutions and improvements at the best price. With satisfaction a top priority, we ensure speed, quality and superior customer service to support your desire to take responsibility for personal safety, security and recreational firearm use.