Mike Searson, sets out n horseback to review the performance of the new SOG Scout 24 Backpack. Giddy up.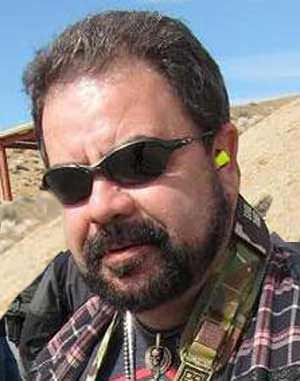 USA –  -(Ammoland.com)- Last year when we attended a Trails Found tracking course, we got the chance to put some gear through its paces.
From rifles and pistols to knives, flash lights, outdoor clothing and in this case a new day pack by SOG.
That's right. The same SOG of SOG Knives fame is making numerous types of tactical gear from multi-tools and flashlights to back packs. They do not appear to be a rebrand of another company's gear, either.
When we loaded out for this training course and received a SOG Scout 24 day pack, we were a little underwhelmed at first. What could a company known for the past 40 years of making knives possibly know about building a backpack?
It turned out to be quite a lot.
We used it to haul all our gear out to the field during the week long course and have been using it as our "go to" bag ever since.
SOG Scout 24 Backpack : The Good
The SOG Scout 24 Backpack has a main compartment that makes use of every available cubic inch by means of multiple interior pockets, a padded laptop sleeve, room for a hydration bladder and multiple MOLLE attachment points.
You can remove the laptop sleeve in order to create more space should you not be toting a laptop on your hike.
A Quad-Zip makes accessing the interior main compartment easy and allows you to grab stuff on the bottom without unpacking everything in order to get to it. This was probably our favorite feature of this pack.
We comfortably positioned 2 handguns and a silencer in the accessory pouch.
Side compression straps allow the storage of bulky or heavier items (fishing rods, ski poles, walking sticks, axe handles, etc. See Video Below) as do the exterior MOLLE attachments and a long carry wire. The MOLLE points are laser cut and we use ours a lot.
The top molded panel gives quick access to smaller items and is a great idea for storing fragile gear such as smart phones, cameras, camera lenses, reading glasses, sunglasses, etc.
Padded shoulder straps, coupled with its rigid suspension and padded hip belt make it comfortable to carry heavy loads for extended periods of time by displacing the weight from your shoulders. We have used this on foot and on horseback for hikes and rides from a few miles to 15 miles.
The pack is a neutral gray color which we really liked as it did not call attention to ourselves and seems to blend in everywhere. There is an external Velcro panel for your moto patches in case you want to make it "stand out" in the crowd. Lastly, the hip belt incorporates a survival whistle, in case you need it.
SOG Scout 24 Backpack : The Bad
If there were a downside to the SOG Scout 24 Backpack it might be a lack of external pockets or pouches. This can be addressed with the addition of MOLLE pouches and accessories so maybe it's more of a "nice to have" as opposed to a "need to have".
The only other is somewhat minor and it may have just been in my head from using the pack on horseback. You need to remove the pack from your back in order to access it. On the ground this is not a huge concern, we found it a bit of an issue while riding, so be aware of that if you use one of these as a "saddle bag" strapped to your back.
Maybe most packs are built like this, although we do have a few with external pockets closer to the body and we may be spoiled by that feature.
A side "grab handle" might make for a nice addition to supplement the one on top.
SOG Scout 24 Backpack : The Reality
SOG's Scout 24 is a well-made and highly utilitarian day pack. It weighs less than 3 ounces and is surprisingly strong. We have a large assortment of day packs that we have accumulated over the years (Oakley, Camelback, Vertx, Kifaru, Ebrelestock, 5.11) and consistently find ourselves going back to this one. It simply meets the bulk of our needs in a day pack, overnight bag, laptop bag, etc.
Originally we were a skeptic, thinking it to be another piece of branded gear from a knife company but have since discovered on our own that SOG put a lot of thought into this design and it shows. If you need something of a different size, SOG has five other new backpacks of similar construction: the Ranger 12, Evac Sling 18, TOC 20, Prophet 33 and the Seraphim 35. The size of the SOG Scout 24 Backpack falls in between the TOC 20 and the Prophet 33.
About Mike Searson
Mike Searson's career as a shooter began as a Marine Rifleman at age 17. He has worked in the firearms industry his entire adult life as a Gunsmith, Ballistician, Consultant, Salesman, Author and was first certified to teach firearms safety in 1989.
Mike has written over 2000 articles for a number of magazines, websites and newsletters including Blade, RECOIL, OFF-GRID, Tactical Officer, SWAT, Tactical World, Gun Digest, Examiner.com and the US Concealed Carry Association as well as AmmoLand Shooting Sports News.
Home page: www.mikesearson.com
FB: www.facebook.com/mike.searson
TWITTER: www.twitter.com/mikesearson