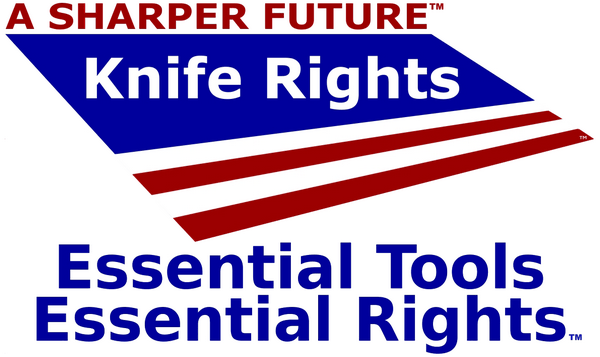 Gilbert, Arizona –-(Ammoland.com)- Texas HB 1935 was passed overwhelmingly by the legislature and signed into law by Governor Greg Abbott on June 16. The new law takes effect on September. 1, 2017. HB 1935 eliminated daggers, dirks, stilettos, poniards, swords, spears and most notably, Bowie knives, completely from Texas statute, effectively allowing them to be carried anywhere in the state. This ends more than 140 years of insult to the memory of Colonel James "Jim" Bowie, co-commander of the Alamo garrison and hero of the Texas Revolution.
In commemoration of this historic enactment, a Texas Bowie Knife Liberty Celebration will be held at The Alamo on Saturday, September 2, 2017, sponsored by Knife Rights with the cooperation of The Alamo. An awards presentation will include specially engraved Bowie knives for the bill sponsors and those who helped shepherd the bill through the legislature. The presentation will include brief remarks by The Alamo's historian, Dr. Bruce Winderson, on the history of Bowie knife and the historical significance of this occasion.
The public is invited to attend and it is BYOB: Bring Your Own Bowie. For the first time in over 140 years ordinary Texas citizens will be able to proudly carry a Bowie in public. A large assembly of Bowie knife enthusiasts, collectors and freedom loving Texans are expected.
On this Saturday only a very special showing of historical Bowie knives in The Alamo's collection will be accompanied by authoritative presentations about the history of the Bowie knife and Col. Bowie by The Alamo staff and docents. Members of the Texas Knifemakers' Guild will also be displaying their custom Bowie knives.
This Knife Rights BYOB event coincides with The Alamo's monthly "First Saturday at The Alamo" event where the grounds of The Alamo are transformed back in time to the 1830s. Learn about life in frontier Texas with a living history experience that includes special demonstrations and crafts. Between the two events, this is a not-to-be-missed experience that the whole family will enjoy.
The brief celebration will begin at 10:00 AM. Knife Rights Chairman Doug Ritter said, "We look forward to seeing all our Texas friends and supporters at this historic event with their Bowie knife on their belt."
Ritter continued, "we are proud to have been able to help make Texas a whole lot more "Texas" than it has been for knife owners with repeal of the state's switchblade ban in 2013, enactment of knife law preemption in 2015 and the repeal of the "Illegal knives" statute in 2017. We will continue to work in Texas until law-abiding knife owners here are free to carry whatever knives they want."

Admission: FREE to the public
Date: Saturday, September 2, 2017
Time: 10:00 AM
Where: The plaza in front of the Alamo Church, 300 Alamo Plaza, San Antonio, TX 78205
For full details on the new Texas law and the limited places where you cannot carry "location restricted" knives with blades over 5.5 inches, please see: https://kniferights.org/hb-1935-bottom-line/
About Knife Rights
Knife Rights (www.KnifeRights.org) is America's grassroots knife owners organization, forging a Sharper Future™ for all Americans. Knife Rights is dedicated to providing knife owners an effective voice to influence public policy. In the past eight years, Knife Rights has helped pass legislation repealing knife bans in 20 states. In Texas this has included repeal of the state's Switchblade Ban in 2013, passage of Knife Law Preemption in 2015 and Repeal of the "Illegal Knives" statute in 2017. Knife Rights also leads a federal civil rights lawsuit against New York City and the New York District Attorney over the unconstitutional arrest and prosecution of over 70,000 knife owners for carrying common folding knives.