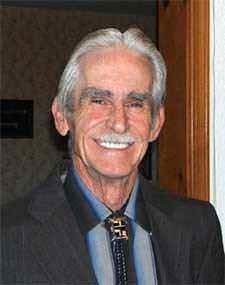 USA -(Ammoland.com)- Mary and I had hunted with percussion Hawkens in 1986. Although we didn't see any deer, we had fun in camp shooting them to determine who was the better shot. Hint: It wasn't me!
We didn't hunt with muzzleloaders again until 2014 when we started hunting with the CVA modern centerline rifles. While visiting her dentist in 2015, Mary met the daughter of a man who made customized muzzleloaders the old fashioned way. He started from scratch. No kits and no precut stocks.
That man's name was Don Fritz, a long-time muzzleloader shooter and craftsman of many talents. Don had been quietly making his rifles, both flint and percussion, for several years. Because it takes almost a year to complete a single gun, from start to finish, he had no need to advertise, as there was always someone ready to lay claim to one of his finished rifles.
We rang him up on a Saturday afternoon in 2016 and asked if we could visit him and see some of his rifles. He was very humble and wondered why we wanted to see him, as he just made "old time rifles". Yeah… Right!
When we entered his shop it was like stepping back in time, hand tools scattered on a wooden workbench, wood for stocks stacked neatly in one corner and a wall full of antlers. When he opened his safe and began to extract some of his personal rifles it was like being in a museum of black powder guns.
Some were early renditions of his craft, while others represented the latest refinements of his skill…. but, all were true to past designs of rifles from the 1800s and were magnificent.
My bride carefully picked up each rifle and held them for balance and fit …. after each, she smiled and remarked "Can we take them all?" Don smiled and remarked that they were his personal guns and not for sale; however, he would build a special one for Mary, IF she wanted one.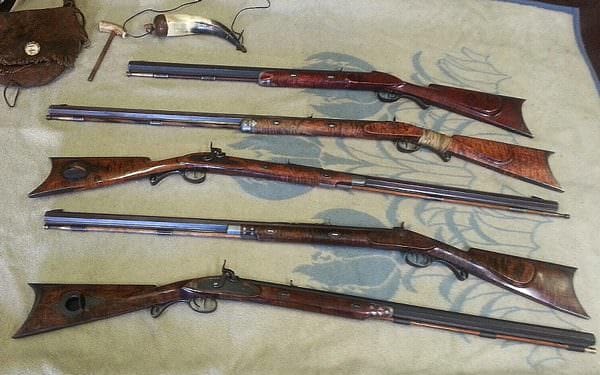 If she wanted one…. now that is an understatement. Mary said that she would be pleased to have one of his guns, but that the .50 calibers were a bit cumbersome and muzzle-heavy for her. Don suggested that she might like a .45 caliber rifle, rather than a .50 caliber.
His reasoning was that it would be lighter and faster handling; lighter to carry due to Mary's back issues, yet more than adequate for the deer and feral hogs that we normally hunt. After agreeing to the caliber, it was time to pick out the wood for the stock.
Don had several pieces of walnut, maple, birch and one very unusual piece of New Zealand Blackwood stacked up in the corner of his shop. The Blackwood caught Jim's eye and he asked Don what it was like. He smiled and told him that bought that piece at an estate sale. It was the only piece he had seen in his years of making guns and it was a one-of-a-kind.
Its beautiful figures, resembling Tiger Eye gemstone were truly unique. I asked Don if he would make Mary's rifle with that piece of Blackwood. Don agreed and was clearly pleased that someone recognized the beauty of his NZ Blackwood blank.
Before going any further, a little information on NZ Blackwood is in order. The Janka hardness rating of NZ Blackwood is 1160. Comparing it to American Walnut (1010), American Cherry (950), Red maple (950) you can see why it was an excellent choice for a gunstock.
And, if that doesn't convince you, the Janka hardness for Cocobolo is 1136 and teak is 1000. Blackwood is definitely one tough piece of wood, about as tough as you can get for a rifle stock. The only drawback is that it was going to be really difficult to work with because of that hardness… but Don was happy that someone wanted the Blackwood that he had been holding on to for so many years.
Don told us that he would call every month so that we could come over and view the progress on the gun. He did just that and I must let everyone know, until you have watched a gun being made from start to finish, with all of the steps along the way, you don't have a full appreciation of what goes into the final result.
The pictures that we have included about this rifle illustrate the beauty and precision fit of wood to metal in this gun. However, there are a lot of hidden quality features that do not show.
The rail is hard soldered to the barrel, no screws. The thimbles on the rail are also hard soldered, no screws (which are common on kit guns). There is absolutely NO daylight between the ramrod and the rail… NONE. We have no idea as to how he accomplishes that feat, but he does.
The trigger guard and Bridger Hawken-style butt plate are investment cast from brass and the fit is absolutely flawless. The escutcheons are polished brass with iron screws. There were no brass screws in the 1800s. Most kit guns and a lot of replica reproductions use brass screws for appearance, but their use is not true to history. And, the slots on all of the screws are aligned with the horizontal axis of the gun.
The rear sight is iron, but the front sight is polished brass. Their fit is so precise and smooth that folks at the range have asked how it was done. We couldn't answer… like the fit of the ramrod, it is one of Don's secrets.
The wedges fit tightly in the escutcheons, providing a secure union of the barrel to the stock. The escutcheons are inlaid so precisely that you can drag a fingernail over them and not "hang up" where the wood and brass meet.
The nose cap on the forend is hand cast pewter designed by Don and integral with his daisy inlays. How he accomplishes that is a story all by itself.
The stock is fitted with a barrel from the Oregon Mountain Barrel Company with a 1×24 twist. It will shoot saboted bullets as well as conicals.
Hand cast pewter forend cap with inlaid "daisies"
If you are getting the idea that this gun was really made the old-fashioned way, you are correct. The only power tools that Don uses in forming the stock is a band saw to cut out the shape and a router for the barrel channel. From that point on, he uses only rasps, files, chisels and sandpaper to get the final shape…. and we won't even venture a guess as to how he gets the inletting of the barrel so precise.
After the stock is shaped and smoothed to his specifications, he applies more than 30 coats of Birchwood Casey Tru-Oil by hand to fill all of the pores. The result is a sheen and finish that will endure the test of time and stand up to just about anything that Mother Nature can throw at it.
As a final touch, Don engraved the barrel with Mary's name and the year it was completed (2017) and he named the gun, "Daisy May" after the pewter flower inlays around the nose cap. We got a real bargain at $3,500.
In Mary's words: "Not only was this gun custom made the old fashioned way, but it was made especially for me. The front sight is a whale, the daisies are inlaid with perfection and the stock is hand rubbed over and over. Don puts himself into each of his creations with skill, art and love. He is a true artisan and craftsman"
Daisy May Specs:
Length of Barrel: 33 inches
Length of Pull: 13″
Overall Length: 49″
Trigger: Set Trigger – 8 ounces
Weight: 6.5 pounds
If you are interested in getting an authentic muzzleloader that is true to history which will become a family heirloom (as well as a shooter), you can contact Don Fritz at: [email protected]
However, be patient and be prepared to wait a year for your gun… it will be worth the wait. And NO, Daisy May is not for sale…. not at any price.