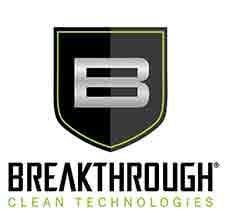 USA -(Ammoland.com)- Breakthrough Clean Technologies, makers of the finest gun cleaning solvent, lubricant and gun maintenance products is proud to announce the release of their new Battle Ropes.
The new Breakthrough Clean Battle Ropes are available in a wide variety of caliber widths, to cover all of your firearm cleaning needs.
Designed to better clean the bore of your firearm, the Battle Rope's integrated bronze brush and detachable hard bristle nylon brush provide twice the cleaning action.
The threaded brass link allows for quick detachment of the hard bristle nylon brush for ease of cleaning the rope and its weighted brass end makes it easy to guide the rope through the barrel.
Thicker than other leading brands, the Battle Rope fills the bore completely for a superior clean and its caliber tag makes it easy to always identify the rope you are using.
Battle Rope Calibers:
.22 / .223 Cal (Pistol/ Rifle)
.243 Cal (Rifle)
.270 Cal (Rifle)
.35 / .38 Cal / 9mm (Pistol)
.30 Cal (Rifle)
.40 Cal (Pistol)
.44 / .45 Cal (Pistol)
12 Gauge (Shotgun)
20 Gauge (Shotgun)
MSRP starts at $15.95
Learn more about Breakthrough visit their website.
About Breakthrough Clean Technologies:
Breakthrough Clean Technologies is a subsidiary of the AvioTrade Group of companies, which specializes in the distribution of chemicals within the aerospace industry. AvioTrade has been in business over 12 years servicing major airlines, MRO's and repair stations worldwide. Being gun enthusiasts, the owners of AvioTrade realized a growing need for having a more effective user-safe and eco-friendly cleaning solvent for the performance, protection, and maintenance of firearms. Utilizing their combined 50+years of aerospace chemical experience, access to the best solvent technology, and manufacturing resources specializing in environmental technology,AvioTrade Group brought Breakthrough Military-Grade Firearm Cleaning Solvent to consumers. In 2014 Breakthrough released Battle Born Grease and Battle Born Oil, upholding the same standards of purity as found in Breakthrough. Breakthrough Clean advocates using state of the art research, processes, and the best chemists to provide the most effective and truly eco-friendly products to consumers around the world.