By John Crump
U.S.A. –-(Ammoland.com)- It takes a good guy with a gun to stop a bad guy with a gun, and that is what happened at the First Baptist Church in the small town Sutherland Springs, TX. The madman had a history of mental illness, as well as having been discharged from the United States Air Force for bad conduct for abusing his wife and child.
According to The Daily Mail, Devin Patrick Kelley was leaving the First Baptist Church after murdering 26 church parishioners of his former in-law's congregations in cold blood when he was spotted leaving the scene by Stephen Willeford. It was Willeford's daughter who called him to let him know a man in body armor and a skull mask was attacking a local church.
Willeford, a 55-year-old plumber with no formal training, grabbed his AR-15 and headed down to the Church. As Kelley was trying to flee the scene of his attack, Willeford engaged the suspect wounding him by placing a shot from his rifle between the body armor that was worn by Kelley.
Kelley, who Texas denied a gun permit, then dropped his Ruger AR556 when hit and tried to flee the scene in his vehicle. Instead of just letting him escape, Willeford jumped in the truck of Johnnie Langendorff, 27, who was heading to his girlfriend's house when he noticed the firefight. 'The neighbor with the rifle came to my truck, and he opened my door and said, "He shot up the church," and got in, Langendorff told Good Morning America. 'He said, "Chase him" so that's what I did. I just chased him.'
It turns out Willeford was not the only ones heading to the church to confront Kelley. Other residents were responding to the church with their firearms, but Willeford and Langendorff were the only ones there when Kelley was trying to flee the scene of the attack.
As Kelley, who worked as security guard for a Texas waterpark, fled in his SUV, Langendorff and Willeford pursued him reaching speeds of 95 miles an hour north down the FM 539. They went and out of traffic with the goal of stopping Kelley before he could do any more evil.
Kelley started swerving in his truck and began to lose control. The two were able to take advantage of this loss of control and was able to run Kelley off the road and disable his vehicle. ""He started kind of veering all over the place. He took out one road sign, and from there he hit the guardrail and then hit the bar ditch." Langendorff told Good Morning America.
Willeford jumped out and drew his AR-15 on Kelley. With no escape possible and being pinned down by Langendorff and Willeford Kelley took his pistol and killed himself by a self-inflicted gun wound to the head. According to reports, Kelley was already bleeding out.
Sheriff Joe Tackitt believes Willeford is a hero. He told CNN, "Had he not done what he did, we could have lost more people. There were other weapons in the vehicle. Even though he dropped the one, there's another church about a mile down the road; he could've stopped there. Who knows."

President Donald Trump also agrees with Sheriff Joe Tackitt. The President said in a press conference, "Fortunately somebody else had a gun that was shooting in the opposite direction. Otherwise, it wouldn't have been as bad as it was, it would have been much worse."
What is impressive is how calm these two citizen heroes were. "It was an act now, ask questions later kind of deal," Langendorff told Good Morning America. Without these two we are not sure if the mass murderer would continue his spree at another location.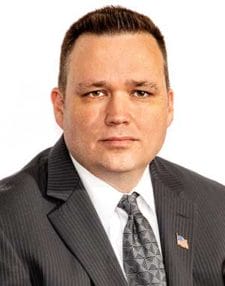 About John Crump
John is a NRA instructor and a constitutional activist. He is the former CEO of Veritas Firearms, LLC and is the co-host of The Patriot News Podcast which can be found at www.blogtalkradio.com/patriotnews. John has written extensively on the patriot movement including 3%'ers, Oath Keepers, and Militias. In addition to the Patriot movement, John has written about firearms, interviewed people of all walks of life, and on the Constitution. John lives in Northern Virginia with his wife and sons and is currently working on a book on the history of the patriot movement and can be followed on Twitter at @crumpyss or at www.crumpy.com.