U.S.A. –-(Ammoland.com)- Looking for a great gift for the outdoor man or women on your holiday shopping list who has just about everything? Look no further than Browning for a variety of great products they are sure to love. Known for an outstanding line of rifles, pistols and shotguns, Browning also produces a wide range of other products any outdoors enthusiast would love to see under the tree on Christmas morning.
Browning makes it easy to pick the perfect knife. From basic every day carry pocket knives to high-grade collector's models, Browning has a wide selection to choose from.
The Buckmark Hunter knife has a mirror polished 3-1/8" long, 8cr14MoV stainless steel blade with anti-skid grooves on the blade spine. The knife features full-length tang construction for superior strength. The handle is two-tone hardwood with brass accents and a finger groove cutout for full control during cutting chores. The knife also comes with a top grain leather belt sheath stamped with the Buckmark logo. The new Buckmark Hunter knife sells for a suggested retail price of $34.99.
The Speed Load Ceramic knife has a 3" long, folding liner-lock blade with replaceable ceramic blade inserts. Drop point, Guthook and Caper blade inserts are included with the knife. The handle of the Speed Load Ceramic is injection-molded polymer with rubber grip inserts. A steel pocket clip, thumb stud and rugged nylon belt sheath with polymer hard case insert for storing extra blades are included. Overall length is 7". Suggested Retail, $39.99.
Offered in limited quantities, the Visual Effects Mammoth line of knives have the quality, beauty and uniqueness collectors dream of. Woolly Mammoths once thrived across the globe, living in Africa, Europe, Asia and North America. These mighty beasts became extinct near the end of the last Ice Age. In rare examples the animal's tusks, teeth and bones were covered by sediments, protecting them from decay. Over millennia, dissolved minerals replaced these animal tissues to become the fossils from which the unique handles of Browning Visual Effects Mammoth knives have been crafted. These magnificent knives are made in Italy, with the handles made in the USA.
Browning is offering three models of the Visual Effects Mammoth knives. All three have the same design with the only difference being the handle color; Mammoth Tooth Tan, Mammoth Tooth Blue and Mammoth Tusk. Suggested Retail, $499.99.
In addition to knives, Browning has a wide variety of flashlight offerings that are sure to brighten spirits on Christmas morning. Among them are the popular new line of rechargeable models.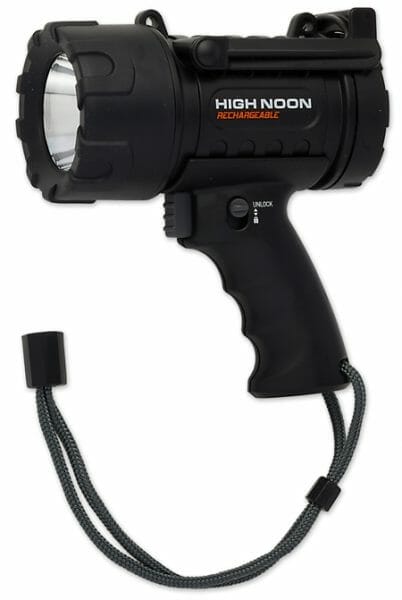 The new High Noon USB Rechargeable Spotlight with Power Bank features brightness levels from 50 to 915 Lumens with an effective distance of 125 to 550 yards depending on model. The Power Bank function can be used to recharge smart phones and other USB electronic devices. The spotlight weighs a mere 14.5 oz. and sells for a suggested retail price of $109.99.
The Crossfire 1AA USB Rechargeable Flashlight features brightness from 102 to 300 lumens and an effective distance of 85 to 150 yards depending on the battery used. The light uses either one 14500 3.7V 800mAh lithium ion rechargeable battery or one AA alkaline battery (both are included). At only 5-3/8" long, the lightweight compact design gives incredible output. The Crossfire sells for a suggested retail of $54.99.
The new Epic 1AA USB Rechargeable Headlamp features brightness levels from 100 to 260 lumens and an effective distance of 75 to 115 yards depending on battery used. It uses the same lithium-ion rechargeable battery as the Crossfire flashlight or one AA alkaline battery (both are included). The rugged Vista camo polymer body is tough and water-resistant and a mere 3-1/2" in length. Suggested retail for the Epic Headlamp is $64.99.
Three other models round out the new rechargeable flashlight line from Browning. They include the 4 to 35 lumen Flash Keychain Light at a suggested retail of $19.99; the 20 to 160 lumen Microblast Pen Light for $44.99; and the 11 to 21 lumen Night Seeker Cap Light for $21.99.
It has been said the outdoorsman or woman can never have too many knives, flashlights or guns and Browning has the perfect Christmas gift for them all this year.
To see the full line of knives, flashlights and other gear from Browning, go shopping at www.browning.com.