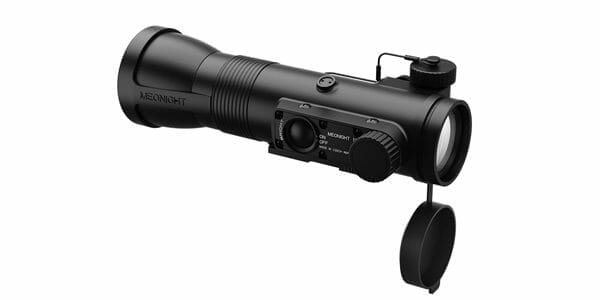 TAMPA, Fla. -(Ammoland.com)- Meopta's new MeoNight 1.1 night vision device can be used as a night vision monocular for stand-alone viewing or used with a riflescope to adapt it for nighttime use.
The MeoNight 1.1 features premium quality optics, 1x magnification and is also available with an optional 3x magnifying module booster.
The MeoNight is capable of target detection out to 600 meters and automatically shuts off if unused for one hour. This night vision device also features an external brightness control for easy adjustment of image intensity.
When used with a traditional daytime riflescope, the MeoNight is placed in front of the riflescope using Meopta's quick-release NAR (MIL-STD 1913) mount or it can be mounted directly onto the objective of the riflescope with Meopta's custom adapter for 42mm, 50mm or 56mm objective lenses.
The MeoNight comes with a remote-control cable that can be attached to the stock of the rifle allowing the user to adjust image brightness without moving the finger from the trigger.
The MeoNight is waterproof, shock resistant and fog proof. Accessories include the battery, Allen keys, protector, sleeve, eyepiece eyecup, remote control, an additional Picatinny rail, bag and grip/hand strap.
$4,499.99
| Magnification | 1x |
| --- | --- |
| Field of view | 12,2° |
| IIT | 64 (IIT XD-4 / Eg. Gen. III) / 72(IIT XR-5 / Eg. Gen. IV)? |
| Weight / Dimensions | 650 g / 207 x 63 x 84 mm |
| Working temperatures | -40°C / 55°C |
| Power | 3V (CR 123) |
Optional Accessories
Quick Release NAR (Mil-STD 1913) Mount
3x Booster
Adapter 62 for 56mm riflescope objectives
Adapter 57 for 50mm riflescope objectives
Adapter 49.5 for 42mm riflescope objectives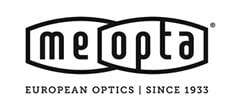 About Meopta:
Meopta is an international company with a long rich tradition of developing, manufacturing and assembling world-class optical, optomechanical and optoelectronic products.
Meopta's state of the art design, engineering, manufacturing and assembly capabilities enable it to provide the highest quality products and services to the industrial, military and consumer markets.
We offer our customers complex solutions to meet their requirements.
We are a company with a broad global reach, Meopta operates state of the art facilities in both the United States and the Czech Republic. This unique presence allows Meopta to respond to the needs of its customers quickly and effectively.
Boasting one the best trained and most highly skilled workforces in the industry, Meopta develops and manufactures the most technologically advanced, high-performance products and sub-assemblies in the world.
From precision medical and scientific instruments to digital cinematic projectors, aerospace technologies, military weapon systems and consumer sports optics, Meopta's unparalleled experience allows it to design, engineer and manufacture a diverse array of high-quality products across a broad spectrum of markets and industries, making it a global leader in the optical field.
The Meopta Group is a U.S. family-owned, multinational company with facilities in the United States and Europe. Founded in 1933 in Czechoslovakia (now the Czech Republic), Meopta is a leading manufacturing partner to many of the world's finest optical brands. Meopta conceives, develops and manufactures precision optical and electro/optical systems for semiconductor, medical, aerospace and military industries as well as for consumer markets.
For more information regarding Meopta, please visit their website.