In my last two articles I detailed the impressive design advances made in not only the .300 Blackout cartridge, but the weapons designed around it. The .300 Blackout is, in my educated opinion, destined to be a cartridge that will settle in as a commercial and defense mainstay, a regular modern classic. The cartridge is not only a jack-of-all-trades, it is a master of all instead of none. Unlike other popular rounds, the .300 Blackout is also an exceptionally easy cartridge to handload for, which is what we will cover here.
As is standard practice, this is the official warning to not mess around with reloading cartridges unless you know what you're doing. I'm a professional that writes about these things for a national audience and even I make sure to take proper safety precautions. As you can guess, severe bodily injury and death can occur if you are not careful. Now, let's get to it.
U.S.A. –-(Ammoland.com)- The .300 Blackout is something of a reloader's dream cartridge. Most people that own weapons in this caliber are using semiautomatic rifles, but there are a fair number of individuals that have bolt actions and even single-shot guns. For this article I will be looking at reloading for use in a semiautomatic rifle and the things that are necessary for this cartridge to perform reliably in a standard direct-gas AR.
I have been reloading ammo for more than half my life. It has always been something that relaxed me and allowed me to exercise a bit of creativity in my hobbies. The .300 Blackout has seen something of an interesting road as far as reloading is concerned. The early days of the cartridge saw most factory ammo being loaded with off-the-shelf powders and bullets. There were no specialty options and the average shooter had to make due with 147gr pulled military bullets and whatever magnum pistol or shotgun powders they had around. I remember those days fondly and I recall scratching my head at my very first AR pistol in the caliber. I was loading 168gr bullets in cut-down NATO brass at barely 1,500fps from an 8" barrel! I eventually parted ways from the cartridge for a while and when I came back to it, there had been an explosion of available options.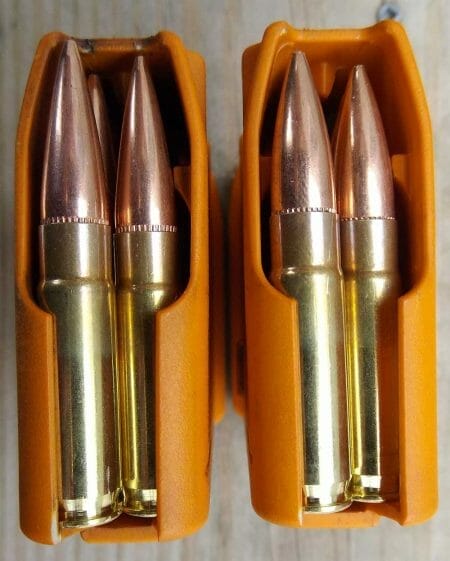 The first real point of advancement was the shape of the bullets for this cartridge. As I mentioned, many of the early loads were made with existing .308 bullets. This lead to some problems as the shape of the ogives and bearing surfaces created geometry issues with feeding in AR mags. Today there are dedicated magazines, like those from Magpul, that address these minor variations. You can certainly load .300 BLK into 5.56mm mags, but some bullet shapes make it hard. This was remedied by the development of bullets that had a far 'sharper' shape to stretch them to the full length of the magazine instead of sitting with too much room back-to-front. You can clearly see this in the image to the right. The SIG 125gr supersonic ammo spans the length of the follower, while the other, Sig's 220gr Subsonic does not. The overall length of this cartridge is often determined by bullet shape, not throat depth like in other rifles.
The issue with .300 BLK has always been that of bullet-to-powder capacity. The cases have relatively little volume in them and have a maximum capacity of only around 20-21 grains of powder. This means that there will always be a give-and-take with bullet weight in relation to velocity. Most .300 Blackout from the factory has settled on the popular 125gr weight. This shouldn't come as a surprise, as one of the most prolific fighting rounds in the world, the 7.62x39mm, has a similar weight and overall cartridge size. The shape and internal capacity of the 7.62x39mm is generally much greater than .300 BLK, which gives it a slight edge in speed, however it lacks by comparison due to the fact that most .300 BLK bullets have a more aerodynamic profile.
The comparison to 7.62x39mm is valid, even from a reloader's perspective. The .300 BLK is a powerful cartridge when loaded to near maximum. I think that the neat little round at near-max powder charge is when you see true performance. Using 125gr bullets and 16" barrels to be as direct as possible, the .300BLK can, using a full third less powder than 7.62×39, match velocity. A quick look most reloading manuals will show that 7.62x39mm uses about 30 grains of rifle powder to manage 2,300fps, which is actually a bit faster than many military loads. The .300 BLK uses 20 grains of shotgun powder to match this speed, thus making it far more cost-effective for nearly identical performance.
When you start looking at reloading manuals for .300 BLK, you will notice that the bullet speed for a given weight is startlingly higher than most factory ammo. I would say that most factory ammo for this caliber is significantly underpowered. The .300 Blackout might not have much case capacity, but it can certainly be pushed pretty hard without missing a beat. The thing you don't want to do is start trying to make it into a .308 Win, which it is not. I've done a great deal of shooting with .308 Win and there isn't much of a comparison, even if some writers and bloggers try to make it seem that way. The .308 Win is far, far more powerful and can easily push 125gr bullets far beyond 3,000fps. In fact, a .308 with 200-210gr bullets is hardly breaking a sweat at 2,400fps, which is faster than .300 Blackout can manage with compressed loads and lightweight bullets.
An interesting area of crossover is the new alloy bullets like those from Lehigh Defense. I did play around with handloading some for this article series and, I'm sad to say, that I couldn't duplicate the results I got from the Lehigh factory loads. I ended up trying the 78gr CQB bullet with three powders supplied by Graf and Sons, H110, Lil'Gun, and CFE BLK. I don't know what the secret sauce is that Lehigh uses, but the fastest I was able to get this bullet going was about 150fps slower than the 2,800fps+ I was getting out of the factory loads. I did a bit of testing and ended up at maximum case capacity for each powder. I was unable to get any sort of satisfactory result with CFE BLK, but I ended up at 21 grs of Lil'Gun and 20gr of H110 for 2,620 and 2,667fps respectively. The factory loads were tested right alongside them and easily broke 2,800fps+. The factory Lehigh rounds are amazing and truly give the .300 BLK a long-range, low recoil solution. It isn't going to be a .308 Win, but it will allow your gun to go from subsonic fun to serious varmint slaying with only a magazine change.
The limitations of the .300 BLK are, again, primarily based on capacity and bullet weight. I experimented with several types of bullets and powders and found that, for your dollar-to-power, the 125gr bullet is probably the best option. Due to the simple restraints involved with powder capacity, a 115gr bullet, like the Fort Scott Munitions copper solid, can end up using the same powder charge as a 125gr bullet at only a slight gain in velocity. The Hornady 125gr bullet and the Fort Scott 115gr both ended up at a high end of 21gr of Lil'Gun for a difference in speed of only 50fps measured over my Oehler 35P chronograph.
The extra ten grains of bullet weight makes a difference in terminal effect, wind deflection, and trajectory. I'd happily take a 125gr bullet over a 110-115gr any day because it gives you the most weight for the most speed with the same powder as the other options. Recoil is identical, so why not take advantage of the edge in power? I loaded Hornady's 125gr HP Traditional bullet for this article and it is a perfect match for .300 BLK.
As far as brass is concerned, a mandatory tool for brass prep is Little Crow Gunwork's WFT series of case trimmers. I previously used this item in for 5.56mm, and I am such a believer in it that it has replaced all my trimmers for .308, 6.5mm, and others. The tools are so easy to use that it is a wonder that I have loaded for the last 15 years without one. This trimmer uses full-sized brass and indexes off the shoulder of the case. All you have to do is chuck the trimmer in a hand drill and go to town. I trimmed 500+ pieces of brass in one sitting using the WFT and got right into making loads for this article.
The brass I used was a mixed bag, much like what you will end up having in your range pack after an afternoon of shooting. I had brass from SIG, Hornady, HSM, and many, many others. Graf's, as I mentioned, provided me with three powders to test with this cartridge and I set about making loads.
The limited case capacity made it so that my testing went pretty quickly. I only had about 2-3 grains to play with and it became obvious to me that I wanted to hit the high end of the spectrum to achieve the best performance. I came to understand that the .300 Blackout will fire and do well in the middle to low area of capacity, but it is being robbed of what it could be. My best loads as far as speed and accuracy are listed below. Each load features a 125gr Hornady HP Traditional bullet, mixed brass, and a CCI Small Rifle Magnum primer. There wasn't much room to play with overall length, so I loaded each round to the cannelure and lightly crimped them with a Lee die. Loaded overlength for these cartridges was 2.115".
H110 was loaded at 18grs, which is a half grain below listed max, and achieved a velocity of 2,210fps with no significant pressure signs. This was an accurate load, but I felt like I could do a bit better in velocity. I was surprised to find that the loads I made with CFE BLK were not only slow by comparison, but not very accurate in my gun. I loaded up to max with this new powder at a compressed charge of 20gr and couldn't seem to break 2,000fps. I took a moment to test out a load using the 115gr Fort Scott bullet and was also less than impressed with it at 2058fps average. The real contender emerged with Lil'Gun.
Lil'Gun is one hell of a powder for this cartridge. A reduced charge of 16gr easily exceeded CFE BLK's max charge and averaged 2032fps. I knew things were going right from there and loaded up at 19, 20, and a compressed charge of 21gr. This powder is somewhat risky in a sense. There were no pressure signs at 16 and 19gr, but at 20 and 21gr the signs became apparent, but are actually listed as safe.
I ended up getting a good velocity at 19gr, 2290fps, but had slight primer flattening. At 20gr, I had 2330fps and obvious primer flattening. I made some compressed loads at 21gr and felt the true power behind this cartridge. Not only was there a noticeable increase in blast with a one grain increase, but I had flat, cratered primers and heavy extractor marks. I did, however, manage to break 2400fps with a 125gr bullet in this cartridge. It is a listed load, but I decided that it wasn't worth the wear-and-tear on my AR and opted to back off to 19gr at 2290fps.
I zeroed my AR, the Bakelite rifle from articles one and two in this series, at a range of 100 yards to have the impact about 3" high of the front sight on my fantastic ScalarWorks OPS sights, a hold I typically use for CMP competition. I backed off using the 19gr Lil'Gun loads out to a range of 300 yards and found that they were exceptionally accurate, averaging 2" at 100 yards and 7" at 300. I had to hold at the head of an IDPA target to hit it in the chest due to the approximately 20" of drop at that range. Hits were easy and the gun ran with no issues.
If you are planning on loading for .300 Blackout, you are going to want to have lots of good supplies on hand. I would take a long look at what is available at Graf's and other fine retailers to find what you need to get started. The .300 BLK is easy to load for and is very forgiving. It makes for a wonderful hunting cartridge inside of 200 yards and is able to be loaded with any available .308" diameter bullets. In my experience, I would try to go more wild than mild in your powder charges to take advantage of the cartridge and the power it has to offer. This cartridge is capable of being loaded for anything from defense, range plinking, black bears, and suppressed for backyard pests.
To conclude this series I want to state that we are living in a golden age of the AR and the .300 Blackout gives every shooter a true all-around solution to nearly every question that can be asked of a rifle. We are seeing a cartridge that is shaping the American shooting landscape in the design of both weapons and ammunition. The .300 Blackout isn't a fad and it will only continue to gain popularity as more and more shooters recognize the benefits. It may be a small cartridge compared to others, but it was and will continue to be the next big thing.
Special thanks to the following great companies:
Little Crow Gunworks
Graf and Sons
Brownells
V7 Weapons
Faxon Firearms
LAW Tactical
SilencerCo
Hornady
Sig Sauer
Magpul
ScalarWorks
Lehigh Defense
HSM
Armscor
Black Hills
Fort Scott Munitions
---
About Josh Wayner: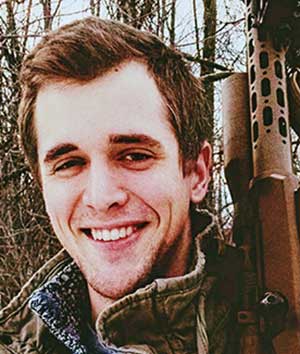 Josh Wayner has been writing in the gun industry for five years. He is an active competition shooter with 14 medals from Camp Perry. In addition to firearms-related work, Josh enjoys working with animals and researching conservation projects in his home state of Michigan.