U.S.A. –-(Ammoland.com)- Recently we had a chance to lay hands on the Wilson Combat EDC-9, a 1911 chambered in 9mm. This pistol is one of a series of four handguns put out by Wilson that incorporates the company's "Enhanced Reliability System" (ERS).
This means you get a match grade 4" stainless steel cone-type barrel, with no barrel bushing. Some shooters will like it, some shooters will hate it. This barrel is fluted and has a flush cut reverse crown and an externally fluted chamber. The single lug design enhances slide velocity, reduces cycling friction and improves reliability with regard to feeding different types of ammunition.
The EDC-9 has a frame rail capable of mounting a light or laser and utilizes a spring-loaded external extractor. Yeah we know what you are thinking and we used to hate on them, too. However, they have come a long way over the past 30 years or so. If you hate, the external extractor, you will hate the next part even more.
The guide-rod is a full-length type.
It gets worse for the haters, though: The front of the slide is checkered.
If you are still reading by this point, you are obviously over your prejudice to changes or just want to make your blood pressure go up.
The front sight is a rugged, user replaceable fiber optic type, which we have finally conceded is superior to Tritium sights in that they are usable during the day and glow bright at night time when used in conjunction with either a handheld or mounted high-intensity flashlight. The rear sight is adjustable and before another purist has a stroke, realize that adjustable sights on 1911 pistols are far more robust than they were in the 1940s and 50s when the only alternatives were a Micro Sight or a S&W N-Frame revolver sight mounted on your 1911.
Wilson did really surprise us with another feat of engineering by removing the frame rails around the magazine opening to help reduce friction and promote function in adverse shooting environments.
The magazine well, beavertail grip safety, hammer, ambidextrous thumb safety and magazine release are all from Wilson's impeccable (and aptly named) Bullet Proof line. They are machined from tool steel and guaranteed to last forever. The G10 Starburst grips will also outlive your grandchildren.
One aspect of this pistol really impressed us beyond the build characteristics and quality. It was the notorious "weak link" in most 9mm 1911 pistols: The magazines.
Wilson Combat was at the forefront of magazine improvement for the 45 ACP magazine used in 1911s and were the only ones the author uses. So, when the single stack 9mm 1911 magazine was shown to be a point of failure on 1911s chambered in this round, Bill Wilson and his team designed a new one from the ground up.
Improving the design of the magazine shell was the first step, followed by re-designing the follower to prevent tip-down mis-feeds and a new type of music wire springs to keep it all running was a feat that could only be accomplished by a shop with over 30 years dedicated to the 1911 platform. We realize this is an expensive pistol and not everyone can afford one (including the author!), but if you carry or even just shoot a 1911 chambered in 9mm, please check out these magazines and part with the extra coin for at least a pair of them.
Wilson Combat EDC-9 | At the Range
Wilson is famous for their accuracy guarantee on their pistols and that does not just mean "if the shooter does their part". Their 1911's flat-out work accurately and reliably.
We found the mid-length trigger to break consistently at 3 ½ pounds. Recoil was virtually non-existent and the only drawback to shooting 9mm out of a 1911 was not seeing those big 0.455" diameter holes open up on our target at 25 yards.
However, the ragged 9 shot strings of 0.355″ holes let us know we were working it properly every time we dropped a magazine.
We typically give a break-down of every fault or flaw we find with a firearm in our reviews and in this case we literally found none, beyond someone wanting to poke holes in all of the improvements incorporated by Wilson into this 106 year-old platform.
Maybe the only other drawback is going the custom route for a holster.
It is a very expensive handgun, coming in close to $4000, by the time you factor in shipping, tax, illegal fees and the like. We briefly considered selling off one of our H&K P7M8s to pick one up, but it's hard to make that kind of choice with another stellar shooter.
If you have the means, this pistol gets our highest recommendation as a solid, accurate shooter built on the 1911 platform.
Wilson Combat EDC-9 | Spec Sheet
Caliber: 9mm
Magazine Capacity: 9 rounds
Barrel Length: 4"
Overall Length: 7.6"
Sight Radius: 5.6"
Height: 5.1"
Width: 1.3"
Weight Empty: 38 oz
Weight Loaded: 42 oz
Accuracy Guarantee: 1.5" at 25 yds
MSRP: $3695.00
---
About Mike Searson: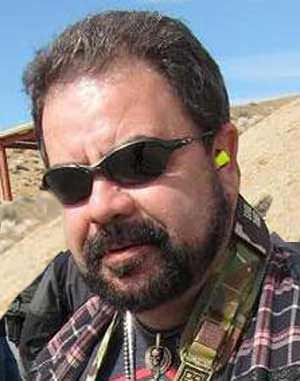 Mike Searson's career as a shooter began as a Marine Rifleman at age 17. He has worked in the firearms industry his entire adult life as a Gunsmith, Ballistician, Consultant, Salesman, Author and was first certified to teach firearms safety in 1989.
Mike has written over 2000 articles for a number of magazines, websites and newsletters including Blade, RECOIL, OFF-GRID, Tactical Officer, SWAT, Tactical World, Gun Digest, Examiner.com and the US Concealed Carry Association as well as AmmoLand Shooting Sports News.