HOUSTON, Texas -(Ammoland.com)- Comp-Tac Victory Gear famed for fast-draw hybrid Kydex holsters introduces its new CoolShooter vest to its competition line for IDPA competition in particular.
IDPA rules require that the pistol be completely covered/concealed by clothing before the draw. For speed, most competitors use a vest and simply sweep it out of the way for the draw. However, there are vests and there are fast vests.
The IDPA-compliant Comp-Tac CoolShooter mesh back vest is relatively low-cost gear that is specifically designed and manufactured to be easily and quickly swept back for the draw and then will quickly return out of the way while the competitor is firing.
"The summer heat can bear down on competitors when prizes, prestige, and bragging rights are on the line. Doing better than the next shooter by 1/100 of a second may matter; heat may not be a shooter's friend." said Randi Rogers, Comp-Tac's sales and marketing manager and world champion shooter.
The solution is Comp-Tac's Coolshooter vest. The body of the vest is constructed of 10-ounce-weight thick cotton duck cloth for clean sweep stability when swept away for the draw. The back of the vest features a heavy duty 11 x 13 inch polyester mesh which will efficiently vent out body heat and a cool shooter is a better shooter.
This or the original full back vests are available in four regular sizes and four tall sizes, for a total of eight choices with five standard colors to choose from.
Each vest has two large, handy Velcro-closed pockets and two smaller upper pockets. Custom embroidery may be ordered for an additional charge that varies depending on design and size.
Specifications
Sizes: M, L, XL, 2XL with Tall and Regular lengths for each size*
Material: 10-oz heavy duck cloth cotton/polyester mesh back panel
Colors: khaki, grey, blue, red, green, other colors on special request
Embroidery:Optional variable extra charge (depending on design, etc).
MSRP: $140
*Customers may order a Tall cut (20 inches between shoulder and waist) or Regular cut (17 inches). Be sure to order a size that allows you to meet the key IDPA concealed carry requirement: Any concealment clothing must completely cover/conceal the holster all the way to or past the muzzle end of the holster or handgun barrel (whichever is longer).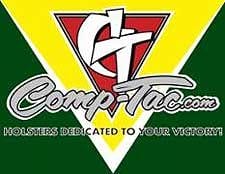 About Comp-Tac Victory Gear, LLC:
Comp-Tac Victory Gear, LLC combines experience in personal protection and tactical applications combined with the love of pistol shooting competitions into every product they develop. Comp-Tac strives to deliver high value, quality solutions and improvements at the best price. With satisfaction a top priority, we ensure speed, quality and superior customer service to support your desire to take responsibility for personal safety, security and recreational firearm use.
For more information, visit their website.