GREELEY, Colo. -(Ammoland.com)- Steiner introduces the new, multi-functional Dual Beam Aiming Laser (DBAL) from eOptics – DBAL-A4 with the latest advances in infrared (IR) and laser technology for extreme accuracy in low- and no-light environments.
The DBAL-A4 provides unmatched versatility and superior operational longevity for military, law enforcement and self-defense users.
Featuring a visible green light, eye-safe IR laser and IR Illuminator, the DBAL-A4 adds a bright, white light with high and low modes.
The DBAL-A4 comes standard with fully adjustable windage and elevation controls, high and low power modes, remote cable port, and a low battery indicator light and will be available to civilians.
| Height: | 2.1 in. |
| --- | --- |
| Width: | 3.2 in. |
| Length: | 4.4 in. |
| MSRP: | $1,849.99 – $1,924.99 |
The DBAL- A4 gives shooters the advantage of consistently staying on target, even without a cheek weld, and the adjustable IR illuminator provides greater sight pictures at varying target distances.
The bright light brings added safety and the convenience of having an all-in-one laser light combination for low-light maneuvers.
The DBAL-A4 comes with a quick-release, self-adjusting HT Mount attachable to any picatinny rail and has dual activation via an integrated push-button switch or remote cable-pressure pad. Users can switch between momentary activation or five minute continuous on.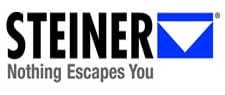 About Steiner:
For 70 years, Steiner has made trusted optics for life's defining moments. The successful pursuit and capture of these moments demands the fast and precise detection, location and identification of a distant objective. Whether the objective is wildlife, a marine bearing, law enforcement suspect or military combatant, Steiner products enhance an individual's most important sense, vision, so that on land or sea –– Nothing Escapes You.
For more information, visit their website.