Terril reviews the power of . 30 Carbine with a fun ballistic gel test.
USA – -(Ammoland.com)- To give credit where it is due, video games got me interested in firearms. During the early 2000s, World War II first-person shooter games were all the rage and I soon had a list of guns I would like to shoot one day.
American guns, however, were not really on the list. Time marched on, and I have gotten plenty of trigger time behind quite a few of those video-game featured firearms. The lone American gun that finally joined their ranks was one ironically never covered in those early games—the M1 Carbine.
The M1 Carbine was an admission of reality when it came into adoption in 1942. War was changing, and those in non-combatant roles just might have to fight, be it truck drivers, radio operators, etc. These troops had important things to do besides lug around a heavy battle rifle all the time, but they needed something that could punch harder and reach further than a pistol.

The M1 Carbine is a handy weapon that weighs in at just over five pounds, and it fired an intermediate powered round, the 30 Carbine ammunition. The M1 carbine was produced by the millions and served in some capacity until the Vietnam War in the 1970s. Some praised its light weight, ease of use, and healthy magazine capacity. Others hated it for its perceived lack of stopping power. In any case, the M1 rifle remains an American classic with elderly examples still in circulation. New models are still being produced today by several manufacturers. However, the 30 Carbine's sedate ballistics remain the subject of debate.
In my mind, I wanted to see the results for myself to satisfy my own curiosity. What better excuse than to drag out some 10% ordinance gel to find out?
My Gear
The M1 Carbine is still quite popular today, and my warrant for such a claim lay not only in the numbers still produced but the increased variety of ammunition available, including defensive hollow-points. I selected Hornady's Critical Defense 110 grain FTX to test against the most common 30 Carbine round you are apt to find, 110-grain full-metal-jacket—my brand of choice coming from Privi Partizan.
My ballistics gelatin comes from Clear Ballistics with my batch being calibrated to 10 % FBI specs, according to the MFG. This simulates human tissue.
The 30 Carbine is available in a few handguns today, as well as some rifles, but the M1 is by far the most common and the specimen I brought along was the excellent new-manufactured M1 from Fulton Armory.
30 Carbine at the Chronograph
Ammunition power varies greatly but it can be measured reasonably well using a chronograph. I fired both the Hornady FTX and the Privi FMJ over my chronograph stationed ten feet downrange in my non-scientific ballistic gel test.
| Brand | Projectile | 3-Shot Average | 5-Shot Average |
| --- | --- | --- | --- |
| Hornady | 110 grain FTX | 1895 feet per sec. | 1844 feet per sec. |
| Privi Partizan | 110 grain FMJ | 1941 feet per sec. | 1978 feet per sec. |
I fired the FTX into an eighteen-inch block backed by one nine-inch block shielded by four layers of denim. Upon close inspection, I couldn't find the projectile, but noted massive damage just inside the entrance wound measuring 1 ¼ inch in diameter before the track settles down at the nine-inch mark. Bits of the polymer tip were embedded in the second block and the projectile was found on the ground. It had enough energy to get through one block, but not into the second. Total penetration—18 inches on the nose. The projectile was mushroomed handsomely with its original .308-inch diameter now expanding to .525.
The FMJ was next with three new nine-inch blocks fronted by our denim mask, but due to my angle of fire, my first round was not a square hit, nor was the second. Both of those rounds angled low, hitting and exiting through my table. I adjusted my aim, and the third shot was accurate. None of those projectiles were captured. The final shot was a complete pass through of a combined twenty-seven inches of gel. The wound track in each exhibited a random, cloud-like formation of upsets around what was a straight and narrow wound with my third round having a distinctive upset from the twelve to the eighteen-inch mark. That upset measured two inches in diameter, but the other two rounds did not exhibit this at that same point in the block.
In Summary
It was fun to see a good Hornady hollow-point and a full metal jacket perform as advertised. But is there anything to gain from this little fun "experiment"?
The Hornady ammunition performed impressively, punching well above its bore size, but not over penetrating. The typical range of acceptance varies from twelve to eighteen inches with fourteen to sixteen inches being the sweet spot. But that protocol involves handgun cartridges fired from handguns. The FTX performs like any mid-range pistol hollow-point with the added velocity afforded by the carbine allowing it to do slightly more damage. The full metal jacket penetrated far more than I expected with the added velocity allowing for somewhat more upset than what one might see out of a full metal jacket loading out of a pistol.
While devastating by handgun standards and certainly acceptable for personal defense, Winchester could have designed a more powerful round to realize the M1 Carbine's full potential. However, ballistics tell only part of the story. The M1 carbine was meant to be better than a pistol. It held more rounds and is far easier to shoot accurately and at further distances than a handgun. In that sense, the M1 accomplished its mission and can still get the job done today.
---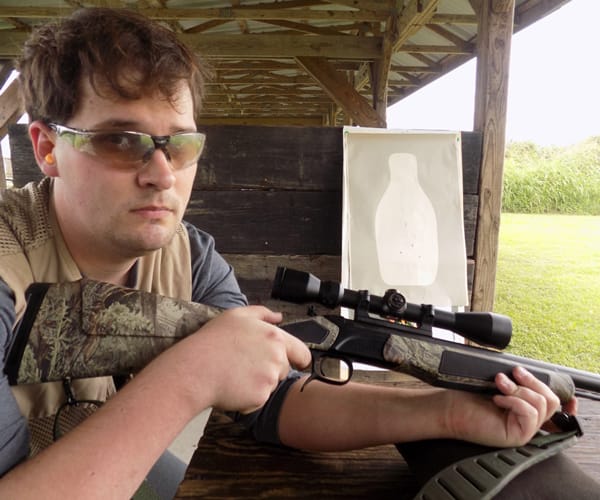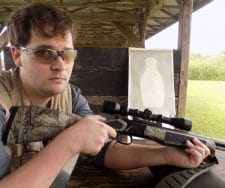 About Terril Hebert:
Terril Hebert is a firearm writer native to south Louisiana. Under his motto-Guns, Never Politics-he tackles firearm and reloading topics both in print and on his Mark3smle YouTube channel, where he got his start. Terril has a soft spot for ballistics testing, pocket pistols, and French rifles. When he is not burning ammo, he is indulging his unhealthy wildlife photography obsession or working on his latest novel. Scourge of God, published in 2017. See more from Terril on youtube under Mark3smle.