U.S.A. -(Ammoland.com)- "Celebrities Praise Students' Walkout for Gun Control: 'This Is Only the Beginning,'" AWR Hawkins of Breitbart notes in a Wednesday report. In true Opposite Day "progressive" fashion, the most privileged and rewarded lottery winners of the "One Percent" are feigning solidarity with ordinary people as they lend their famous names and faces to ensuring an unchallengeable monopoly of violence for those who would rule.
Prominent among them is Luke Skywalker himself, Mark Hamill, who achieved "stardom" pretending to lead a band of armed rebel freedom fighters against tyranny —  in exactly the way the Founders envisioned a well regulated militia would be necessary to the security of a free state. Note the padawans weren't staging any walkouts to demand "commonsense lightsaber safety laws," and in any case, their function was to learn from their "masters," not presume to teach those whose knowledge and capabilities they weren't even qualified to imagine, let alone challenge.
Unlike his movie counterpart Hamill's chosen the Dark Side. And as for the Constitution? Like his movie father, he's "altering the deal."
"Proud of all of you! Never give up! You are THE change!" Miley Cyrus twerked… uh … tweeted. "So amazing to see young people take back their power and USE it!"
That would be the same idol of hysterically screaming girls who stumped for would-be Disarmament Queen Hillary Clinton while surrounded by "huge bodyguards … insane amounts of protection, just in case … it was some seriously Secret Service-ish."
Naturally, Rosie O'Donnell couldn't help but seek some kind of attention and relevance. She hasn't changed positions after declaring "that no one can have a gun in the U.S. If you have a gun, you go to jail. Only the police should have guns," all the while defending her own employment of armed bodyguards.
Predictably, Debra Messing never misses an opportunity to insert herself into a blood dance, either, whether it be by self-serving statements or with an actual "selfie." Hey, no press is bad press, especially now that her TV series where she tried to look cool with a handgun has been cancelled.
Katy Perry blasted "Congress' failure to act." Perhaps she's recalling what her failed marriage and its ceremony in India taught her, that it's easier for bodyguards to beat the hell out of people who are disarmed by law.
Whoopi Goldberg also supported the walkout for "young lives," evidently unconcerned about the multiple young lives she aborted ("six or seven by age 25"), which may explain why she ended up taking a gig to do commercials for "incontinence products." What it doesn't explain is why it's OK for her to have a gun.
Samantha Bee presents a special kind of hypocrisy, demanding U.S. laws be changed to be more like those of her native Canada.
"Bee became a US citizen in 2014, while retaining her Canadian citizenship," her Wikipedia entry reads, not explaining why that's even allowed considering the State Department maintains "Dual nationals owe allegiance to both the United States and the foreign country."
Why is it in our interests and how does that "secure the Blessings of Liberty to ourselves and our Posterity" to admit — as voting citizens — people who, contrary to what the State Department claims, take an oath to "absolutely and entirely renounce and abjure all allegiance and fidelity to any foreign prince, potentate, state, or sovereignty, of whom or which I have heretofore been a subject or citizen; that I will support and defend the Constitution and laws of the United States of America against all enemies, foreign and domestic…" but then expect our laws to  be like those of the place they left?
We could do this all day, asking "stars" like Chris Evans about claims by a former celebrity bodyguard that he bought cocaine for the "Captain America" actor, especially considering the "gun violence" associated with cartels and drug gang turf wars and their deadly toll on the poorest communities in urban America.  But speaking of money (and that's what it's about, isn't it?), let's look at two more "stars" who not only offered vocal support for children "educated" by unionized Democrat teachers rewriting the Bill of Rights, but put their money where their mouths are:
George Clooney and his foreign wife Amal donated $500,000 to the "March for Our Lives." For elites who can afford "to amp up security" at their $15 million mansion and spend $318,000 a year to hire bodyguards for each of their twins, that's chickenfeed.
Matching Clooney's donation was Oprah Winfrey. Her stunning hypocrisy in so many things notwithstanding, she also can afford to stump for citizen disarmament when she travels with a security team ready to "whisk" her out of the way at a second's notice.
Once they're off script, we're basically dealing with people not necessarily more talented than those still waiting tables who never got a break. And they live in a bubble of celebrity privilege that comes with ideological expectations if they want to stay on top. Because they're "world famous," and because so many "fans" can't seem to distinguish between heroic, virtuous and cool scripted characters and the stage props who play them, they're listened to as if they actually possess the qualities they're paid to pretend they have. That's despite so many being totally screwed up in real life, as evidenced by the celebrity tabloids screaming about their latest scandals, addictions and broken relationships. So few of them, it seems, can or will control themselves.
How telling these seem to be the ones bent on controlling the rest of us.
---
About David Codrea: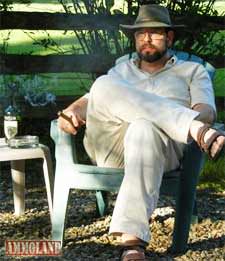 David Codrea is the winner of multiple journalist awards for investigating / defending the RKBA and a long-time gun owner rights advocate who defiantly challenges the folly of citizen disarmament.
In addition to being a field editor/columnist at GUNS Magazine and associate editor for Oath Keepers, he blogs at "The War on Guns: Notes from the Resistance," and posts on Twitter: @dcodrea and Facebook.