Glen comapres some of the newest .450 Bushmaster ammunition.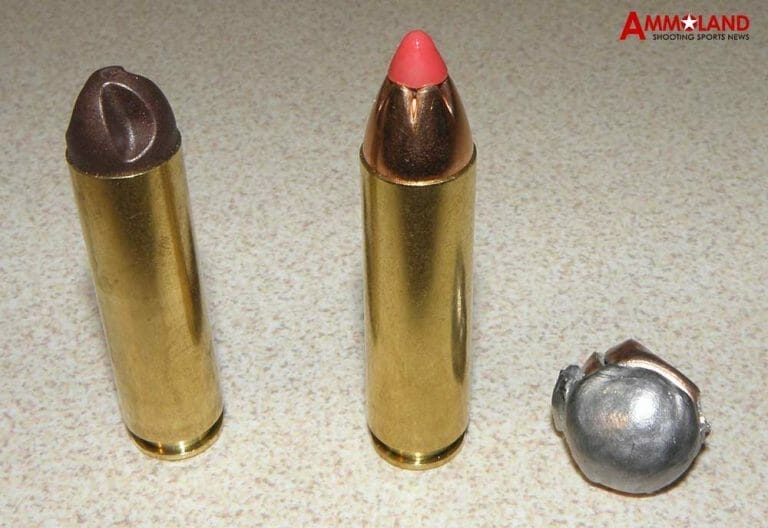 USA – -(Ammoland.com)- "Where the rubber meets the road" are lyrics coined by an old Firestone tire commercial with a simple meaning: For anything with wheels and rubber, handling and control come down to the tires.
Similarly, all the shiny steel and fine optics of a firearm come down to one moment of truth: when the bullet strikes its target. This all-important aspect of hunting – specifically deer for the purposes of this discussion – is often overlooked by some relatively savvy hunters.
.450 Bushmaster
Recently, I took the opportunity to compare results of two completely different styles of ammunition for the enormously popular .450 Bushmaster caliber. As you may know, several Mid-Western states, including Michigan, have adopted hunting regulations allowing the use of size-limited, straight-wall-case cartridges in areas heretofore primarily relegated to shotguns. The .450 Bushmaster is near the maximum allowable length and provides ethical hunters a viable option. Although the caliber got its beginning in AR platform rifles, economical bolt –action rifles are now flying off the shelves in an effort to accommodate the growing demand.
Specifically, the Ruger American Rifle was the first one to hit the market, because of the prompting of Randy Brown of Randy's Hunting Center in Bad Axe, Michigan to produce it for the clamoring whitetail deer hunters. Ruger subsequently cornered the market and Randy became famous for his efforts.
Factory ammunition, however, has been limited in selection with Hornady taking over the lion's share of sales with its Flex Tip, 250-grain offering. This sledge hammer of a round leaves the muzzle at 2200 feet-per-second (fps) developing a whopping 2686 foot-pounds of energy and has become the go-to ammo for sportsmen and women. Personal anecdotal evidence, plus that conveyed to me, bears out the inherent accuracy and effectiveness of the powerful combination of the handy rifle and load.
Always striving for something better, I was interested to learn of a new ammunition offering in .450 Bushmaster produced by ARX with its 158-grain Inceptor bullet at a substantially faster 2620 fps and 2409 ft. lbs. of energy. This non-expanding bullet, comprised of copper particles blended with a polymer, is engineered for maximum hydraulic displacement and terminal energy transfer to targets through fluted bullets with lateral dispersion creating a venturi effect. Initially, this frangible bullet had been developed to disintegrate upon impact with hard targets such as steel to eliminate ricochets in competition shooting, or to avoid over-penetration in self-defense situations with handgun calibers.
My unscientific test to compare the two different styles of ammunition involved the Ruger American rifle and a stack of soaked newsprint catalogs. Fortunately, I was able to locate two shoulder blades found as remnants from a deer that had obviously expired many years ago and placed them in front of the catalog expansion medium. Here's where the "rubber met the road."
At close range the ARX Inceptor bullet struck the bone and proceeded through some 2200 pages of wet pages – one complete catalog plus 10 percent of the next one. The Hornady Flex Tip bullet hit a corresponding bone and traveled through two complete catalogs and well into a third one.
---
If you'd like to see how the test was conducted go online to YouTube and enter .450 Bushmaster Bullet Integrity Test and see for yourself. (Video Below)
---
The experiment concluded with a search for what remained of the two bullets. The recovered Inceptor made a violent entrance and completely disintegrated to its final resting place where only a tiny fragment of the original projectile was found – not even enough to bother weighing! On the other hand, the Hornady Flex Tip was peeled from well over 4,000 layers of paper, weighed 170 grains and had mushroomed to about 50-percent more than its original diameter of .452 inches, although the copper jacket had separated from the lead core.
The conclusion is that velocity and energy are only important if they can deliver a better wound channel and the less-expensive Hornady ammo and its Flex Tip design provide a much more appropriate transfer of said energy for a big-game hunting round.
---
About Glen Wunderlich:
Charter Member Professional Outdoor Media Association (POMA). Outdoor writer and columnist for The Argus-Press (www.argus-press.com) and blog site at www.thinkingafield.org Member National Rifle Association (NRA), Michigan United Conservation Clubs (MUCC), member U.S. Sportsmen's Alliance (USSA), Quality Deer Management Association (QDMA), Commemorative Bucks of Michigan (CBM). Visit : www.thinkingafield.org