Delray Beach, Fla. – -(Ammoland.com)- Century Arms has announced a series of raffles that will be held at their booth, #9257, at the 2018 NRA Show in Dallas, TX on May 4th and May 5th 2018.
Two packages will be raffled off each day away, providing two chances to win each day, along with appearances by Paul Markel from "Student of the Gun", Don Porter from the YouTube channel "Sootch00," and Scott Warren from Warren Tactical.
The public raffles will be held at the Century Arms and Canik booth, #9257, at 4:30 p.m. Eastern Standard Time on Friday (May 4th) and Saturday (May 5th). Century Arms teamed up with WMD Guns and Blackout Custom Cerakote to offer a limited edition AK style rifle and Canik 9mm pistol specially designed for the NRA Show.
The raffles for Friday (May 4th) will be:
Raffle #1 MSRP $1,999.99
C39v2 AK-47 Rose Gold, PVD finished Rifle with High End Walnut Wood Stock plated by WMD Guns
Red Army Standard AK Micro Dot Side Mount

Raffle #2 $749.99
Canik Rose Gold PVD finished TP9SF Elite 9mm Pistol plated by WMD Guns

The raffles for Saturday (May 5th) will be:
Package #1 $1,899.99
C39v2 Zhukov AK-47 Rifle custom cerakoted in a distressed Texas Flag design by Blackout Custom Cerakote
Red Army Standard AK Micro Dot Side Mount

Package #2 $919.99
Canik TP9SFL 9mm Pistol custom cerakoted in a distressed Texas flag design by Blackout Custom Cerakote
To enter the raffle, attendees must enter their information at the Century Arms booth (#9257), for free, prior to 4:00 p.m. Eastern Standard Time, each day of the raffle. Attendees may only receive one entry per person, per day and must be present at the time of the raffle to be eligible to win.
On Friday, Paul Markel from Student of the Gun will be on site from 3:00 p.m. – 4:00 p.m. signing his new book, Examining the Armed Citizen: The Historic Struggle Between Man and State for the Control of Small Arms. Text NRA to 844-207-7684 to be added to their attendance. Don Porter, from YouTube channel Sootch00, will be at Century's booth on Saturday from 4:00 – 5:00 p.m. to meet with fans, talk about guns and sign autographs. Scott Warren, from Warren Tactical, will also be at the booth after the raffles each day to meet with attendees and to talk about the new Warren Tactical sights now shipping on all Canik pistols.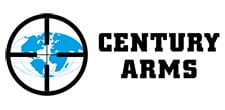 About Century Arms
Born over 50 years ago with its roots in the surplus business, Century Arms has an extensive history of providing unique and affordable products to the American Collector, Hunter, and Target Shooter. That tradition is carried on today, with a state of the art manufacturing facility located in the U.S.A, as the company continues to offer unique, innovative, and quality products to the U.S. Consumer and U.S. Government.
Follow Century Arms on Facebook, Instagram, Twitter, and YouTube.
For additional information on Century Arms, visit www.centuryarms.com.