Pevely, MO – -(Ammoland.com)- Heizer Defense, known for their innovative line of powerful pocket pistols, is pleased to announce that the PKO-45 was recently included in American Rifleman's Editor's Picks for 2018.
Heizer was honored to be included in the Editor's Picks list for 2018. "To be recognized by a respected publication like American Rifleman is quite an honor," says Eric Polkis of Heizer Defense. "We are thrilled that the PKO-45 made such a positive impression."
Heizer's PKO-45 is an innovative pistol built thin and light, making it perfect for concealed carry. With a 0.8″ wide flat profile, the PKO-45 features a fixed barrel and weighs about 25 ounces. It has a USA Aerospace stainless steel frame and barrel with five-round flush fit or seven-round extended magazines.
You can see the Editor's Pick listing for the PKO-45 here.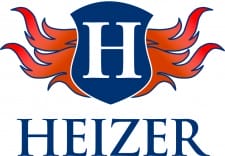 About Heizer Defense
Heizer Defense is an affiliate company to Heizer Aerospace, which manufactures fracture-critical components for aerospace companies, NASA and the military. Established in 1962, Heizer Defense Engineers apply this same military technology to create high quality firearms.
For more information on Heizer Defense, visit www.heizerdefense.com.