USA – -(Ammoland.com)- The United States Marshals Museum's spring lecture series, Jurisdiction and Judgment: Fort Smith Marshals in Indian Territory, concludes this evening with a presentation from Rick Parker on the Tragedy at Goingsnake.
Sometimes called the Shootout at Goingsnake or the Goingsnake Massacre, the events of April 15, 1872, resulted in the deaths of eight men attempting to serve a warrant in Indian Territory. It is still the deadliest day in the history of the Marshals Service. Separately, it was the biggest, bloodiest gunfight of the American West – with more than twenty combatants, eleven known deaths, and numerous wounded.
In celebration of the Fort Smith Bicentennial, the Museum is offering the series free of charge to all in-person attendees. A live stream of the lecture will also be provided on the U.S. Marshals Museum YouTube page, thanks to a generous donation from the Triple-S Alarm Company of Little Rock.
Watch parties of the lecture will be held at several institutions, including: The University of Arkansas – Little Rock, Northeastern State University – Broken Arrow, Carl Albert State College – Sallisaw, the Rogers Public Library and the Crawford County Library.
The lecture will run from 6:30-8:00 p.m. at The Blue Lion at UAFS Downtown at 101 North 2nd Street. Due to space constraints, attendees are encouraged to register through Eventbrite. Heavy hors d'oevres will be served and a cash bar will be available.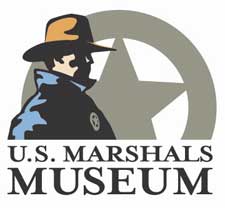 About the U.S. Marshals Museum:
The future U.S. Marshals Museum will be a national museum located on the riverfront in Fort Smith, Ark. Museum plans include three permanent exhibit galleries, a temporary exhibit gallery, the Samuel M. Sicard Hall of Honor and a National Learning Center. The museum will tell the more than 225-year story of the U.S. Marshals Service, the oldest law enforcement agency in the United States, and honor the sacrifice of marshals killed in the line of duty.
For more information, visit usmarshalsmuseum.org.