USA – -(Ammoland.com)-  Ultradyne, an American designer and manufacturer of quality shooting accessories, has officially released its Apollo muzzle brake. Utilizing advanced imaging and precision instrumentation, their team has engineered a device that represents the ultimate in recoil reduction. Internal testing has shown as much as a 25% advantage over previous industry-leading designs.
As with all Ultradyne muzzle devices_ Apollo supports available Dynamount accessories such as the C4 Sight
Ultradyne offers a variety of muzzle devices that provide different levels of recoil reduction and sonic signatures to fit the needs of different shooters.
Apollo stands as a no-compromise, recoil-reducing phenom that enables nearly instantaneous follow-up shots and is an excellent option for competition shooters who want the last word in recoil performance.
With a design that fits within the 3-inch length and 1-inch diameter requirements of 3 Gun Nation, USPSA, and IPSC, all shooters can take advantage of features inspired by competitive shooting.
Apollo's unique design includes angled muzzle-rise compensation ports at the end of the device that direct gasses away from the shooter's line of sight to avoid the vision-dazzling effects inherent in other designs. 100% CNC machined in the USA, each port was located, sized, and shaped for maximum flow utilizing a combination of modeling and precision testing. Until now such a high level of recoil reduction was not possible from a device of practical size, but Ultradyne's science- and engineering-oriented approach brings this game-changing technology to the shooting public.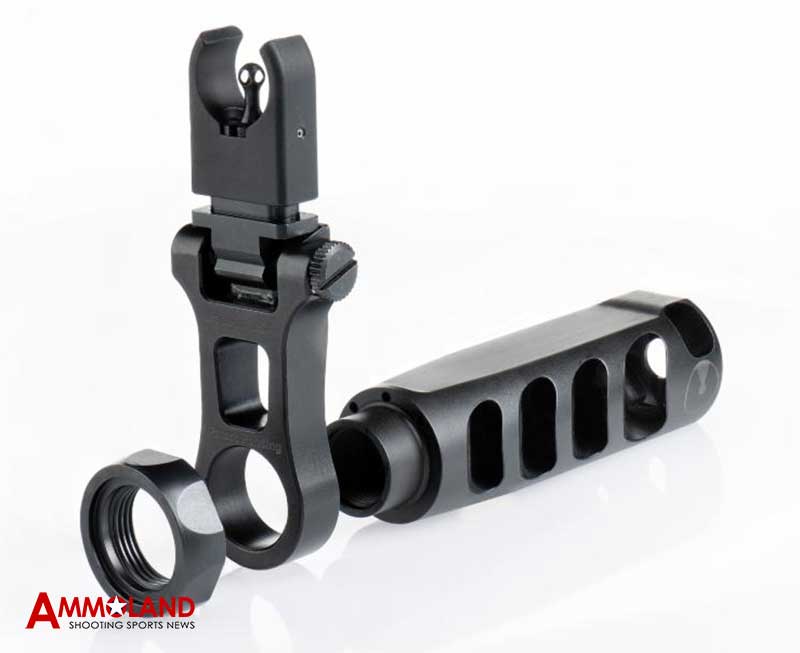 Apollo includes the Ultradyne-exclusive shrouded timing nut along with a Dynamount collar for quick, easy mounting.
The performance advantages of Apollo are soon to be available in other calibers as well. Ultradyne is currently tuning the design for .308 / 7.62 and .264 / 6.5mm, bringing competition-grade performance to users of firearms in those calibers.
Ultradyne Apollo Muzzle Brake 223 | 5.56 Technical Specs
CALIBER .223 | 5.56 or smaller
BARREL THREAD 1/2-28 UNEF-2B
MATERIAL

416 Stainless Steel
Salt Bath Nitride Finish

MOUNTING Shrouded Timing Nut
MASS

Brake Only 124 grams | 4.4 ounces
Total 147 grams | 5.2 ounces

DIMENSIONS

Length 75mm | 2.94 inches
OD 24.8 mm | 0.975 inches

WRENCH FLATS 13/16 inch
Apollo is part of Ultradyne's family of performance muzzle devices, each representing a different combination of recoil reduction and sonic characteristics.
The Apollo brake is available directly from Ultradyne as well as Brownell's and MidwayUSA. Click the corresponding logos below to see their offerings.