Indiana – -(Ammoland.com)- For those who think our adversaries of the Second Amendment are resting or gone away better wake up.
They have not let this summer slip away. They are working like never before on preparing for the next wave of attack on gun owners.
I said a gun owner, that's you if you're reading this. The target is not just the gun itself but the legitimate firearm owners. There are now recent news stories showing groups of kids with the adults directing demonstrations for more gun control. Also, we now see mayors and governors of states signing new firearm restrictions and regulations, both on types of guns and the lawful purchasing of a firearm.
As I may have written before, I was tasked this past session [Indiana legislature] to introduce a resolution for a summer study for school safety. I willingly did so after being assured there indeed would be a study. Unfortunately, that was not one of the subjects that were selected. I had a clear idea of what I felt would have been a good approach on covering all the bases on legitimate school safety discussion by including professionals from 5 categories; educators, law enforcement, firearm instructors, building contractors, representatives of insurance companies that ensure our school districts along with the general public.
I'm concerned what the future holds for us this coming school year. However, there is one school superintendent in Indiana who has stepped up to make his district better prepared. His name is Jeremy Gulley, from Jay County. Jeremy is a Lt. Colonel in the National Guard as well and is developing a comprehensive program for his schools that also includes arming teachers and staff. He has approached many of the concerns that come along with this idea with much success.
Jeremy will be our guest at our November 24th Patriots meeting to explain what he's doing. I hope you will mark your calendar for that date.
If anyone would like to help me on my reelection campaign, Margie and I would be very appreciative. We have a parade coming up Saturday morning, July 28th at Owensville at 10:00 (Central), the location at the old school. Wear your red shirts. Hope to see you that evening at the meeting.
Thanks.
Jim and Margie
STAY UNITED
2nd Amendment Patriots
www.2ndamendmentpatriots.org
---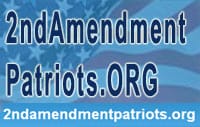 About 2nd Amendment Patriots:
The Second Amendment Patriots are a local group of Indiana citizens dedicated to preserving the rights, freedoms, and civil liberties of every American by educating the American public of the founding and history of this country and its founding fathers by explaining the role, functions and purpose of the U.S. Government; and by teaching the need and importance of an armed American public, in order to allow for a more prosperous and respectful country consisting of American citizens with a pledge of allegiance to their country and who will at the same time, voice their demand to take back the present overwhelming power of the U.S. Government and deliver it into the hands of the people to which it belongs. Visit: www.2ndamendmentpatriots.org