Tom reviews the Knives Of Alaska Legacy Knife, a very functional little skinner.
USA –-(Ammoland.com)- I received The Legacy knife which is made by Knives of Alaska to test on an Idaho antelope hunt. At first glance, I thought the blade was a little small but after using it, I fell in love with it and have since used it on numerous hunts. It is an elegant looking little knife. In fact, I don't know if you will find a better-looking knife. But not only is it a great looking knife, it is also very functional hunting knife.
For a skinning knife, I like a 3 ½-inch blade but anything between 3-4-inches is functional for me. This knife has close to a 3 1/4-inch cutting surface, so it is of the right size. It also has a definite finger guard and due to the thick handle, you can choke down on the blade by putting your thumb on top of the spine to do more intricate skinning. It also has a finger groove in the handle for your pointer finger. So with the above attributes, you have good control of your cutting tool.
As is customary for KOA, it is made out of D2 steel. Mine came with a very steep angle on the edge, I'm going to guess somewhere around 18 degrees. Which is fine with me because I favor my edge somewhere around that angle.
And as all KOA knives that I own, they come from the factory super sharp. I'm telling you this just so you know when sharpening it that you'll need to lay the knife down a little further than you probably normally do to recreate the steeper edge angle.
The Legacy knife comes with a nice, stout leather sheath. This is an important item to look at when buying a knife. You don't want to buy a knife and the sheath wears out in 3-5 yrs. You want one that will last for a long time or how else will you be able to carry your knife in the woods? Or worse yet, what if it malfunctions and you get stabbed or lose the knife? Either case is not good. I also look to make sure that the knife sets down firmly in the sheath and that it can't fall out in a tumble. This one fits the bill.
I know I keep talking about the looks but for a knife that looks this nice, I would expect to pay up in the high $200 range. It has a nice-looking stag handle. I know that they use real horns because my brother-in-law used to work for the outfit that sold the horns to them. He has since left there but I assume they still buy their horns from them.
So, my verdict? The Knives Of Alaska Legacy Knife is a very functional hunting knife and designed for the real world that we live and hunt in. You can find it at the KOA website.
Knives Of Alaska Legacy Knife SPECS:
• Category: Legacy
• Item Number: 00950FG
• Metal: D2
• Rockwell Hardness: 60 – 62
• Knife Length: 8.00″
• Blade Length: 3.25″
• Weight: 4.2 oz.
• Bevel: 18-20°
---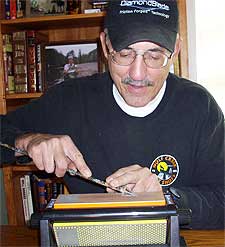 About Tom Claycomb
Tom Claycomb has been an avid hunter/fisherman throughout his life as well as an outdoors writer with outdoor columns in the magazine Hunt Alaska, Bass Pro Shops, Bowhunter.net and freelances for numerous magazines and newspapers. "To properly skin your animal you will need a sharp knife. I have an e-article on Amazon Kindle titled Knife Sharpening for $.99 if you're having trouble"
Disclosure: Some of the links below are affiliate links, meaning at no additional cost to you, Ammoland will earn a commission if you click through and make a purchase.