USA – -(AmmoLand.com)- When the original Homefront knife was introduced at the 2017 SHOT Show, it established a new standard for folder knives. It incorporated the genius of renowned bladesmith Ken Onion with the engineering expertise of design engineers at CRKT to produce the first true "field strip" knife.
The Homefront enabled the user to quickly take the knife completely apart for cleaning without tools and just as rapidly put it back together. It was a masterpiece of design that was topped off with one of Ken Onion's superb blades.
When you have a knife that is already recognized as the "best of the best", how do you make it better? The answer is you can't. However, you can increase its versatility by adding the option of additional blade styles to the original field strip concept. That is exactly what Ken Onion did. In response to user requests, he produced three additional blade designs to satisfy just about every user in the field.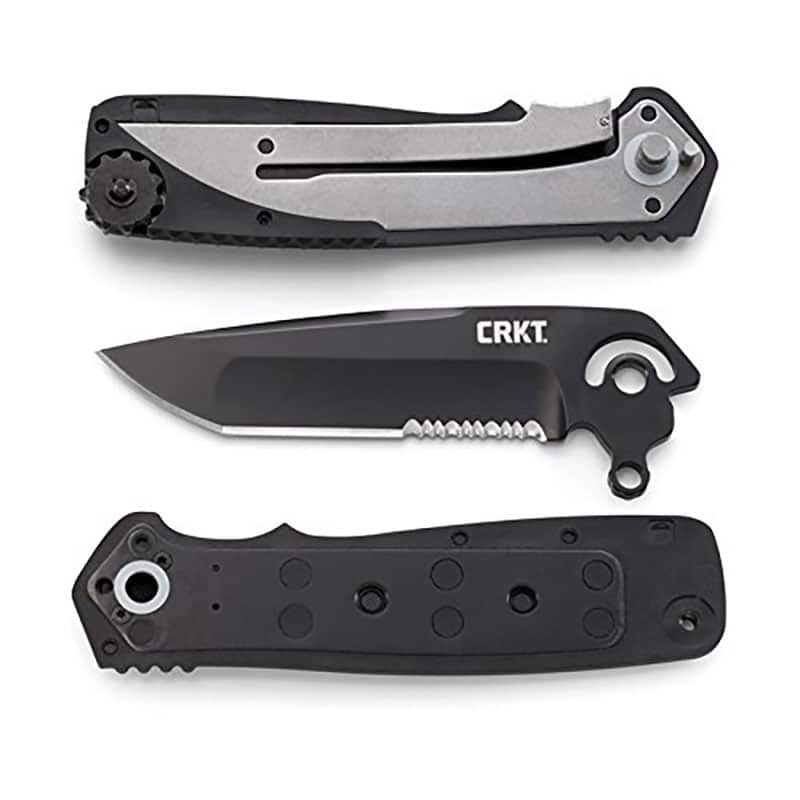 The first was the Homefront Tactical with a black Tanto blade.
This knife found a home with a lot of individuals working in the field, including our daughter Susannah, who is an archaeologist. When she laid eyes on the Tactical…… long story short. Our sample now has a new home in her field pack for when she ventures into the Rockies.
Specifications of the Homefront Tactical are:
Blade Length: 3.427" (87.05 mm)
Blade Steel: 1.4166 SS, HRC 55-57
Blade Finish: EDP Coating
Blade Thickness: 0.138" (3.51 mm)
Weight: 4.3 oz
Handle: Glass reinforced nylon
Length: Open – 8.125" (206.38 mm) / Closed – 4.684" (118.97 mm)
Next up is the Homefront Hunter.
Ken designed this blade as an all-around folder for sportsmen. It is perfect for field use around camp and is readily up to the task of dressing out big game animals when necessary. We didn't get to keep this one either. Our colleague, Dr. Donny, who hunts all over the western United States, laid claim to it. We would venture a guess that it will be visiting multiple states as he heads out in the fall for his elk, bear and antelope hunts.
Specifications of the Homefront Hunter are:
Blade Length: 3.566" (90.58 mm)
Blade Steel: 1.4166 SS, HRC 55-57
Blade Finish: Satin
Blade Thickness: 0.133" (3.38 mm)
Weight: 4.2 oz
Handle: Glass reinforced nylon
Length: Open – 8.25" (209.55 mm) / Closed – 4.743" (120.47 mm)
The last member of the "Homefront family" is the EDC.
This blade is "classic" Ken Onion and reminds us of his Skinner that he designed back in 2014. The high grind is ideal for field dressing game and just as versatile around camp. This one, I kept for myself (just like the Skinner). I would imagine that over the next couple of years that other hunters, as well as guides, will try and trade me out of the EDC, just as they did with the Skinner. The answer is NO…. these blades are mine…. but, occasionally I will let Jim and Kevin (my guide) use them… as long as they promise to give them back.
Specifications for the Homefront EDC are:
Blade Length: 3.539" (89.89 mm)
Blade Steel: 1.4166 SS, HRC 55-57
Blade Finish: Stonewash
Blade Thickness: 0.135" (3.43 mm)
Weight: 4.3 oz
Handle: Glass reinforced nylon
Length: Open – 8.25" (209.55 mm) / Closed – 4.720" (119.89 mm)
The 2018 MSRP for each of these Homefront variants averages $90 to $110, which is a fair price for blades of this quality and versatility.
---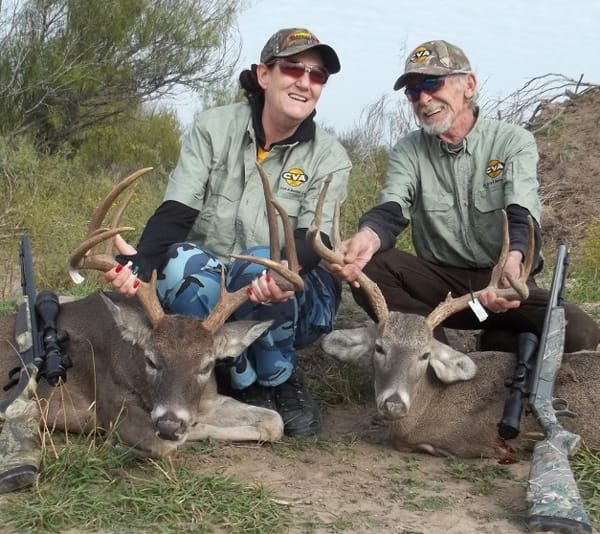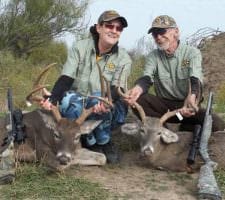 About Jim and Mary Clary:
Jim and Mary Clary have co-authored over six hundred published articles (and counting) on shooting and hunting. You can read many of them on AmmoLand News.
Some of the links on this page are affiliate links, meaning at no additional cost to you, Ammoland will earn a commission if you click through and make a purchase.