USA – -(Ammoland.com)- "'Supergirl' to Revisit Gun Control Debate in Season 4," Comicbook.com reported Tuesday. They were reporting on a BamSmackPow interview at last month's Comic-Con with actress Chyler Lee, who plays the Girl of Steel's adoptive sister and new head of the government's top secret Department of Extraterrestrial Operations.
There are no specific revelations but Lee expects to see the plotline revisited from the third season in which the D.E.O., after having firearms manufactured for the agency used by criminals, attempts to use economic coercion to pressure the gun maker to "stop selling that weapon."  A July Newsbusters report included a relevant section of the script, which argued every gun-grabber talking point from blaming bump stocks to declaring that "assault rifles" aren't "hunting rifles," to dragging out the Second Amendment-eviscerating "Only Ones" argument:
"That is for military personnel, trained officers, law enforcement."
The upshot of it all—the federal agency decided it would no longer use firearms and would instead develop and deploy with less-than-lethal alternatives.  I know, that's ridiculous, but what do we expect? It's a comic book fantasy.  It's produced, directed, written and acted by "progressives," meaning the political sentiments expressed and political "solutions" promoted are going to be cartoonish and childish.
Take the D.E.O. – it's been headed so far, and secretly, by an illegal alien, literally. Director Hank Henshaw, the man in charge of protecting the earth from extraterrestrial threats, is really J'onn J'onzz, the Martian Manhunter.
So, it turns out, is the President of the United States, played by former TV Wonder Woman Lynda Carter. It's clear the writers expected a Hillary win in 2016 and wanted to have a fictional counterpart ready to go so that the show could be used to push the meme that no one makes better, more compassionate and just decisions than a strong and confident Democrat woman politician in a pantsuit.
The Supergirl series, as well as its companion series on the CW, The Flash and Arrow, were stumping for the Clinton campaign and counting on "art" not triggering any FEC violations. That "S" on her chest is not just the crest of the Kryptonian House of El, but is now said to mean "Stronger Together," Hillary's campaign slogan.
Admittedly, that was catchier than "At this point, what difference does it make?"
But back to the wonder president—it's revealed that she is also an alien. That explains her issuing an executive order (in later episodes referred to as an "Act") granting citizenship to the extraterrestrials. This is the product of a childish understanding of government by those apparently oblivious of checks and balances, where the executive can usurp undelegated powers as long as it makes "progressives" feel generous and virtuous. And even after the president reveals herself to be an ET, sworn D.E.O. operatives (sworn to what?) still obey her orders—rather than arresting her to await impeachment for violation of Article 2, Section 1, Clause 5 of the Constitution.
The ridiculous thing about the whole clumsily-executed parallel to today's immigration issues is the show's ETs routinely threaten not just individual human lives, but lives on a mass scale to include the whole earth. And now it looks like the villains, citizens opposed to cultural terraforming and demonstrable existential threats, will be put on steroids with the introduction of Agent Liberty, "the ruthless and terrifying leader of the Children of Liberty, a human-first hate group."
Could the SPLC-style smear against non-Democrats be more blatant? The whole operation is so oozingly "progressive," it's hardly surprising to find:
Warner Bros. has chosen to suspend Andrew Kreisberg — a showrunner for the CW's Supergirl, The Flash, Arrow, and DC's Legends of Tomorrow — amid numerous sexual-harassment allegations brought forth by members of his staff… Kreisberg has "engaged in a pattern of alleged sexual harassment and inappropriate physical contact over a period of years," with 15 women and four men … creating a "toxic" and "hostile" environment, where he frequently touched people without permission and made sexualized comments about female staffers."
Stronger together, right? The Founders knew what was "necessary to the security of a free State," but as we see time and again, for "progressives," every day is Opposite Day.
Now disarm and stop opposing those illegals.
---
About David Codrea: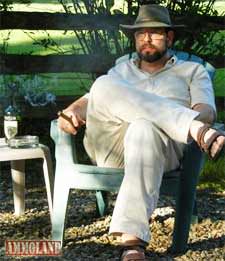 David Codrea is the winner of multiple journalist awards for investigating / defending the RKBA and a long-time gun owner rights advocate who defiantly challenges the folly of citizen disarmament.
In addition to being a field editor/columnist at GUNS Magazine and associate editor for Oath Keepers, he blogs at "The War on Guns: Notes from the Resistance," and posts on Twitter: @dcodrea and Facebook.