U.S.A. –-(Ammoland.com)- The entertainment industry leans heavily to the left. This political lean is especially true in the punk rock scene, but not every punk rocker out there drinks the proverbial Kool-Aid.
Recently Michale Graves had his upcoming sold-out performance at the Up + Downtown Music Festival canceled for his political beliefs that don't fall in line with the groupthink of the day. The former Misfits singer doesn't shy away from his libertarian beliefs or his love of guns. In fact, Graves embraces it!
In 2004 Graves co-founded the controversial website "Conservative Punk." Graves pushed his audience to explore the candidates of the day for themselves instead of just voting for who their musical heroes tell them to vote for the election.
I had a chance to sit down with Michale Graves and speak with him about music, guns, and politics.
---
John: How did you get into music?
Michale: I have been influenced by music my whole life. As a very young man, I felt my calling was to be a preacher man and serve God in that way. It wasn't until I turned 8 or 9 did I suddenly know and feel that my calling was to be an artist and more specifically a music man.
John: How did you end up in the Misfits?
Michale: Well, I worked for a resort in Upstate New York called Sunny Hill Resort, when I was a teenager. I would work there in the summer when school was out. I am profoundly connected to that place, but I digress. When I was 18 a friend of mine died in an accident in Catskill Creek, New York, and I was so messed up by his passing, I didn't return to work that next summer.
During that summer at home, I was in a band back home in New Jersey, and I randomly chose a studio to record a demo. It just so happened, during that time, Jerry and Doyle of The Misfits were working on a project in that same studio and was looking for a singer.
I auditioned many, many times. Months later, with no singer, The Misfits were preparing for a performance on Halloween in 1994, with Type O Negative. Pete Steele (of Type O Negative) declared to everyone – as I was teaching him the songs – that unequivocally, I had to be the singer of the band. Everyone listened. That night I appeared as the new singer of The Misfits onstage at The Roseland, in New York City during Type O Negative's encore.
John: How do you deal with the fame that comes with being a rock star?
Michale: I realize all of this is a blessing, and that through this fame I can be a miracle to some. As strange as it all is – coupled with the bizarre nature of my fame – I recognize what my music does for others. It's very often physically, mentally and spiritually overwhelming. I work hard to keep those things in balance, so I don't lose my way, which is an easy thing to do after a certain level of success.
I exercise and keep my body clean and healthy by eating right, supplementing the gaps, and making good decisions. I keep my mind healthy by reading and writing and staying healthy, positive things to myself, and others. I pay attention to the signs that indicate I need to unplug. Mostly, I keep faith in God and live as a victor and not a victim. All of that then transfers to my friends, fans, and family in all things I do.
John: Would you rather be in the studio recording an album or out on tour?
Michale: I would rather be in the studio making an album. I haven't had the opportunity in many, many, many years to spend a significant amount of time in my most favorite place to be; a music studio. I am on tour for the next year and a half, and I hope at the end of that there will be a long stretch of work in a studio. Somewhere awesome!
John: You are a libertarian and founded a conservative punk site. Did you find it hard coming out as a libertarian?
Michale: I am a Patriot. When I began writing and speaking about pop culture, politics, and punk in 2004 some folks lost their mind. Understand that back then; as it is now, there is a radical left-leaning collective mind backed by big money and power, in the entertainment industry that radiates down and out to the consumer level.
Language becomes weaponized. There are stimulus words like conservative, Christian, guns, Republicans, and NRA. In the minds of many, these words are synonymous with Nazi, racist or terrorist. Nothing ever good has come from the dehumanization of groups of people. I am afraid that is precisely what is going on here, so yes, there is significant push back at times.
John: What does the Second Amendment mean to you?
Michale: The Second Amendment means I have the natural, God-given right to defend myself, my family, and what belongs to me. It also means to me that I, as a citizen, can participate in the great equilibrium of power that our Forefathers engineered, into the foundations of American society, and the governance, when founding this nation, so that tyranny over society will never be tolerated.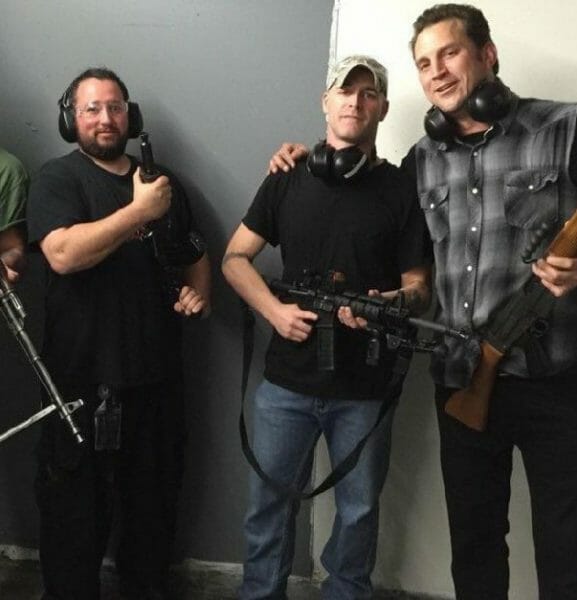 John: How did you get into guns?
Michale: My Dad is a veteran and a retired police officer, so it was a natural thing to see him and others around him with a weapon. He loves all things military and is a Patriot. We share an affinity for a lot of the same things, so I think my father is to blame for this!
I think that growing up around; so many good guys that had guns to protect me from bad guys helped me form my respect, opinion, and enjoyment concerning firearms.
John: If you had to pick one handgun, rifle, and shotgun to own then what would they be?
Michale: A black Remington 870 pump action 12 gauge shotgun, an Armalite AR-10 (.308), and a Kimber 1911.
John: You are from New Jersey, which has some of the strictest gun laws in the country. What is your opinion on the gun laws in the state you grew up in?
Michale: I think that the gun laws in New Jersey and especially in New York need some work. I don't believe that you can legislate responsibility, and when you create laws to try and do that, it just gets intrusive and overbearing. Remember that equilibrium of power that the Second Amendment gives American citizens is exactly what those who seek to dominate and destroy that balance want to take away.
John: Any future projects that are coming up?
Michale: I'll be on tour performing for the next year and a half with my band. I'll be in the U.S. and Canada until December 2nd. I head overseas to Europe and Asia in January, followed by South America. I'll be filming at least two music videos in the next few months. I continue to write and develop my radio show, and some ideas for television I have. I want to work real hard to grow myself and my business on all fronts. I want to help rise up, motivate and empower people through my music and art.
Michale Graves is currently on tour. Readers can find out tour dates on his official website located at https://officialmichalegraves.com/
---
About John Crump
John is a NRA instructor and a constitutional activist. He is the former CEO of Veritas Firearms, LLC and is the co-host of The Patriot News Podcast which can be found at www.blogtalkradio.com/patriotnews. John has written extensively on the patriot movement including 3%'ers, Oath Keepers, and Militias. In addition to the Patriot movement, John has written about firearms, interviewed people of all walks of life, and on the Constitution. John lives in Northern Virginia with his wife and sons and is currently working on a book on leftist deplatforming methods and can be followed on Twitter at @crumpyss, on Facebook at realjohncrump, or at www.crumpy.com.