Tom McHale reviews the Ruger Precision Rifle in 6.5mm Creedmoor as part of his ongoing long-range shooting article series.

USA –-(Ammoland.com)- While AR-15 and AR-10 platform rifles are getting more accurate by the month, it's still hard to beat a good bolt-action rifle for repeatable precision. When Ruger designed the Precision Rifle, they wanted to provide a long-range tack driver that was affordable. In the world of long-range shooting, multiple G's for the rifle only is common. This one runs about $1,100 (or less $$) on the street. Is it worth it? Let's find out.
Let's provide a quick summary before getting into some of the details. Bolt gun. Accurate. Priced aggressively considering how it's built and how it shoots. Boom. 
While I've taken a few shots here and there at various events with a Ruger Precision Rifle, I've not yet had the chance to bring one home and work with it. Now that I've had some quality hands-on time with one, I'm sold. I would buy this one but I can't. That's because one AmmoLand News reader is going to win this in the not-so-distant future along with a sporty (not yet named) optic. Stay tuned.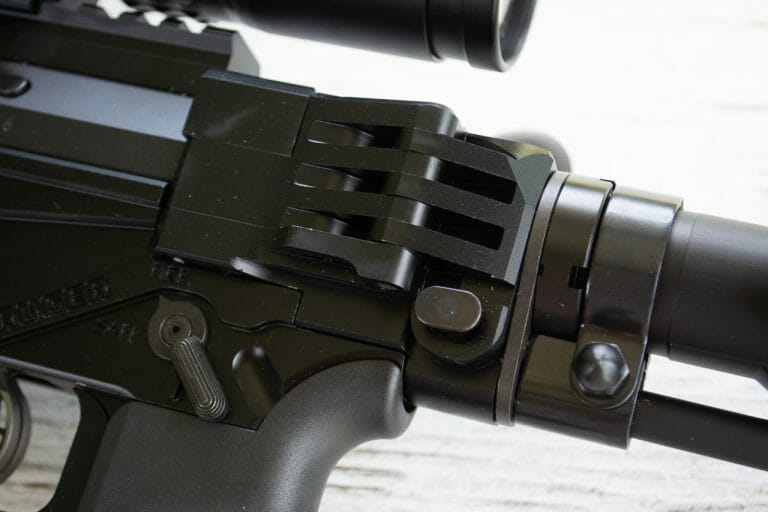 The Ruger Precision Rifle oozes tactical. The super-adjustable sniper stock, 15-inch M-LOK handguard (covering a free-floated barrel of course), and AR-compatible grip and safety selector aren't just cool for the sake of appearance. There are good reasons for all of those components. 
The Precision Rifle is purpose-built for long range shooting. Depending on the caliber, barrel lengths ranging from 20 to 24 inches. This one is chambered in 6.5mm Creedmoor and sports a 24-inch barrel. It's 5R rifled in a 1:8 twist for the 6.5mm Creedmoor and cold hammer forged from chrome-moly steel. The receiver is topped with a Picatinny rail segment that's ramped 20 minutes of angle. Building in some "elevation" gives your internal scope adjustments more room at which to work when you stretch out the yardage to four digits. Without a ramped base, it's easy to run out of scope adjustment pretty quickly after 1,000 yards.
The Ruger trigger is adjustable, and you can tweak it to preference between 2.25 and five pounds. It arrived from the factory adjusted to precisely two pounds according to my Timney Triggers Scale, so I suppose that the rated 2.25 isn't necessarily the lightest end of the scale. After depressing the trigger leaf safety, this one breaks in just about 1/16th of an inch with constant pressure. I like it.
The bolt features is a solid three-lug design with an oversized handle. The handle is threaded, so you can even swap that out with ease if you're so inclined. 
You'll notice and AR-style grip, and that's true to spec, so if you have a favorite AR Pistol grip to carry over from your semi-automatic world, feel free to stick it on the Precision Rifle. The same thing applies to the 45-degree safety lever. 
The buttstock folds so you can transport the rifle more efficiently in a pack. When you fold the stock, the rifle loses about eight inches of length, compressing to just under 36 inches. There's a very tight lock button on the left side where stock joins the receiver. Give the button a firm press and the stock will unlock and swing into the left side of the receiver. It's solid and not moving once locked in place so that you won't be running into any accuracy challenges from a wobbly adjustable stock. The stock is also adjustable with hand-operated throw levers for the length of pull and comb height – no tools required. There's a generous recoil pad and a short rail segment on the bottom so you can mount your favorite monopod there if you like. Oh, and the whole stock mounts to an AR-compatible receiver extension tube. That means that the Precision Rifle will accept any compatible AR-stock.
Like Modern Sporting Rifles, this one is built to customize if you want. With the slew of top-notch features, I had no desire to change a thing except for adding a bipod up front.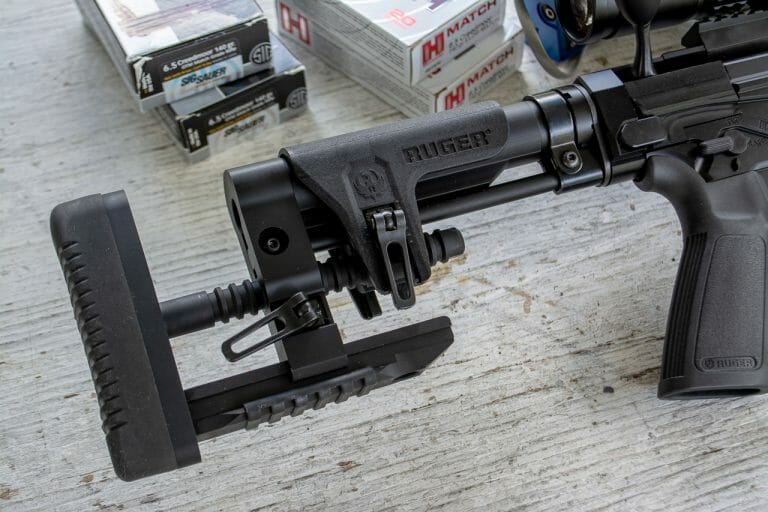 The Precision Rifle has a magazine well compatible with AICS and M110/SR-25/DPMS/Magpul-style magazines. It ships with two Magpul 10-rounders.
Shooting the Precision Rifle
The first time I shot this rifle – to zero the scope – I was stunned by the initial groups. Three-shot clusters for zeroing purposes were all going in the same hole. While I fired a quick five-shot group from 100 yards that day, I didn't have time to do more.
The next time out, I brought the freshly zeroed Precision Rifle to the range with four types of 6.5mm Creedmoor ammo of proven performance: Hornady Match ELD 140-grain, Sig Sauer Open Tip Match 140-grain, Hornady Match ELD 147-grain, and Hornady Precision Hunter 143-grain. I've had great success with all of these in other outings with various rifles. I zeroed the rifle and observed those one-hole, three-shot clusters with the Hornady Match 140-grain ammo, so that was first up for five-shot groups from 100 yards.
As you can see from the target photo, all five shots went into one enlarged hole with all impacts not only touching but overlapping. I measured the center-to-center of this group at .33 inches. The second group with the same ammo opened up a bit to .82 inches. All subsequent groups hovered between the half-inch and .9-inch range, so I have to assume that this rifle especially likes a cold barrel. I shot everything at a slow pace but did not completely cool the barrel to ambient temperature between groups. I did have to get this done in one afternoon, and I didn't have a barrel-cooling AC unit handy.
Here's what I measured with the other ammo types – all five-shot groups from 100 yards.  
| | | |
| --- | --- | --- |
| | Group 1 | Group 2 |
| Hornady Match ELD 140-grain | 0.33 | 0.82 |
| Sig Sauer Open Tip Match 140-grain | 0.92 | 0.87 |
| Hornady Match ELD 147-grain | 0.56 | 0.89 |
| Hornady Precision Hunter 143-grain | 0.82 | 0.91 |
While there, I set up a chronograph and recorded muzzle velocities of each load. Next time, we'll be running ballistics for longer range shooting and truing up turret adjustments so we can build a data sheet for actual bullet drop and scope adjustment for a range of distances. 
| | | |
| --- | --- | --- |
| | Velocity (feet per second) | Energy (foot-pounds) |
| Hornady Match ELD 140-grain | 2,657.5 | 2,195.8 |
| Sig Sauer Open Tip Match 140-grain | 2,507.5 | 1,954.9 |
| Hornady Match ELD 147-grain | 2,680.5 | 2,345.7 |
| Hornady Precision Hunter 143-grain | 2,565.5 | 2,090.2 |
Interestingly, the heavier Hornady Match bullet had a slightly higher average velocity. Per factory specs, the 140-grain has a 2,710 predicted speed while the 147-grain load posts at 2,695. Weird, but it's likely a lack of precision with my chronograph. I don't use the $30K models that ammo factories have in their labs.
I'm anxious to see if I can whip up some hand loads to wring even more accuracy from this rifle. Typically, factory ammo has to fit in a wide variety of guns, so it can't be "hand fit" to a specific chamber. On the other hand, Ruger claims that they cut tolerances to the bone in the chamber and with headspace in the Precision Rifle, so the "factory ammo slop" may not be as dramatic. We'll make some loads with premium projectiles backed a couple of thousandths off the rifling and report back what happens when we cover building a data book for this rifle. 
My overall impression of this rifle is simple. It's a lot of gun for the price. The MSRP is $1,599.00, but I see them selling in the $1,100 range online. That's not chump change, but considering what's in this build and how it shoots, that seems like a deal to me. 
Stay tuned, and you may not even have to buy your own. This one could be yours!
---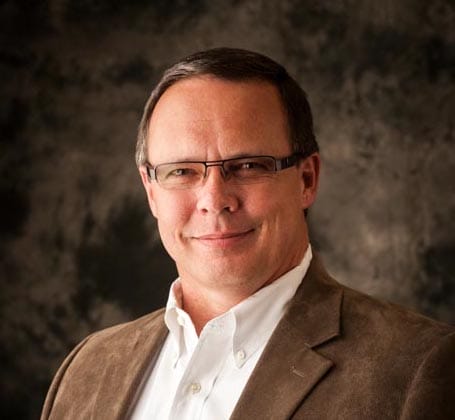 About
Tom McHale is the author of the Practical Guides book series that guides new and experienced shooters alike in a fun, approachable, and practical way. His books are available in print and eBook format on Amazon. You can also find him on Facebook, Twitter, Instagram, and Pinterest.