By Jason Reid

In this top five review I highlight five of the my picks for the best hunting bipods to take afield.
USA -(Ammoland.com)- If you don't admit you have tried and missed an off-hand shot with any gun, you are a kidding only yourself. We all have tried and missed at least once.
Regardless if you are shooting a shotgun, muzzleloader or a rifle, getting steady in the moment of truth is much harder than while shooting on the range during the summer in a t-shirt, and we often miss.
But we do have technology and quality manufacturing to help us get steady. Bipods are a great option providing stability without taking up much space.
From small bi pods for prone and crouched shooting to standing bi-pods for still hunting, here are my top five choices of hunting bipods you should have in your pack.
Swagger Hunting Bi-Pods
Swagger Bi-pods garnered serious interest through show season as it addresses issues sportsmen have had in the past with traditional bipods. Swagger's new technology is called Crazy Legs flexible leg system, which allows for the telescoping legs to ebb and flow with terrain and uncomfortable positions you may be forced to shoot from. Flexible joints are the key to the Swagger system which give shooters infinite maneuverability and are not restricted by stiff legs which helps to stay steady on moving game. However one may change from full flex to rigid legs like a traditional bipod to lock in on a shot with the quick push of a button Featuring a lifetime warranty, there are two designs to choose from.The Swagger Model Ground Blind or Treestand Bipod Model legs extend to 41 1/2″ and has an MSRP of $229.99. The Swagger Field Bipod model has leg measuring 29 1/4″ and has a retail price of $219.99.
Primos TriggerStick Short Hunting Bipods
Simplicity has always been at the forefront of gear built under the promos brand and the Short Bipod is no exception. Utilizing the popular Trigger Stick technology, the Primos TriggerStick Short Bi-pod is perfect for shooting from a sitting position while hunting deer and turkey.
Description : " With just one hand and the pull of a trigger, you can adjust the Primos Trigger Stick to your desired height. The Trigger Stick is a lightweight height-adjustable gun rest and optical gear mount, perfect for kneeling or standing. It comes equipped with a detachable V yoke. The Trigger Stick fits 1/4″-20 & 3/8″-16 threaded fixtures for securing optical gear. It is perfect for cameras, spotting scopes, binoculars, laser range finders and almost any other mono pod mountable device."
The V yoke for stabilizing your firearm is detachable and can fit 1/4″-20 & 3/8″-16 threaded fixtures to attached optics for those whose hunting endeavors require steady glassing.
The Primos Short Bipod adjusts from 18" to 38" and has a retail price of $92.95. (less $$ online)
Blackhawk Sportster Traverse Track Hunting Bipods
For the run-&-gun hunter, the Blackhawk Sportster Traverse Track Bipod attaches directly to the forehand swivel of your gun which helps take up less space in your packed keeps your hands free. Black Hawk Bends two technologies to help you shoot better in the field.
Their pivoting design is complimented with the horizontal traverse feature. Both designs allows you to steadily track game across your shooting plain on uneven ground without having to pick up and move your position.
Made of 1000 denier nylon
Closed-cell foam padding
Smooth nylon lining
Adjustable buckle and sturdy snap for easy draw
Extra-strength injection molded belt loop
Horizontal traverse for smooth target acquisition and tracking
Pivot action for level shooting on uneven terrain
Rapid-adjust lever lock
Robust tubular leg construction
Durable all-metal construction
The Blackhawk Sportster Traverse Track Bipod is built with durable metal and comes in four size options: 6-9", 9-13", 13.5-23", 14.5-29"(most popular).
Retail Price: $86.95 (less money online)
Bog Pod Shooting Sticks – Kneeling Hunting Bipods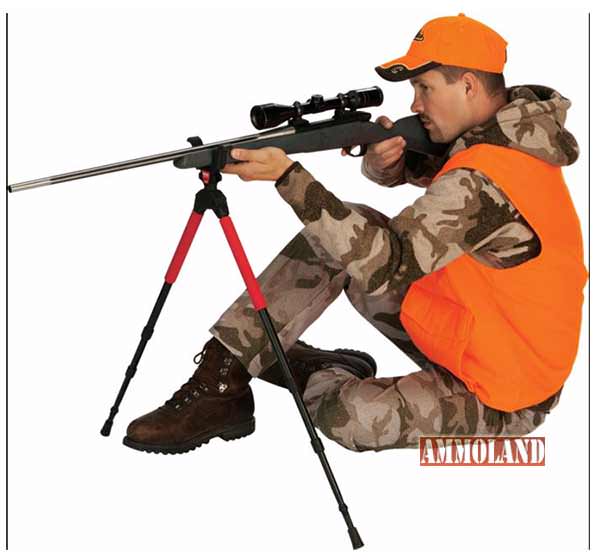 Bog-Pod's reputation for reliability is simply captured in collapsible version of their classic shooting sticks with the Dead Silent Shooting Sticks. These simple sticks help shooters improve their in-field accuracy with an affordable product. Built with durable 9/16" aluminum tubing, these sticks allow for shooters to lower their shooting height with the Leg Section Retention Clip which lets the shooter fold up the legs to adjust to different shooting situations.
Bog Pod Shooting Sticks – Kneeling Description:
"The Dead Silent Shooting Sticks bring the same trusted BOG-POD stability and durability to a collapsible shooting stick platform. The DSS are made of robust 9/16″ dia. aluminum and nonmarring weather resistant surfaces. The Leg Section Retention clips are movable and adjustable to allow the shooter to fold and clip a leg section to the Shooting Stick. This adjusts the platform to a lower height and keeps the folded leg sections secure and out of the way during transport."
Caldwell XLA Fixed Hunting Bipods
Available in sizes 13-23" 6-9" and 9-13", the Caldwell XLA Fixed Bipod is built with aluminum which adds minimal weight. The XLA attaches to the swivel stud on the forend of rifle stocks and have soft rubber feet to give shooters solid in-field stability. With the touch of a button, the legs spring out into a ready-to-shoot position but are easy to manage since they are marked for specific heights.
Provide a stable shooting support that conveniently attaches to almost any firearm with a sling swivel stud.
Lightweight aluminum design adds minimal weight and deploys quickly, with legs that instantly spring out to the shooting position with the touch of a button.
Legs are notched for easy indexing to a specific height.
Includes connection point for sling attachment and multi section legs that collapses forward allowing for convenient carry of the firearm.
Soft rubber feet provide enhanced stability, while the padded bipod base protects the firearm's forend.
For transport, the Caldwell XLA Bipod folds forward for efficient transport going to and from the field. With an average retail price of $36.99, this is an easy addition to your gear bag that won't break the bank.
So there you have it. Those are my five picks of must have bipods that every American hunter should have in his pack. Do you have yours? If your favorite is not listed let me know what you think in the comments below.
About Jason Reid:
Jason Reid is a writer and business professional from upstate New York. After deciding to pursue his dream of becoming an outdoor writer, Jason started a blog from his dorm room at Houghton College, growing it and working hard to earn opportunities. While bowhunting big game is his ultimate passion, Jason welcomes all outdoor challenges which force him to push his limits. More of Jason's work can be viewed on his website Pushingthewildlimits.com