USA – -(Ammoland.com)- "When we do get an ID on the perp, look for all his social media to go on lockdown beforehand or soon thereafter, meaning we will be dependent on what the 'authorities' share with the [media] for all information," I wrote on the WarOnGuns blog yesterday in an updating post on the Borderline Bar and Grill murders.
It's a common reaction whenever someone commits a heinous act resulting in media attention. While everyone is running around trying to figure out who the monster was and what motivated him (the word "monster" gives a hint), resources available to all that can provide real insights are closed off. We're stuck with what we're told and expected to trust it.
That's not always easy or wise, especially considering overwhelmingly anti-gun sentiments in the media and in much of law enforcement leadership. It's not like social media accounts can't be preserved and locked down to prevent updates and comments, yet remain as accessible as they were before the decision to take them down. And it appears the Borderline killer had a social media presence that's been closed off to independent review.
True, it would be inappropriate to interfere with the killer's mother's decision to close down her own Facebook account (especially after being harassed by trolls) but what he had posted is a different matter. And there are reports that he maintained a social media presence, one that hinted at a purpose to his evil and method to his madness.
"THOUSAND OAKS bar shooting suspect posted on Instagram during massacre," TMZ reports. "Possible revenge motive."
"Revenge" might not be as appropriate a motive conclusion as "agenda":
"Our sources say Long posted the same message on his Instagram and Facebook, "I hope people call me insane … wouldn't that just be a big ball of irony? Yeah … I'm insane, but the only thing you people do after these shootings is 'hopes and prayers' .. or 'keep you in my thoughts' … every time … and wonder why these keep happening …"
Disparaging hopes and prayers is a tactic of the gun-grabbers. It sounds like something David Hogg would say – and has. So has Chris Cuomo. It's become a meme.
So what would keep such things from happening? At least according to those who would disarm us?
Again, we're getting an earful from the gun-grabbers, who are completely ignoring that the shooting took place in their #1 A-rated (first by the Bradys and now by the Giffords) California and that the state's standard application for a "may-issue" (most likely "may not") concealed carry permit specifically states:
"[T]he licensee shall not, when carrying a concealed weapon …  Be in a place having a primary purpose of dispensing alcoholic beverages for on-site consumption."
You can bet some demanding more bans are disappointed an "AR-15" wasn't used. Still, recall that banning handguns was always a goal. Don't be surprised to hear noise to reclassify all semi-auto handguns as "assault weapons" (and the gun-grabbers have already telegraphed what they want to do then).
In the absence of information – in this case with the apparent withholding of information – we're forced to speculate based on pieces we can find and put together. We also have to extrapolate based on what we've seen unfold in the past under similar circumstances.
Does anyone doubt if there was any evidence on social media accounts that the killer was a "right wing extremist" and a Trump-supporter that such information wouldn't have been shared, and that we wouldn't be getting it smeared in our faces by "triumphant" anti-gunners? Instead, the only clue that seems to have surfaced so far has the guy talking like … among others, Shannon Watts.
Perhaps in addition to asking why the killer decided to murder people from the same demographic (presumably with predominant "flyover" political views) targeted in Las Vegas, it might not be out of line to ask what he hoped to accomplish in terms of "keep[ing]" such atrocities from "happening," specifically if he hoped his actions would prompt changes to gun laws, and who would favor such changes.
It might not be out of line to ask if anyone investigating already knows the answers to such questions, and if so, why they're not saying anything.
---
About David Codrea: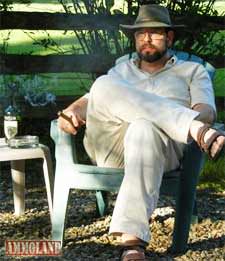 David Codrea is the winner of multiple journalist awards for investigating / defending the RKBA and a long-time gun owner rights advocate who defiantly challenges the folly of citizen disarmament.
In addition to being a field editor/columnist at GUNS Magazine and a contributor to Firearms News, he blogs at "The War on Guns: Notes from the Resistance," and posts on Twitter: @dcodrea and Facebook.