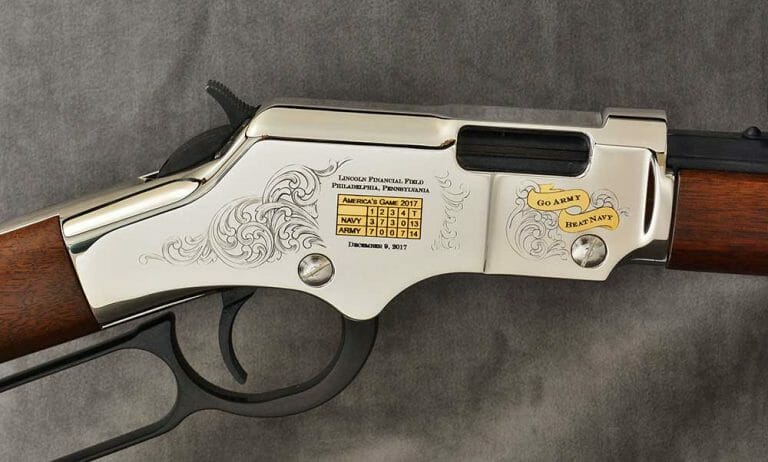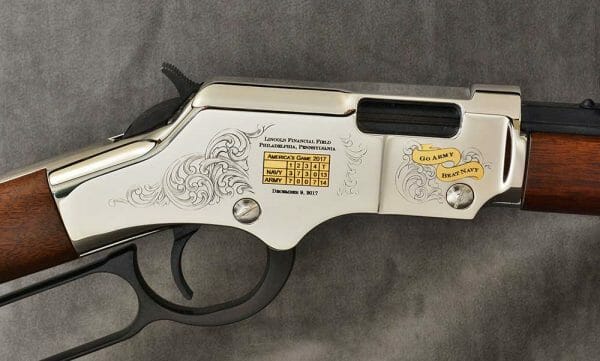 USA – -(AmmoLand.com)- The U.S. Military Academy at West Point and the U.S. Naval Academy at Annapolis have competed in their annual service academy rivalry for 128 years, and custom-firearms designer High Caliber Gifts has created a Special Edition rifle in tribute to the traditional rivalry.
President Dwight David Eisenhower, a West Point Graduate, commented on the classic rivalry, saying, "The Army and Navy are the best of friends in the world 364 1/2 days a year. But on one Saturday afternoon…"
The High Caliber Gifts Special Edition features a custom-engraved Henry Golden Boy Silver .22 with custom scroll engraving, 24-carat gold inlay and special serial numbers recognizing the rivalry.
The first series of rifles honor the Army's 14-13 victory in 2017 but custom rifles can be ordered recognizing any single game in the history of the rivalry, including Navy's 24-0 victory in 1890 or the 2018 game from December 8, 2018.
The engraving on the right side of the receiver features 24-carat gold engraving of the box score of the 2017 classic and a "GO ARMY BEAT NAVY" 24-carat gold inscription.
The left side of the receiver features scroll engraving surrounding the above-referenced quote from President Eisenhower and the 24-carta gold inscription "Black Knights" in recognition of the victorious Army Black Knights.
The Henry Silver Boy .22 features a 20″ blued octagonal barrel, American Walnut stock and nickel-plated receiver cover, buttplate and barrel band. The Silver Boy features the legendary smooth Henry lever action and 16-round capacity.
The very first rifle in the edition is currently being offered at www.gunbroker.com/item/792195636 Minimum bid is only $650.00
and Buy Now price is $1,250.00. The serial number of the first rifle in the series is ARMY14NAVY13.
Additional information is available at www.highcalibergifts.com