USA – -(AmmoLand.com)- Looking at the Spyderco website it shows that they offer 14 variations in their Native folder line of knives. The one that caught my eye was the Spyderco Native 5, S110V Folding Knife in Dark Blue model knife. If you're obsessed with details, you might argue that it should be labeled as purple instead of dark blue. But if you whacked out about that then you probably need up your hourly dosage of Prozac and to chill out.
There is a big following of Spyderco knife connoisseurs and for a good reason. They have a modern look which appeals to many people and comes wicked sharp from the factory. Most of the ones if not all have wide blades if that is what you favor.
Everyone has different preferences. That doesn't mean they are right or wrong, it is just your choice. I prefer a little bit longer blade than on the Spyderco Native 5 Dark Blue knife, but a vast amount of people want a shorter blade than I favor. So this a knife preview is for those of you that prefer that shorter bladed knife.
One thing that I liked right away about the Spyderco Native 5, S110V Folding Knife in dark blue is the handle. The handle is an injection molded fiberglass-reinforced-nylon (FRN) that features Bi-Directional Texturing which provides an exceptional positive grip. When you pick up the knife, it feels like it is stuck to your hand in a firm grip. And if you like to choke down on your blade, it has aggressive grooves on the spine for your thumb and on the bottom on the pointer finger guard is also some aggressive grooves. Choke down on one, and you'll see what I mean. I like the firm grip that it provides.
Spyderco's Native 5 CPM S110V combines the highly evolved form and ergonomics of the Native 5 with state-of-the-art CPM® S110V blade steel. I learned a long time ago that I am not a metalurllogist, but for those of you that are you might be interested in Spyderco's description of the blade and their production process.
"CPM S110V is a high-alloy martensitic stainless tool steel manufactured by the Crucible Particle Metallurgy (CPM) process. This process begins with a homogenous molten bath of high-alloy steel that is forced through a nozzle under high-pressure nitrogen gas to create a spray of small spherical droplets that quickly solidify into powder particles. The small size of the particles forms micro-ingots, drastically reducing the alloy segregation in the steel and ensuring an extremely fine carbide microstructure when the powder is processed into finished steel.

CPM S110V's alloy composition combines an exceptionally high (2.8%) carbon content with generous amounts of chromium, vanadium, and niobium to yield a steel that offers exceptional wear resistance and higher corrosion resistance than many other conventional stainless steels."
When locking folders first came out nearly 50 years ago, or at least when I hit the age of accountability and noticed them, all that I ever saw were lock backs. And many of the cheaper ones, the locking slot at the back of the spine was not very deep. So if any lint in your pocket got lodged in the spine unbeknownst to you, your blade did not lock in place firmly when you opened it, which as you know is not safe. The Spyderco Native Dark Blue folder's locking mechanism seems super secure. I like that.
Then, of course, it comes with Spyderco's trademark Round Hole at the base of the blade to aid in opening.
The pocket clip is unique in that it is the most versatile pocket clip that I have seen because it is a four-position pocket clip. So, it is ambidextrous. So if you're looking for a top-quality locking folder check out the Spyderco Native Dark Blue folder. The MSRP is $189.95. And as is usual, we will close with the specs:
Spyderco Native 5, S110V Folding Knife in Dark Blue SPECS:
Overall Length 6.95″
Blade Length 2.95″
Steel CPM S110V
Closed Length 4.00″
Edge Length 2.42″
Weight 2.5oz (71g)
Blade Thickness 0.125″
Handle FRN
Clip Position Ambi
Tip Carry Position Tip-Up/Down
Lock Type Back Lock
Grind Full-Flat
Origin United States
---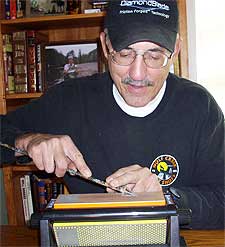 About Tom Claycomb
Tom Claycomb has been an avid hunter/fisherman throughout his life as well as an outdoors writer with outdoor columns in the magazine Hunt Alaska, Bass Pro Shops, Bowhunter.net and freelances for numerous magazines and newspapers. "To properly skin your animal you will need a sharp knife. I have an e-article on Amazon Kindle titled Knife Sharpening for $.99 if you're having trouble."
Disclosure: Some of the links below are affiliate links, meaning at no additional cost to you, Ammoland will earn a commission if you click through and make a purchase.