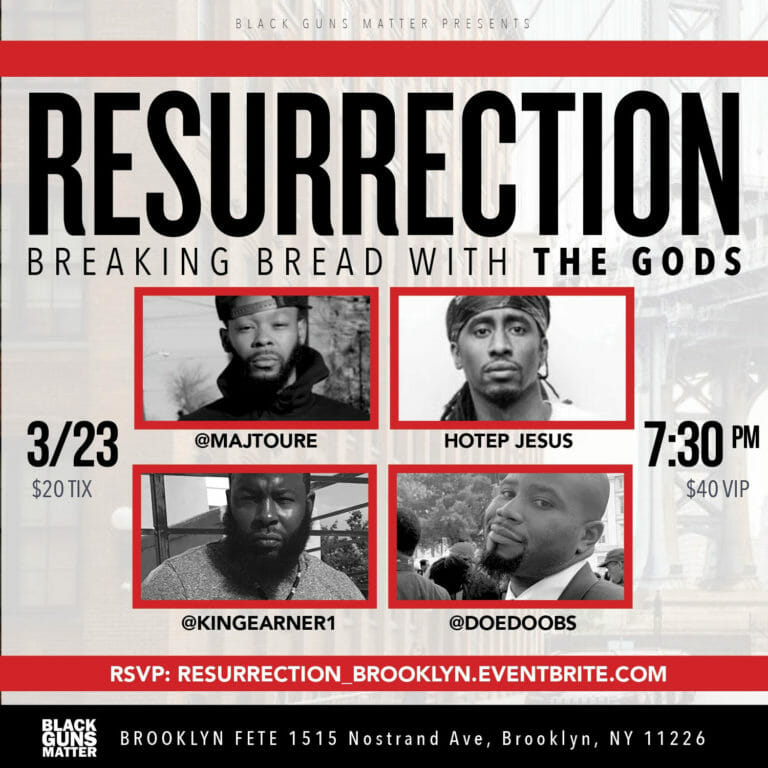 Brooklyn, New York –-(Ammoland.com)- Maj Toure of Black Guns Matter will be joined by three other conservative urban millennials in Brooklyn on Saturday, March 23rd, 2019, to discuss the rise of black radical conservatism in Urban America. The event will be called "Resurrection: Breaking Bread with The Gods."
Toure is a well-known Second Amendment advocate who concentrates on the urban community. He recently spoke at CPAC about the demonization of the Second Amendment in the inner-city community by the liberals and the need to reach out to members of the community to show them that guns are not the evil tools that the left claims.
Toure believes that people should be able to defend themselves and the people in high crimes areas are the most in need of firearms to protect themselves. He also wants to educate people in all communities on gun laws and gun safety. He has worked extensively with groups such as the Firearms Policy Coalition to spread the gospel of gun rights.
The event's guest includes Bryan Sharpe who is better known as Hotep Jesus. The provocateur came to fame by going into a Starbucks and convincing the staff that black people get free coffee for slavery "reparations" because Starbucks is racist. He did that because he was sick of the liberal narrative black people are victims. He wants to break that liberal stereotype of the black community.
Sharpe has appeared on FoxNews with Laura Ingram. He is an author and a successful internet marketer working with likes of Curtis "50 Cent" Jackson. Left-wing groups and publications such as Media Matters and the Daily Beast have attacked Sharpe for breaking with their liberal narrative. Salon.com went as far as calling him "alt-right."
Another guest at the event will be King Earner. He is a successful Author of the book "Restoring the Honor World Wide." King Earner spent time in federal prison before turning his life around. When he came home and realized that he was destroying the community, and he needed to make a change.
He learned violence from his mother who killed her boyfriend in front of him. He speaks of what he calls "nation genocide" in the black community and believes that the inner-city youths need to stop killing each other and take responsibility for their actions instead of blaming others. He believes that people need to start honoring life.
Doedoobs will also be joining the panel. Doedoobs is the author of the book "Stop Being Poor: The Easy Guide to Money Management & Wealth Building." He pushes people to take control of their life by controlling their finances.
Doeboobs is also a successful entrepreneur. He runs Lola & Doe which makes luxury body care products. He believes in defeating poverty through capitalism instead of government programs. He will bring his financial knowledge to the panel.
The panel will discuss issues such as wealth building and achieving financial freedom, knowing your rights and exercising responsibilities, living an honorable life, destroying myths and resisting indoctrination, and building your own movement.
Ticket for the event will be $20 and $40 for VIP access which will give you early access to a meet and greet with the speakers as well as free drinks, and a commemorative swag bag. Event attendees are encouraged to stick around after the event for refreshments and networking opportunities.
Black Guns Matter will hold the event at Brooklyn Fête, 1515 Nostrand Avenue, Brooklyn, NY 1122.
---
About John Crump
John is a NRA instructor and a constitutional activist. He is the former CEO of Veritas Firearms, LLC and is the co-host of The Patriot News Podcast which can be found at www.blogtalkradio.com/patriotnews. John has written extensively on the patriot movement including 3%'ers, Oath Keepers, and Militias. In addition to the Patriot movement, John has written about firearms, interviewed people of all walks of life, and on the Constitution. John lives in Northern Virginia with his wife and sons and is currently working on a book on leftist deplatforming methods and can be followed on Twitter at @crumpyss, on Facebook at realjohncrump, or at www.crumpy.com.