Boonville, MO –-(Ammoland.com)- CMMG Inc. innovates the AR platform yet again with the introduction of the 9 ARC Magazine. Developed in collaboration with Mean Arms, CMMG's 9 ARC Magazine (10 or 30-round capacity) makes it possible to shoot 9mm from an AR15 lower receiver when paired with CMMG's proprietary 9mm Radial Delayed Blowback BANSHEE or RESOLUTE upper.
The 9 ARC Magazine is ideal for those who have a registered SBR or full-auto AR15 lower receiver and want to shoot 9mm. It also offers an affordable way to train or enjoy an outing at the range by allowing users to shoot inexpensive 9mm ammunition while still maintaining the familiar furniture and controls on their existing AR15 lower receiver.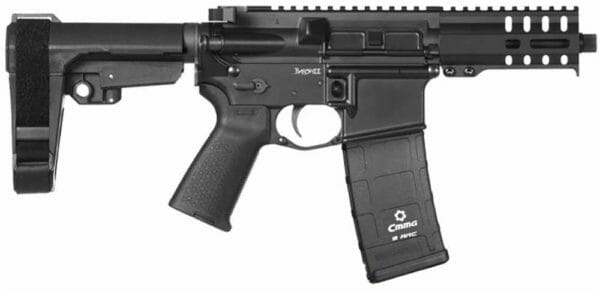 The process of converting an AR15 to 9mm is simple and quick. First, attach a CMMG 9mm Radial Delayed Blowback upper receiver to an existing AR15 lower. Second, insert CMMG's 9 ARC Magazine to safely feed 9mm ammunition. CMMG recommends using a standard carbine buffer and action spring to reliably cycle the action in this configuration. The 9 ARC Magazine also retains last round bolt hold-open functionality, allowing for faster reloads.
For those who have an abundant amount of Magpul PMAGs, CMMG will offer 9 ARC Magazine Adapters. The 9 ARC Magazine Adapters are installed into Gen 2/3 PMAG bodies to convert them to 9mm. The 9 ARC Magazine Adapters will be sold as single units, as well as in packs of three, and can be modified to hold 10, 15, 20 or 30 rounds of 9mm ammunition.
One the greatest benefits of using the 9 ARC Magazine is that it allows shooters to enjoy the advantages of CMMG's patent-pending Radial Delayed Blowback operating system without the need for a proprietary lower receiver. Radial Delayed Blowback has quickly become the gold standard for pistol caliber carbines, primarily due to the reduction in felt recoil versus other direct blowback designs.
CMMG will offer a complete line of firearms in RESOLUTE and BANSHEE configurations that are designed for 9 ARC Magazines. Each is built with CMMG's Mk4 lower receiver and a dedicated 9mm Radial Delayed Blowback upper receiver.
The MSRP for the 9 ARC Magazine is $44.95 and for the 9 ARC Magazine Adapter is $29.95. The three-pack of 9 ARC Magazine Adapters will retail for $79.95.
CMMG Inc will be exhibiting during the 148th NRA Annual Meeting, showcasing new products like the 9 ARC, .40 S&W BANSHEE and the highly anticipated .350 Legend. Come visit CMMG at booth #5463 to get hands-on experience with the new products and the award-winning Mk47. Also have a chance to meet competitive shooters Team Yackley and a special appearance by legendary UFC fighter Chuck Liddell on Saturday between 1:30pm – 2:30pm.
---
CMMG Lifetime Quality Guarantee
CMMG, Inc. will guarantee its products against defects in material or workmanship. CMMG, Inc. will repair, replace or substitute part(s) (at CMMG, Inc. discretion) at no charge to the customer if a defect of material or workmanship is found. All service work must be carried out by CMMG, Inc.
About CMMG:
CMMG began in central Missouri in 2002 and quickly developed into a full-time business because of its group of knowledgeable and passionate firearms enthusiasts committed to quality and service. Its reputation was built on attention to detail, cutting edge innovation and the superior craftsmanship that comes from sourcing all their own parts. By offering high quality AR rifles, parts and accessories, CMMG's commitment to top-quality products and professional service is as deep today as it was when it began.