U.S.A. – I'm not a tactical type of guy. Not against it, but there's only so many hours in the day and you've got to do what is important to you and cut the rest. I like to hunt & fish and that seems to fill a guys schedule up pretty tight. In January I had four seminars at SCI in Reno, next week two in Dallas at DSC, next week five in Vegas at SHOT and the next week one in Boise at the CC Wildgame Feed. And then spring is magical in Idaho. We have crappie fishing, bear hunting, turkey hunting, mushroom hunting and whistle pig hunting all in full tilt at once. And it is daylight from about 5:40 a.m. to 10:20 p.m. so you can wear yourself out. You get my drift
And then on top of all of that I'm getting ready for a Texas hog hunt next week with Slow Glow and am getting a Caracal CAR814 A2 Patrol .300 Blk. decked out and ready to hunt with. Due to hunting with Slow Glow I figure most of my shots will be 25 yards max so I wanted to use a Riton Optics RT-S Mod 3 2-7×32 for fast acquisition.
But my go-to guy at Riton Optics told me I needed to check out their Red Dot optic and magnifier. Yep, that'd be a great option too eh? So I grabbed one and mounted them on the Caracal. If you're not familiar with this system, in a nutshell here's what you'll do. You'll want to mount the magnifier on the back. In this case I'm using the Riton Optics RT-R Mod3 3x Magnifier.
To mount the magnifier is easy. Just use a Riton Optics RT-M scope ring (It only takes 1 ring). Place it so that the eye relief is as desired and tighten down the ring. Next, you'll want to mount the Red Dot RT-R Mod 3 unit. Mounting it is pretty much the same as mounting the magnifier. They include Allen wrenches for the screws but you'll also need, I believe it was a size 12 socket wrench to tighten the ring on the Picatinny rail.
Mount the Red Dot so it has at least a paper width gap between it and the magnifier. I'll explain why in a minute.
Now we're ready to shoot. First we need to sight it in. Like when sighting in all new scopes set up a large paper target at 25 yds. Take a shot and adjust accordingly. To make adjustments unscrew the caps and adjust just like with a scope.
For me, I couldn't even hit the paper so I had to move up to 12 yds to get on paper. I made adjustments and then moved back. Like I said above, I plan on a lot of close, fast action. In situations like this I see some big-time applications for a Red Dot optic.
So what's the purpose of the magnifier? It will allow me to make longer shots in case instead of stalking up behind a Slow Glow we decide to throw up a little Ameristep Throw Down blind like we did last year while hunting with the Benjamin Airbow. If we do that I'll have 40-75 yd. shots so it will be nice to have a little magnification.
But if the first few nights we walk up and have 1-20 ft. shots the Magnifier has a flip hinge so I can rock it to the side out of the way of my line of vision. I think magnifiers are an ingenious invention.
And how do they work? Great!
For this hunt I sighted it in at a 20 yd. range and was getting .2-inch groups.
How do they hold up? Well now that you mention it. I decided to do a stress test on the Red Dot optic and mildly dropped it. Then to ensure its toughness I dropped it again while mounting it and it bounced across the hardwood floor numerous times before coming to a rest. Dang, am I getting that clumsy? No harm done.
And lastly. I just submitted some turkey hunting articles to eight of my newspaper columns. I've never used scopes on a shotgun but due the distances that you can stretch out to (Like 50-70 yards) with HEVI-SHOT and some of the modern turkey loads you actually do need a sight/scope of some kind. If you're using a Tru-lock Longbeard XR choke and HEVI-SHOT (Check their HEVI-X Strut Tungsten) then you're going to have some super tight groups, even at longer distances. So you're going to have to aim at a body part i.e. head/neck. So the Riton Optics RT-R Mod 3 RMD and 3x magnifier is a perfect choice. Good luck.
---
About Tom Claycomb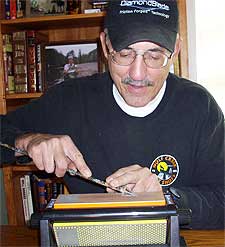 Tom Claycomb has been an avid hunter/fisherman throughout his life as well as an outdoors writer with outdoor columns in the magazine Hunt Alaska, Bass Pro Shops, Bowhunter.net and freelances for numerous magazines and newspapers. "To properly skin your animal you will need a sharp knife. I have an e-article on Amazon Kindle titled Knife Sharpening for $.99 if you're having trouble."
Some of the links on this page are affiliate links, meaning at no additional cost to you, Ammoland will earn a commission if you click through and make a purchase.