Check out our Daily Gun Deals page for more savings!
U.S.A. –-(Ammoland.com)- For many, red dot sights have fallen in popular use within the recreational shooting realm in favor of low-power variable optics.  For defensive, military and law enforcement use, the venerable red dot sights are still seeing widespread use and success.  Today I'm going to break down my Top 5 Red Dot Sights.
Let's delineate our boundaries a little first.  I'm covering full-size red dots intended for rifle/shotgun use, not the Mini Red Dot Sights (MRDS) more commonly seen used on handguns.  This excludes such optics as the Trijicon RMR and Vortex Venom.  Some MRDS' are excellent performers and certainly have their place in the shooting world, just not in this article.
What criteria did I use?  I took a comprehensive approach and compared weight, battery life, Night Vision Device (NVD) compatibility, brightness settings, water resistance, battery type, stock mount option, and dot size options.  We'll talk about price, but I'm looking at the top 5 red dot sights out there, not just the best within a certain budget.  I eliminated many other options on the market if they couldn't crack the top 5 in more than a couple of categories.  Finally, no more than one entry per manufacturer.
Let's get a brief primer on each red dot sight, then discuss what the final hierarchy of domination looks like and why.
Red Dot Contenders
Read AmmoLand's video review of the all-new Vortex AMG UH-1 Gen 2 Red Dot found here
Vortex's husky holographic sight launched in a timely fashion, taking advantage of both Vortex's surging popularity and EOTech's public thermal shift stumble.  In the same fashion as EOTech offerings, the UH-1 (or Huey as known internally at Vortex) has a small dot surrounded by a large circle.  The massive ring helps to quickly center the shooter's eye, providing rapid target acquisition and ocular orientation.  The UH-1 packs in a couple of extra features above and beyond the standard: namely a mini-USB port for recharging the optic's battery.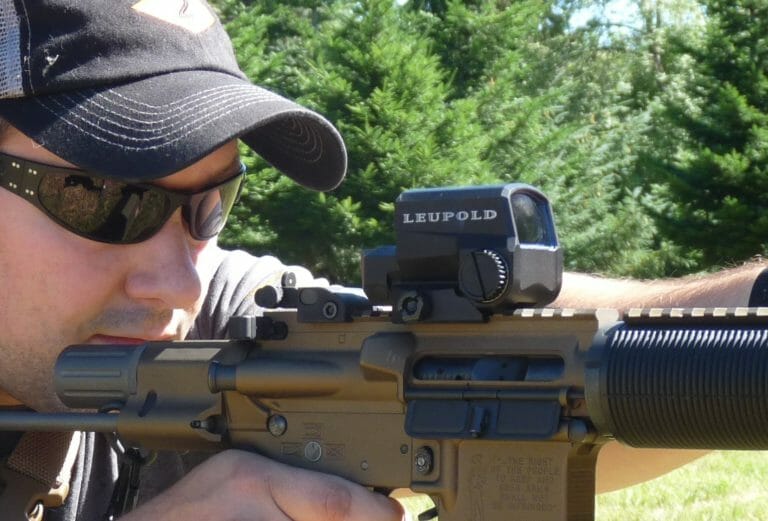 Beaverton, Oregon's Leupold has been producing optics since 1907.  While better-known for their hunting and precision shooting optics, they've had a few successful red dot sights over the years as well.  While the Leupold Carbine Optic (LCO) has been out for about 4 years now, it entered into an incredibly crowded market segment.  Despite many positive reviews and shooter experiences shared, (including my own two years ago) it doesn't seem to have grabbed as much market share as some had predicted.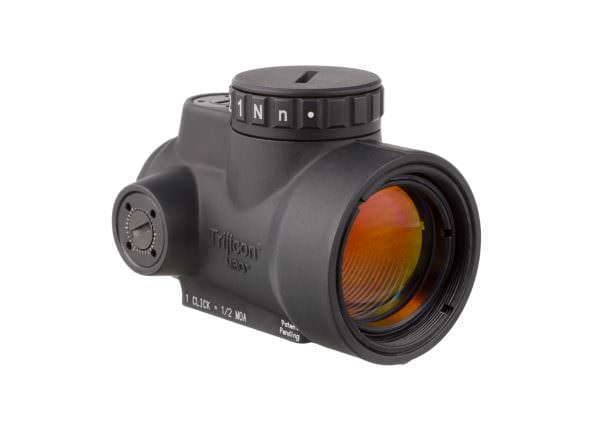 Trijicon is exceedingly well-known in military circles, primarily for the legendary toughness of their ACOG prismatic optics issued to many units.  In 2015 Trijicon added the Miniature Rifle Optic (MRO) to their line-up.  While no longer miniature by 2019's standards of red dots, the MRO's 4.1 oz weight is still far ahead of the curve.
Israel's Meprolight is a great deal younger than some of the competitors, having been founded in 1990.  Their end-users are no less demanding though, as the Israeli Defense Force (IDF) are one of the many regular abusers of Mepro's optics.  The RDS PRO/M5 is regularly issued to IDF fighters for use on their IWI Tavor and M4 rifles.
Perhaps the best known brand of Red Dot Sights within the US civilian and military markets, Aimpoint has been sending various CompM series red dots to eastern conflict zones with US service members since at least as early as Operation: Gothic Serpent (Somalia), and almost certainly before.  The CompM5 is the latest in a long line of successful red dot sights from Aimpoint.  The Swedish manufacturer has been wringing out shocking battery longevity for years, which continues here.
Here are some details on the categories which the red dot sights were judged upon:
Weight
Trijicon MRO – 4.1 oz
Meprolight RDS – 4.6 oz
Aimpoint CompM5 – 8.4 oz
Leupold LCO – 9.5 oz
Vortex UH-1 – 11.8 oz
Not too much surprise here, the LCO and UH-1 have larger, hooded bodies while the MRO and Mepro are both slimmer.  The CompM5 is definitely heavier than it looks though.
Battery Life
 Aimpoint CompM5 – 50,000 hours
 Trijicon MRO – "5 years"
 Leupold LCO – "5 years"
 Meprolight RDS – 2000 hours
 Vortex UH-1 – 1500 hours
Aimpoint takes this one by a mile with 5 years constant-on life.  The LCO and MRO both advertise 5 years, but a little digging shows a difference.  The MRO says between 5 years and 25 days battery life depending on the setting.  The LCO says 5 years, but the design engineer has been quoted that is more of an "average life cycle of a battery" with the auto-shutoff feature.  Thus, the MRO wins the tie-breaker.  The Mepro and Vortex sights both come in significantly lower, but both also have an auto-off to save battery life.
Brightness Settings (total number)
 Leupold LCO – 16 settings
 Vortex UH-1 – 15 settings
 Aimpoint CompM5 – 10 settings
Trijicon MRO – 8 settings
Meprolight RDS – 4 settings
It's worth mentioning upfront that each of these red dot sights has some degree of Night Vision Device (NVD) compatibility.  All except the Vortex UH-1 have their adjustments done via a knob, which is faster and easier than with buttons.  I haven't found any of these to be lacking in visibility of the brightest level, though I haven't had them all at the same time to test in the exact same environment.
Water Resistance
 Aimpoint CompM5 – 150 feet
Trijicon MRO – 100 feet
Vortex UH-1 – 80 feet
TIE Leupold LCO and Meprolight RDS – 66 feet
Water-resistance is viewed by many to be one of the key indicators of integral strength within an optic.  Not because any of us are likely to be drawing a bead on a sea cucumber at 60+ feet deep in the ocean, but because of the massive pressure imparted by the sheer weight of water at depth.  Underwater is harsh, so if your optic can survive there it shouldn't have much trouble on a landlocked op.
Battery Type
TIE Aimpoint CompM5 and Meprolight RDS.  AAA and AA battery, respectively.
Vortex UH-1 – CR123A (preferred), LFP123A (the rechargeable version of CR123a, is charged through mini-usb port), RCR123A (not recommended, shorter battery life but will not damage unit).
Leupold LCO – CR123a
Trijicon MRO – CR2032
The AA and AAA battery are some of the most common (and inexpensive) in the world, so the Aimpoint and Meprolight get top marks.  The Vortex has three options, so it gets the nod over the Trijicon and Leupold.  The CR123a is an effective battery but remains far more expensive and less likely to be found in a drawer of stuff.  It is far from a rare battery though and can be found at nearly any store these days.
Dot Size Options
 Meprolight RDS – 3 sizes (1.8, 3, 5 MOA)
TIE, everyone else, 1 size.  LCO, UH-1 1MOA.  MRO, CompM5, 2 MOA.
Everyone has a preference for dot size it seems.  While 1 or 2 MOA dots work best for me, some prefer a larger dot that their eyes can pick up faster without cranking the brightness setting.  Meprolight offers choices, thus appealing to some who are picky about dots.
Stock Mount
 TIE Vortex UH-1, Aimpoint CompM5 (LRP mount)
 Meprolight RDS
Leupold LCO
Trijicon MRO
The UH-1 and CompM5 take first in the heat for having not only QD throw levers but locks on those levers as well.  The Mepro RDS has a pair of throw levers, no locks.  The LCO has a screw-tighten base, with a big enough notch to use a quarter, backside of a knifes blade, or fingers.  The MRO has a pair of hex screws to tighten.  Some might question my using the CompM5's LRP mount when it has a hex screw mount that is also factory.  I can only grade what they sent, but the score difference wouldn't be enough to drop the CompM5 below the next competitor.
Price as of 4/8/19 (not graded, for informational purposes)
 Trijicon MRO – $400
Vortex UH-1 – $499
Meprolight RDS Pro – $610
Leupold LCO – $700
Aimpoint CompM5 – $981 (with LRP mount, $820 otherwise)
I took each score and evaluated them.  If an optic got first place, it added one point.  The fifth-place adds five points and so on.  Points are bad, m'kay?
The grand winner of the Top 5 Red Dot Sights challenge is:
While it appears you get what you pay for at the top of the pack with Aimpoint's CompM5, these are all very solid options with fantastic performance up and down the line.  Your use and preferences dictate your needs.
Any others you think should have been on the list instead of one of these options?  Have you used any of these and have experience to share?  Let me know in the comments below if you agree with the top 5 red dot sights!
---
About Rex Nanorum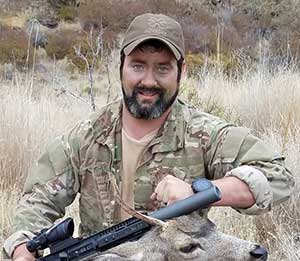 Rex Nanorum is an Alaskan Expatriate living in Oregon with his wife and kids. Growing up on commercial fishing vessels, he found his next adventure with the 2nd Bn, 75th Ranger Regt. After 5 tours to Afghanistan and Iraq, he adventured about the west coast becoming a commercial fisheries and salvage SCUBA diver, rated helicopter pilot instructor (CFII) and personal trainer, before becoming a gear reviewer and writer."
Some of the links on this page are affiliate links, meaning at no additional cost to you, Ammoland will earn a commission if you click through and make a purchase.