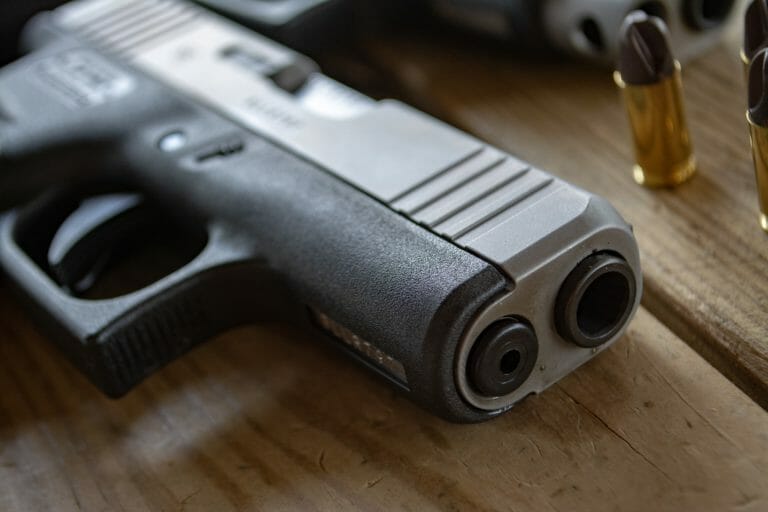 USA –-(Ammoland.com)- I shot a Glock and I liked it. At risk of ripping of the lyrics from a Katy Perry song, it's true.
I have to confess that I'm not normally a Glock guy. I don't have any serious problems with them. If you handed me a Glock, most any Glock, and said this is all you get for the rest of your life to protect yourself, I'd be just fine with that. You can't argue against their reliability and utility. It's just that I don't tend to shoot them as well as some other guns. I think it's a grip angle and shape thing.
With all that said, I've been testing two newer Glocks, the 43X and 48. We'll cover the 48 in detail in a separate article, so for now just know that these are sibling pistols. They share the same grip length and magazines; the only thing that varies is barrel length. So, not surprisingly, I liked them both and will be hard pressed to send them back. Don't tell my wife, but I'll be asking the folks at Glock for the invoice amount before too long. Yeah, me, who's not a "Glock guy."
Let's take a closer look at the 43X and perhaps I can explain in more detail what I liked about this pistol and its slightly bigger brother.
The Basics
Both the 43X and 48 models are the newest edition to the Glock slimline series. These pistols are single-stack designs and the grip height of both allows for 10-round magazine capacity, plus an additional one in the chamber. As you might guess, both pistols share the same magazines. Be aware that these new pistols do use a different magazine from the Glock 43 – they're not interchangeable.
The Glock 43X is designed for everyday carry. The barrel measures 3.41 inches long so that makes the overall pistol length 6.5 inches. The height is the same as that of the Glock 48 at 5.04 inches including the magazine baseplate. With an empty magazine, the 43X weighs just 18.7 ounces.
The first thing you'll notice about the Glock 43X besides the compact and slim size is the two-tone design. The frame is traditional Glock black polymer. The slide is a matte silver surface nPVD finish. I like the looks and the matte nature of it didn't create any shine or glare.
The Glock 43X has the standard cocking serrations on the rear of the slide and also a slightly shorter pattern of the same up front. You'll notice that the frame has an aggressive beavertail shape that actually scoops down a bit. You can take an aggressive high grip and not worry about slide bite. While we're talking about the frame, the rest is standard Glock. The magazine release is on the left but is easily reversible. The grip texture is on all four sides and is of the raised dot variety. If you carry inside the waistband, it's not going to tear up your skin too much like some sandpaper finishes on other pistol makes.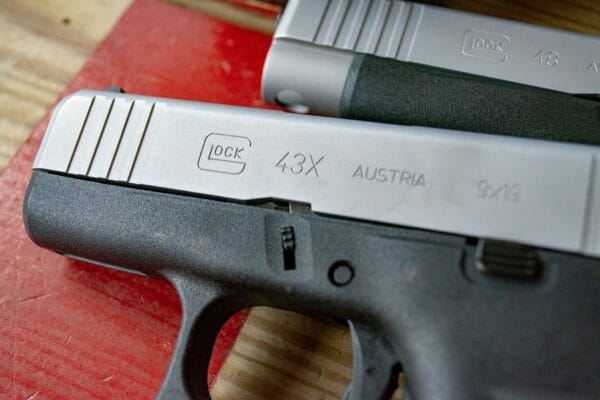 The trigger on this 43X measured 6 ¼ pounds when pulled from the vertical center of the trigger face. The face has a slightly rounded profile with vertical serrations and of course, the safety leaf in the center. Given my hand size, I found the natural trigger finger placement on this pistol to be in the first joint crease. Normally I shoot more with the pad of my finger, but the joint placement just felt natural on this pistol and I preferred that rather than forcing a "pad centric" trigger press. To use the pad, I had to draw my trigger finger far enough away from the frame that it negatively impacted my firing hand grip, so I went with that felt right – with good results. The press sensation gives you about a quarter of an inch of weighted take-up followed by about 3/16ths of an inch of steady pressure before the break. The reset required about a quarter of an inch of forward travel and was easy to feel and hear.
The Glock 43X shown here is the standard model with the plastic Glock white dot sights. You can also order this pistol with Glock Night Sights or Ameriglo BOLD sights. As I'll probably buy this sample pistol, one of the first things I'll do is swap out the sights. I'm thinking of testing out the brand new XS Sights DXT2 Big Dots in the bright orange configuration. Seems like the fast nature of those sights would pair well with this compact carry pistol.
Shooting
While designed for easy concealed carry, the 43X is a pleasant pistol to shoot. Even though it's a single-stack, the grip is wide enough to provide for a good hold with my size large hands. I measure the grip width as 1.02 inches. As a comparison, the Springfield Armory XD-S sitting here measures about .94 inches. The other thing you'll notice about the grip is that it's well rounded, at least in comparison to other Glock models. I like that.
I did some warm up shooting by chronographing a variety of ammo types. Since I was testing the longer barreled Glock 48 at the same time, I wanted to see how much velocity difference there was between the two. Here's what I measured for average velocity using a Shooting Chrony Beta Master placed 15 feet down range.
Ammunition
Average Velocity

(feet per second)

Federal HST 9mm 124 grain
1,084.0
Sig Sauer V-Crown 9mm 124 grain
1,117.0
Sig Sauer FMJ 9mm 115 grain
1,106.7
DoubleTap Lead Free 9mm 77 grain
1,361.0
Inceptor ARX 9mm 74 grain
1,448.3
American Eagle Syntech 9mm 115 grain
1,104.3
Sig Sauer 365 V-Crown 9mm 115 grain
1,080.3
Hornady American Gunner XTP 9mm 115 grain
1,070.7
You'll notice a couple of big numbers in there from the Doubletap and Inceptor entries. The Inceptor ARX is a defensive round with a number of twists. The projectiles are injection molded from a heated goo of polymer and copper – that's a whole new bullet construction technique. It comes out light-for-caliber and these 9mm bullets weigh just 74 grains, hence the high velocity numbers from this compact pistol. The other surprise with the ARX was the accuracy out of this gun. I've shot this ammo out of a wide variety of pistols and hands down it performed best from the 43X and 48 Glock barrels. The Doubletap load is a concoction designed by the Godfather of Boom at Doubletap especially for subcompact pistols. The 77-grain all copper bullets get big velocity and expansion but don't over-penetrate thanks to their light weight.
To check out the ease of shooting accurately, I did some semi-formal sandbag hold testing from 15 yards – an appropriate distance for a compact carry pistol like this.
Ammunition
Group Size, 5 shots

(inches at 15 yards)

Federal HST 9mm 124 grain
1.73
Sig Sauer V-Crown 9mm 124 grain
1.62
Sig Sauer FMJ 9mm 115 grain
1.91
DoubleTap Lead Free 9mm 77 grain
2.6
Inceptor ARX 9mm 74 grain
1.14
American Eagle Syntech 9mm 115 grain
2.15
Sig Sauer 365 V-Crown 9mm 115 grain
2.37
Hornady American Gunner XTP 9mm 115 grain
0.87
I didn't shoot enough groups to warrant choosing one variety of ammo over another from the above list, I just wanted to see how the pistol performed with a variety and to get an idea of point of impact relative to the sights. Every group was on vertically and favored the left just a hair except the ARX. I'm fairly sure that wasn't me thanks to the solid rest, so I'll probably tweak whatever sights I install just a bit.
All in all I was impressed with the Glock 43X. It's size, shape, and weight make it a perfect inside the waistband every day carry pistol. The shorter barrel length on this one will be especially appreciated by you appendix carriers. It's a good combination of big enough to control and shoot comfortably yet small enough to easily pack.
---
About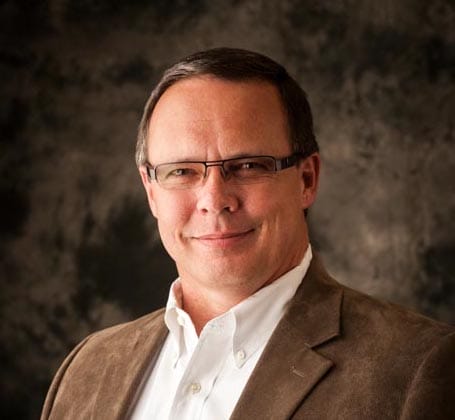 Tom McHale is the author of the Practical Guides book series that guides new and experienced shooters alike in a fun, approachable, and practical way. His books are available in print and eBook format on Amazon. You can also find him on Facebook, Twitter, Instagram and Pinterest.