U.S.A. –-(Ammoland.com)- The Hard Target Interdiction rifle was designed and built for a specific military request to provide extreme long-range accuracy and penetration. Easily convertible between multiple big-bore calibers, the HTI is accurate well beyond 2,000 yards in all of its chamberings. Whether a military sniper is stopping a vehicle or a marksman is looking to shoot an 18-inch group at 3,000 yards, the HTI provides extreme distance capability in the most compact, accurate and convertible package on Earth.
Convertible:
The HTI offers four powerful calibers to suit mission requirements; .50 BMG, .375CT, .408CT, and .416B. If those are not enough, custom kits are available to allow customers to install their own aftermarket barrels. These features combine to make the HTI the most versatile, extreme-range rifle in the world. Converting between calibers is simple, takes just sixty seconds and is guaranteed to return to zero when the same barrel is reinstalled.
Compact:
The HTI's perfectly-balanced bullpup configuration is 11 inches shorter and 11 pounds lighter than the M107 in use by the U.S. Army.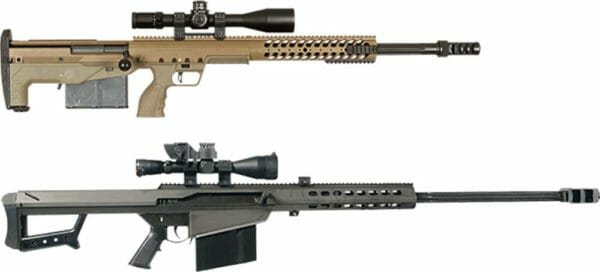 Accurate:
The HTI maintains exceptional accuracy because of its match grade free-floated barrel, patented return-to-zero barrel mounting system, and fully adjustable match grade trigger (1-6 lbs.).
Desert Tech provides a fully transferable, Limited Lifetime Warranty for all Rifles.
A rifle is only as accurate as the ammunition you shoot through it. Desert Tech developed its own line of ammunition to guarantee exceptional precision and consistency from lot to lot that the military sniper, LE sniper, and long distance shooter can count on.
| Caliber | Max Range | Weight | Overall Length | Barrel Length | Twist Rate | Magazine Capacity |
| --- | --- | --- | --- | --- | --- | --- |
| .375 CheyTac | 3,007 yards | 19.5lbs | 45" | 29" | 1:10.5" | 5 |
| .408 CheyTac | 2,788 yards | 20.35lbs | 45" | 29" | 1:13" | 5 |
| .416 Barrett | 2,515 yards | 20.35lbs | 45.75" | 29" | 1:13" | 5 |
| .50 BMG | 2,406 yards | 19.9lbs | 45.75" | 29" | 1:15" | 5 |
---
About Desert Tech:
Located in West Valley City, Utah, Desert Tech employs an amazing team of dedicated workers with strong values and ethics. We have a strong belief in the second amendment and strive to provide the best firearms, ammunition and training possible for military, law enforcement, and private gun owners. We are very passionate about the products we make and are extremely committed to being at the forefront in developing tomorrow's weapons technologies.