Words by Lt. Col. Allen West
Texas – -(AmmoLand.com)- Greetings, everyone!
I recently enjoyed being with my family on Father's Day and watching our oldest daughter, Aubrey, complete her second Master's degree in four years, earning the title of Physician Assistant.
At the end of July, we will gather to watch our youngest daughter, Austen, graduate from Florida International University with her Bachelor's degree. From the time I held them both as little infants — hence the reason I choose life — I have dreamed of this future for our girls.
Now, many have wondered what my personal future shall be, and, when publicly asked, I have responded with the wise words of King Solomon:
"Trust in the Lord with all your heart and lean not on your own understanding; in all your ways submit to him, and he will make your paths straight. Do not be wise in your own eyes; fear the Lord and shun evil." — Proverbs 3:5-7 (NIV)
Now, many have wondered what my personal future shall be, and, my next steps politically. Here's an announcement of sorts to assist with the answer.
Funny thing, there have been some who have said that is a "political answer." I think not. Then again, I could always just consult with that incredible sage and self-proclaimed oracle, Alexandria Ocasio-Cortez. After all, in her finite wisdom, and knowledge, she has predicted that our world will end in 12 years. I beg to differ, as we all know that the world will not end until my Tennessee Volunteers football team beats Alabama, goes undefeated, and wins the college football national championship. It last happened 22 years ago . . . We are due!
All jokes aside, many of you have admonished me to return to active political life. Probably the most forthright directive came from one of my former bosses, retired Marine Lieutenant General "Buck" Bedard who flat-out said to me, "Hey, Warrior, get your ass back into the fight!" Spoken like a true Marine Corps Infantry Commander, and General. One cannot disobey a direct order such as that!
I came back to Texas in December of 2014. My last duty station in my Army career had been Ft. Hood, Texas. I left there in March of 2004. I'm proud of my 22 years of service in my Army, and to our nation.
If someone had told me that I would end up being a member of the United States Congress, representing South Florida, I would have ROTFLMAO, but it happened. If someone had told me that a Republican majority in the state of Florida, Senate President Don Gaetz and Speaker Will Weatherford, along with Gov. Rick Scott, would sign into law a redistricting that forced me out of the congressional district I was honored to represent, I would have said that is not possible. When confronted with concrete evidence of voter fraud and election results manipulation in St. Lucie County, if you had told me Attorney General Pam Bondi would do nothing, I would have said "impossible."
But, through it all, we learn to trust in God's wisdom, His direction, and we press on!
When the policy center I came to Texas to lead folded, due to the incessant meddling and backbiting of its disgraced previous CEO, John Goodman, I could have ranted, "God why did you bring me to Texas?" When faced with a former veteran, a liar, who embezzled funds from the policy center, a fella by the name of Josh Galloway — who was caught and sentenced to prison — I could have become dejected and depressed.
No, I believe that you must fix your eyes firmly upon God:
"For I know the plans I have for you," declares the Lord, "plans to prosper you and not to harm you, plans to give you hope and a future." — Jeremiah 29:11 (NIV)

"And we know that in all things God works for the good of those who love him, who have been called according to his purpose." — Romans 8:28 (NIV)
I always encouraged soldiers to know their daily "task and purpose," and I share the same advice, counsel, with you all. As for me, well, my purpose is in the title of my first book, Guardian of the Republic. The oath of office that I took on July 31, 1982, is something I take to heart, quite seriously, with no mental reservation or purpose of evasion.
So, here I am in Texas, where I came, not to seek any political office, however, there is a calling. Folks have called upon me to consider three opportunities here in this next election cycle: run for US Senate, run for US Congressional District 32 (where I have lived since moving to the Dallas area), or run for Chairman of the Republican Party of Texas.
I find myself shaking my head at all the politicos who are calling around — even calling me personally — to ascertain what God's plan is for my life.
Of course, there is a fourth option: do nothing. However, I do not want to end up like Jonah. After all, later this week, I am heading to Cayman Brac for my annual Dive Pirates trip. I don't wanna find myself in the belly of a fish, LOL.
Therefore, God has laid it upon my heart the direction He would like me to explore. My wife, Angela, and daughters Aubrey and Austen have consented and agreed, and are on the same sheet of music. It is important to have their support. So, on the evening of July 3rd, during a live YouTube event, I will let y'all know the opportunity that I will endeavor to pursue. I will also follow it up with a written statement, as well.
I will follow LTG Bedard's orders and get back into the fight. However, I know how ugly this all can be. Not just with the progressive socialists, with whom I welcome an ideological fight, but those who would claim that they are on "my side." Of course, that reminds me of these emboldening verses of scripture:
"No weapon forged against you will prevail, and you will refute every tongue that accuses you. This is the heritage of the servants of the LORD, and this is their vindication from me," declares the LORD." — Isaiah 54:17 (NIV)

"What, then, shall we say in response to these things? If God is for us, who can be against us?" — Romans 8:31 (NIV)
Some of you reading this missive may say, "Doggone, Colonel, spare us the Bible lesson!" But, I can't do that, folks. This is the foundation of who I am, and I ain't denying Him, and risk Him denying me. Furthermore, when this is all said and done, the praise, honor, and glory will not go to me. At that time, y'all will remember this missive, so that it all goes to God, and not man, ever.
Why share my decision on July 3rd? It's simple: the following day is our Independence Day, and it honors this America, this Republic for whom I have given my life to serve. I will inform y'all as to how I will continue the next chapter of service to God and Country.
I wanted to lay this all out for you, not just to know what I am thinking, but as an encouragement. We never know how God will use any situation for our good. I see too many who seek to fill an empty space in their hearts with drugs, alcohol, and material gains. There are many of us who shy away from the tough callings, seeking to avoid the road less traveled, trials, and tribulations. We only grow stronger through adversity and we should never be risk-averse, just ask for God's guidance.
Remember Romans 5:3-5 (NIV):

"Not only so, but we also glory in our sufferings, because we know that suffering produces perseverance; perseverance, character; and character, hope. And hope does not put us to shame, because God's love has been poured out into our hearts through the Holy Spirit, who has been given to us."
Go out — carpe diem — do as Alexander the Great once claimed, "fortune favors the bold. " The motto of the British SAS says, "Who Dares, Wins." I will be as Teddy Roosevelt spoke of, "The Man in the Arena," and endeavor to achieve great things, not for me, but for my country, for Texas, and for my family.
Hey, I love y'all, seriously, even those sad pathetic souls who call themselves progressive socialists. After all, someone has to save them from themselves, poor mindless lemmings. One of my favorite maxims in life comes from US Army General Joe Stillwell, "Illegitimis Non Carborundum."
Yes Sir, LTG. Bedard, your favorite Army Doggie is going back into the fight!
Steadfast and Loyal!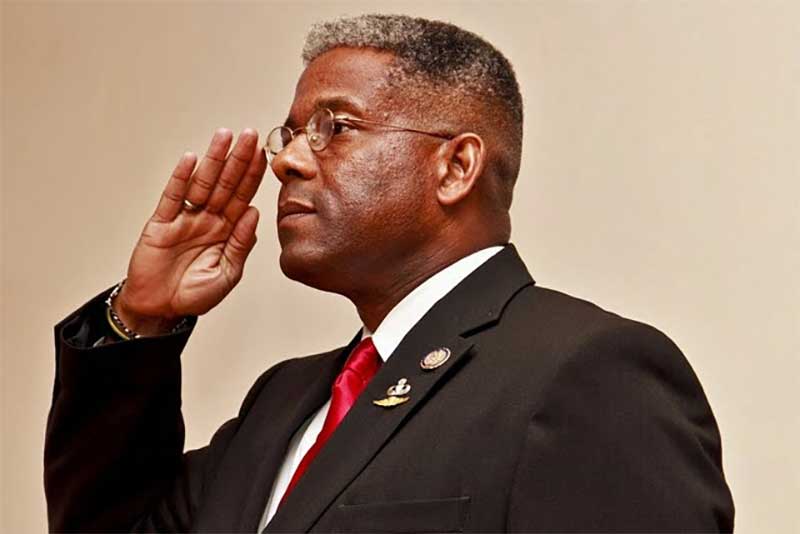 ---
Allen West is a retired Lieutenant Colonel in the United States Army. Mr. West is a Senior Fellow at the Media Research Center to support its mission to expose and neutralize liberal media bias and is an author of the book from Brown Books Publishing Group, "Hold Texas, Hold the Nation: Victory or Death" available on Amazon. Read more from Allen West at www.theoldschoolpatriot.com .