Opinion
USA – -(AmmoLand.com)- After years of Democrats denying they want to take anyone's guns, last night during the presidential debate, Beto O'Rourke finally told the truth stating "Hell yes, we're going to take away your AR-15"! Followed by thunderous applause.
Of course it won't be Beto himself going door to door confiscating what he calls "weapons of war" from people who have done absolutely nothing wrong. He'll send men with "weapons of war" to do it.
And we can all know how that will turn out. When will these people admit they don't care about the lives of gun owners? Whether it's Red Flag laws or full frontal gun confiscation, their policies are putting our lives at risk.
It didn't end there though. Beto immediately took to Twitter selling a t-shirt with the same statement to raise funds for his campaign.
Hell yes, we're going to take your AR-15.

Buy your shirt now: https://t.co/kEJxoLvfH5 pic.twitter.com/KKpAKX4IL8

— Beto O'Rourke (@BetoORourke) September 13, 2019
Well, we've got our own shirts for sale now too – including tanks, women's fit, and hoodies.
All proceed directly support the fight to defend your guns rights! Get yours at rallyforourrights.com/store
---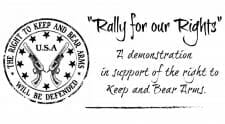 About Rally for our Rights
Rally for our Rights is a non-partisan gun rights advocacy organization that was founded in early 2018. It has quickly become Colorado's most active Second Amendment group with a focus on frontline activism and community outreach.