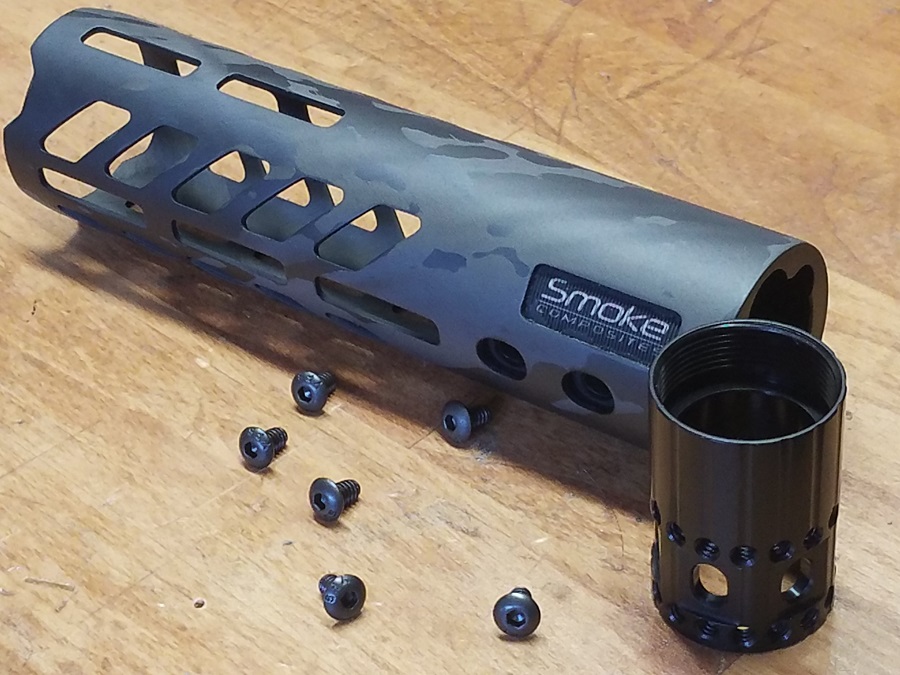 U.S.A. –-(Ammoland.com)- While plastics and various synthetics have been used in firearms design and construction since as early as the '50's, the synthetic revolution didn't really gain exponential traction until the '80's when Glock hit the market.  Since that time, we've seen many various polymer and resin formulas used for stocks and frames.  Carbon fiber has gained some traction as a lightweight alternative to metal and wood in certain usages, though myths and concerns about durability persist.  With this in mind, I contacted Smoke Composites owner John Omohundro to check out his carbon fiber forend.
First, we should talk about "Why carbon fiber?"
Increased heat dissipation.  Carbon fiber is fantastic at shedding therms, keeping the forend cooler as the barrel heats up, when compared to aluminum which acts as more of a heat sink.
Increased strength and rigidity.  There are many different "formulas" of carbon fiber, much like steel.  The numbers vary wildly, but it's in the safe range to claim most CF's will be at least twice as stiff as the equivalent weight of steel, and anywhere from 4 times (and up) as strong as the equivalent weight in steel.
Speaking of weight, CF is significantly lighter than aluminum, with around 72% as heavy per unit volume.  Comparing the Smoke Composites forend to the (discontinued) YHM forend it is replacing (similar diameter, same length), the tubes (no barrel nuts) weigh 3.81 oz versus 5.04 oz.  That's  Smoke Composites coming in at 75% the weight of the YHM.
Unless we're talking about CF barrels, the most sought after characteristic seems to be the weight reduction.  I first was recommended to Smoke Composites by contributors to the AR15 Parts Weight Database (PWD), a crowd-sourced effort to collate data on nearly all the AR parts available, to make selection easy for all builders, especially those geared towards ultralight AR-15's.  Smoke Composites also makes CF buttstocks and grips, at deliriously low weights.  This entire 7″ forend, with barrel nut and 6 set screws comes in at 5.4 ounces.
Fit and finish on the Smoke Composites forend is top-notch.  I mean that it is truly flawless.  The small recessed area where the company logo is emblazoned would be an ideal spot for deficiency, given the fine vertical ridges- nope, it's just as clean and sharp as the rest.
Installation is easy, as with nearly all AR forend setups.  Barrel goes in the upper, torque down the barrel nut, checking alignment with the set screw holes.  Once that's tightened, install your gas block.  With such a low profile barrel nut, there are no troubles getting the gas tube into the receiver.  Slide the CF forend onto the nut, and tighten down the 6 set screws.  As usual, the whole procedure took only a couple minutes, even with a coffee break.  There are MLOK slots at the 3, 6, 9 and 12 o'clock slots.  A different version with a molded-in top picatinny rail is available.
I can read about how light CF is all day, but intuitively it seems strange that such a light forend should be considered so strong.  So, I put the upper receiver into a vice block for a test.  I measured the distance between the tucked suppressor and the top of the forend to compare deflection, then hung some weight off the forend.  I started with 5 lbs and worked my way up to 25 lbs, all hanging on one loop of 550 cord.  Deflection was barely perceptible up to 7.5 lbs, peaked at 12.5 lbs, and didn't move another micrometer up to .019″ deflection at 25 lbs.  With an inside diameter or 1.786″, the forend was still nowhere near the 1.5″ diameter suppressor.
So then we have to hit the range.  While you're shooting, there's not a lot to notice with a carbon fiber forend, at least not right away.  Dropping a couple ounces is nice, but doesn't change a lot besides keeping you comfortable and possibly speeding up target transitions a bit.  When things started heating up a bit however, I noticed the heat diffusion.  Normally when I shoot suppressed with the can "tucked" under the forend, the aluminum gets hot, and stay hot.  The CF here seemed to breathe the heat off a lot quicker, especially given the generous cooling slots.  Lots of airflow here, for lots of cooling.
Bottom line, while adding a little carbon fiber here and there may not transform your gun into a whole other animal, you can take advantage of the space-age material to your benefit.  While the extremely lightweight will appeal most to ultralight AR builders, there's a lot to like for the rest of us too.  This forend is very light, very strong and very effective.  Smoke Composites is performing some wizardry with their carbon fiber parts, and their forend featured here shows just what they're up to.  This forend as shown comes in at $249, which is comparable for other CF builders and even magnesium forends.  I'm calling this one well worth it.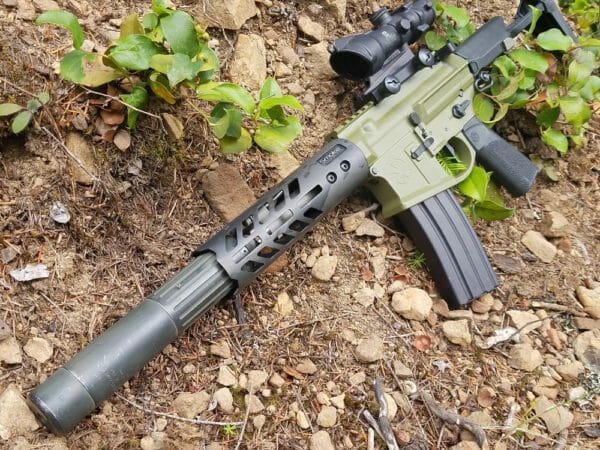 Smoke Composites not only makes sundry other handguard length and diameters, but also can cut custom lengths.  Check 'em out!
---
About Rex Nanorum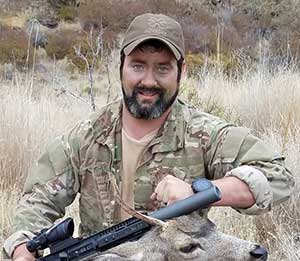 Rex Nanorum is an Alaskan Expatriate living in Oregon with his wife and kids. Growing up on commercial fishing vessels, he found his next adventure with the 2nd Bn, 75th Ranger Regt. After 5 tours to Afghanistan and Iraq, he adventured about the west coast becoming a commercial fisheries and salvage SCUBA diver, rated helicopter pilot instructor (CFII) and personal trainer, before becoming a gear reviewer and writer."