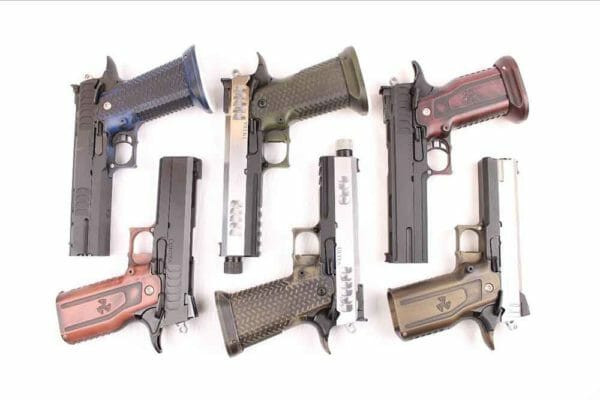 Washington, Utah –-(Ammoland.com)- Five years ago, Cobalt Kinetics of Washington, Utah hit the gun market hard and fast with a bold new interpretation of the AR-15. The "Cobalt" became the weapon of choice for the shooter who chose to stand out at the local range, club, or 3-gun match. The Cobalt rifle was marked by aggressive design, flashy colors and some very way-forward technology.
Now, Cobalt Kinetics announces it will be producing a line of handguns. Modular-framed, high-capacity 1911 based handguns. Cobalt alleges that they've been discussing the introduction of their own pistol for over 2 years. Cobalt will be releasing a complete line- to include a commander-sized carry pistol, a suppressor-ready tactical pistol, and USPSA competition pistols. While the exact features and details of each model are still being refined, Cobalt insists that they're willing and able to make good on most any custom requests from interested parties. This would indicate that these pistols are being built by hand in a custom fashion rather than being mass produced on a manufacturing line. The pistol-smith who is spearheading this endeavor is David Lake. He's a skilled gun-builder with 19 years of study and on-the-job experience in the craft. He has built competition handguns for world champions in various shooting disciplines. (He's also got a loyal following as a builder of precision bolt-action target rifles.)
Cobalt confirms that a few pistols have already been released and are out in the world being used by some lucky shooters. The images seen here are in fact photographs- not renderings. These handguns already exist. Cobalt makes no comment about the timeline for delivery of these new handguns, nor will they confirm the prices at this time- it's expected that like the BAMF rifle, this new product line will be very high end and command a premium at market.
This exciting announcement is accompanied by some somber news- Cobalt Kinetics will discontinue domestic sales of its entire lineup of semi-auto sporting rifles. Production of the BAMF -and all its variants like the EDGE, TEAM, RECON, and EVOLVE-will soon cease for the United States market. Production efforts will be shifted to manufacturing pistol components.
Vice president and marketing director at Cobalt, Skylar Stewart, commented, "We are sorry to have to take the BAMF out of production. We all worked tirelessly to create it and get it out into the world and establish and grow the market for the super-premium AR-15. But times change, market demand shifts, and we're only looking forward. We have really been wanting to expand our offering for a long time and this shift gives us the chance to make good on that plan. Our pistol-smith, Dave Lake, has a lot of experience and has given us a healthy head start on this thing. We're going to hit the ground running. We plan to break some rules, turn some heads and make our mark on the firearm industry again."
Cobalt Kinetics does still have a standing inventory of new and used rifles. The new guns are exactly that- new boxed inventory, while the used guns are all trade show samples and sales and range demo rifles in various conditions ranging from bearing a few slight handling marks to heavy cosmetic damage from extreme use. This inventory is being offered for sale to any and all with the foresight to get them while you still can. The Cobalt rifle will surely become a valuable commodity among gun collectors. Cobalt maintains that each of these last 200 new guns will be sold with a full factory warranty.
---
About Cobalt Kinetics

Cobalt Kinetics designs and builds firearms with bold aesthetics, cutting-edge technical innovation, state-of-the-art engineering and meticulous precision.
Cobalt Kinetics was founded out of dissatisfaction with the unending rows of the same black rifle on every gun shop wall across the country. The real issue with the "black rifle" is that there is little differentiation in the market and very little true innovation. Cobalt Kinetics broke from tradition and re-imagined firearm design and intent. Form and function could be enhanced by applying a careful balance of science, engineering, and art to the gun. Functions unique to Cobalt's rifles such as the Dual Drop and Cobalt Advantage Reloading System demonstrate this unique new approach. At Cobalt Kinetics, flaws in the original AR-15 design have been corrected and advancements have been implemented while maintaining ultimate precision, absolute durability and bold aesthetics. Cobalt is driven to create firearms that are more effective, more reliable and more rewarding to the owner.