U.S.A. –-(Ammoland.com)- Electronics have become a pervasive part of nearly every facet of our lives.  This certainly applies to both members of the military and hunters alike.  Relying entirely on technology at the expense of traditional methods is a surefire way to invite Murphy's Law into your lives, but using modern tech to augment the proven ways of old results in a massive capability multiplier.  The Global Position System (GPS) has similarly worked it's way into many facets of everyday life where it hadn't been before.  Flight systems, car navigation, cell phones and now watches.  The Garmin Tactix Charlie is the latest evolution in blending the every day and the advanced, taking a simple watch and stuffing it full of topographical maps and GPS.
The Garmin Tactix Charlie is an impressive beast when it comes to both hardware and software features.  Let's break it down by separating the two.
Hardware:
1.2" high-resolution (240×240 pixels), sunlight-readable display with domed sapphire lens; switch between daytime use and night vision goggle compatibility
Rugged design includes a black diamond-like carbon (DLC) coated titanium bezel, black titanium rear cover and stainless steel buttons — plus built-in Elevate™ wrist-based heart rate monitoring
Built-in navigation sensors include GPS and GLONASS plus a 3-axis compass, barometer, altimeter, accelerometer, thermometer and gyroscope
Up to 12 days battery life in smartwatch mode, up to 20 hours in GPS mode and up to 35 hours in UltraTrac™ battery saver mode
Water rating of 10 ATM
16 GB internal storage
Bluetooth connectivity
Silicone strap
Software:
Navigation features:  Comes with color topographical maps preloaded, with many more options available through Garmin Basecamp (PC).  Create and follow routes, mark waypoints and "shoot-n-go" to navigate to a far off spot.
Tactical features: Plan and use drop location and wind info for HALO, HAHO and static line jumps.
Fitness features:  Track heart rate, run speed/distance/pace.  Dozens more options for rowing, golf, weight reps, hiking, running and more.
I had to significantly edit the number of software features listed above to prevent this article from turning into an unreadable pillar of text.  Click here for the full spec sheet.
I don't use a lot of the features on the Garmin Tactix Charlie, like those related to golfing/running/swimming/biking and weight lifting.  The Tactix Charlie is customizable, allowing you to trim unnecessary menu items and options to slim the clutter.  This watch is configured to work with a few external apps, including Garmin's Connect, IQ and Basecamp.  Connect IQ has also enveloped what used to be Face-It, a watch customizing app that gives many options, even allowing you to use your own photos as backgrounds.  Each custom face can include barometric pressure, altitude, time, sunrise/set, date, battery and even various bits of physical movement metrics.  Basecamp is a PC based program similar to Google Earth, that allows you to receive and send navigational information and different maps.
The menus themselves are pretty easy to use, despite the number of options.  Chalk that up to an intuitive layout, with 5-buttons operating the various features.  Garmin keeps it simple when it comes to jumping straight to a compass or "Mark Waypoint", with 1-button press needed to access each.  Getting to a map takes 2-clicks.
Changing the face of the watch (and the background) seems like a small matter in a watch with a deluge of advanced features, but as it's the primary means through which data is transmitted it makes a big difference.  Changing data fields while hunting means I'm constantly fed info about barometric pressure, altitude and sunrise/sunset at a glance.  Back home, I can simplify the layout for a more streamlined display.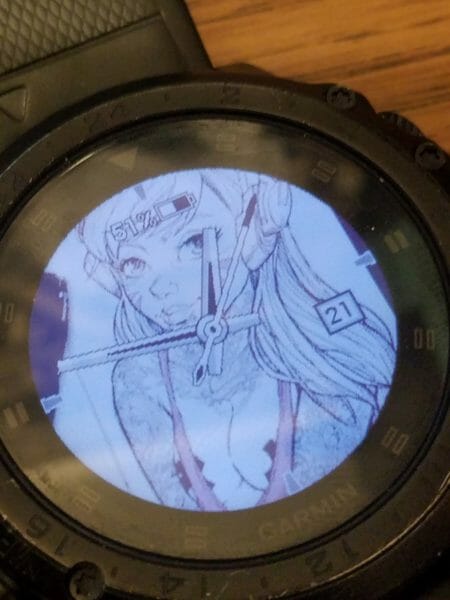 All this came in handy during last year's mule deer hunt in Eastern Oregon.  I took a shot on a buck who was walking along a very steep ridge.  After I shot him, he rolled downhill a ways.  I quickly marked my point, then took a compass heading to where he'd stopped rolling.  I had to pick my way down the treacherous slope, then up the other side.  The compass heading helped me find him, as he'd stopped rolling under a bush and was camouflaged in the dirt he'd rolled through.  I marked where I found him and marked where he was standing when I'd shot him.  When I got home I easily put that info onto my PC and was able to look at satellite imagery of my hunt, and could show exactly how far that shot was.
The map itself is bright and colorful.  It updates fast enough to be useful while moving, and doesn't take long to pick up a signal.  The antenna is sensitive enough to get an accurate reading, even when under heavy tree cover or in a garage under the second-story bedroom.  The compass is accurate, having been checked against the Lensatic compass I usually use for navigation.
All of these features come at a cost though.  Battery life in the Tactix Charlie isn't stellar, there just isn't enough room for a larger battery.  As such the Tactix Charlie needs to be plugged in about once a week during normal use, or every couple nights during heavier field use.  If you have a wall outlet or vehicle with USB adapter nearby, you're covered.  If not, I recommend taking a solar-charged battery bank with you, a field expedient method for topping off your uber-watch and cell phone.  Here's an example (I'm not affiliated with them and haven't tested that particular one, just for reference).  It's understandable that so many miniaturized pieces of hardware would squeeze out the battery, but none more than the GPS, which is known to quickly drain batteries in much bigger devices.
The battery is really the one downside when using the Garmin Tactix Charlie, and it's a pretty understandable trade-off at that.  As a GPS receiver and mini-map, the Tactix Charlie excels.  For a fitness tracker, Garmin's wunder-watch has features rivaling the most dedicated of exercise assistants.  For hunters, hikers, or military, the Garmin Tactix Charlie is a powerful tool that can significantly reduce the number of (and weight of) items you carry.  The Garmin Tactix Charlie runs $749, big price for big tech in a small package.  Check it out!
---
About Rex Nanorum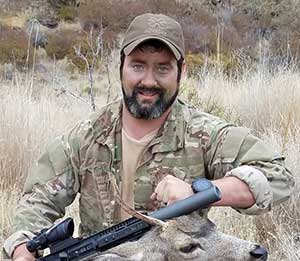 Rex Nanorum is an Alaskan Expatriate living in Oregon with his wife and kids. Growing up on commercial fishing vessels, he found his next adventure with the 2nd Bn, 75th Ranger Regt. After 5 tours to Afghanistan and Iraq, he adventured about the west coast becoming a commercial fisheries and salvage SCUBA diver, rated helicopter pilot instructor (CFII) and personal trainer, before becoming a gear reviewer and writer."