U.S.A. – -(Ammoland.com)- "Michael Douglas' son Cameron recalls passing around drugs at family Hollywood parties," Fox News/New York Post's Page Six reported Sunday. "He followed in his father's footsteps, at least when it came to drugs, only he took a rougher path. For years, Cameron was a coke and heroin addict, dealing crystal meth and living a life of destruction which led to nearly eight years in prison."
"Even as a really young kid, I remember running joints back and forth," Cameron Douglas writes in his — they're calling it a "memoir," if you can believe it. "Dad would say, 'Hey, bring this over to your uncle,' and I would, not realizing until years later what it had been."
Nice role-modeling. It's hardly a wonder the son imprinted off the example set by the old man, or that the life of an addict and dealer would lead him into "a series of stickups," where the over-privileged scion would put working people in fear for their lives. That Cameron now says the weapon he used was "an air gun" sounds self-serving and makes no difference anyway. That he felt terrorizing an old lady behind a motel desk for $20, and that that act of despicable cowardice entitled him to "bragging rights," speaks of seriously twisted character defects.
Defects, it would seem, the younger Douglas owes to his father, a doctrinaire gun-grabber and "United Nations Messenger of Peace."
"Sex is a wave that just sweeps over me," Michael Douglas whined in 1995 according to Parade Magazine and numerous other media outlets. "When the urge comes, I am helpless." That quote has not been retracted, but that Douglas didn't start publicly denying a stint in sex "rehab" until 20 years later, instead claiming an alcohol problem, is hardly absolving. It's also not very convincing, considering the reported $5M prenup for Catherine Zeta-Jones if he strayed. Add to that he reportedly lied about throat cancer "to protect his career," so he wholly owns all his credibility issues.
And getting caught up in #MeToo doesn't help. We're supposed to #BelieveWomen, right?
Someone with self-control issues demanding controls over the rest of us is but one reason Michael Douglas' gun stance reeks of hypocrisy: Despite profiting from guns in his films, he's been going after them off-screen for years, evidently since John Lennon was murdered by a lunatic ignoring strict New York City gun laws. Several years later, he lent his name and image to the Brady Campaign's "Light a candle/Too many victims" campaign. (As a side note, my blogging about that resulted in a troll hiding behind a mask of anonymity calling me a "coward" that suddenly stopped when I documented he/she frequented the Brady website log-in page. Busted.)
While he was speaking directed lines from a script, Douglas' Andrew Shepherd from 1995's An America President wasn't saying anything inconsistent with the actor's real-life positions:
"The other piece of legislation is the crime bill. As of today, it no longer exists. I'm throwing it out. I'm throwing it out and writing a law that makes sense. You cannot address crime prevention without getting rid of assault weapons and handguns. I consider them a threat to national security, and I will go door-to-door if I have to, but I'm gonna convince Americans that I'm right, and I'm gonna get the guns. We've got serious problems, and we need serious people."
But no one's talking about taking your guns, right?
Douglas doubled down in 2016 when he teamed with Alec Baldwin (of calling his young daughter a "pig" fame) to promote anti-NRA agitprop, "Making A Killing: Guns, Greed And The NRA," for Oscar consideration. It not only didn't make it among the finalists, but it also didn't make much of a box office killing either, and is now available for free on YouTube, with fewer than 4,200 views after over a year of being posted.
But the main reason for Douglas' duplicity is because of the drug use, and specifically its procurement.  We can stipulate that the War on Drugs is the reason why the violent criminal underworld is able to wreak such havoc, from Mexican cartels ambushing troops to the savage bloodshed occurring daily in U.S. inner cities like Baltimore, as gangs battle over turf and the resulting violent underworld culture victimizes everybody else.
We can point to the corrupting and self-defeating results of U.S. drug laws and enforcement and recognize that this is unlikely to change any time soon. Too many in government positions reap the benefits of money and power by playing their part in a rigged game. While the brutal system is not the fault of those who purchase illicit substances, what is undeniable is that the customers are the ones providing the money to keep things going.
And the "solution," the same people with the incentives for keeping and expanding drug policies tell us, is to disarm the citizens who have nothing to do with the trade or the violence, and who want to protect themselves from it. Like in Mexico and in Baltimore.
That, more than anything, is what makes privileged and protected "UN Messenger of Peace" Michael Douglas, who patronized the dealers then feeding their suppliers and ultimately, the murderous international organized crime networks that franchise them, so sanctimonious and despicable.
---
About David Codrea: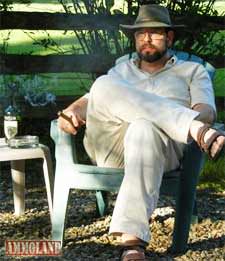 David Codrea is the winner of multiple journalist awards for investigating/defending the RKBA and a long-time gun owner rights advocate who defiantly challenges the folly of citizen disarmament. He blogs at "The War on Guns: Notes from the Resistance," is a regularly featured contributor to Firearms News, and posts on Twitter: @dcodrea and Facebook.