U.S.A. –-(Ammoland.com)- I'm always interested in checking out new EDC knives so when I saw the Buck 722 Spitfire, I had to check them out. As a kid I carried a medium size knife but in high school when I started rodeoing my mentor Doug Cook carried a G12 folder (I think that was the name of it. It was a big I assume Chinese import). I hadn't ever seen that big of a folder and for sure never had seen a lock blade knife. But since Doug carried one, I did too.
I have since long lost that original G12. From memory, it had to of been pushing 5 ½-inches closed. I have since evolved to where I favor a folder about the size of the Buck 722 Spitfire or 4-4 ½ inches closed. That is big enough to perform all of the tasks that I conduct with my EDC plus if I happen to be out hunting and forgot my hunting knife I can get by gutting and skinning an animal with one this size.
I've also grown to like the thinner profile knives. They're not as bulky and are easier to carry. They're just flat-out more comfortable to carry. I've never totally swallowed hook line and sinker the pocket clip concept and yet anymore I find myself using pocket clips 90% of the time. I'm always tempted to remove the pocket clip to make them even more compact but never have done so
There are a lot of features on the Buck 722 Spitfire that I like. Let's list them out:
The handle is grooved for the thumb and at the back of the handle for the last two fingers. With this design I feel like I maintain a firm grip while using.
It also has a thumb hole to allow for 1-hand opening.
As mentioned above, it has a pocket clip but is unique in that you can change the pocket clip to four different positions.
The blade rises ¼-inch higher than the profile of the handle, similar to a lot of the Spyderco knives.
With the finger guard, thumb grooves on the handle and on the thumb grooves on the first 3/8-inches of the spine along with the upraised spine, I feel like I have a firm grip on the Buck 722 Spitfire.
You have six color choices when buying the Buck 722 Spitfire plus and each color has the option of straight edge or serrated. For another $7.00 their website says that you can get it engraved.
As we wind down, I think this knife will make a great EDC or if you choose the serrated edge then it would be great for backpacking, river rafting or boating.
You can get the Buck.722 Spitfire for an MSRP of $51.00. For you that are anal on this, it is made in America. And as is usual, we will close with the spec.
Buck 722 Spitfire Specs:
BLADE SHAPE DROP POINT
BLADE LENGTH 3 ¼"
BLADE MATERIAL 420 HC
WEIGHT 3.2 oz.
CARRY SYSTEM POCKET CLIP
---
About Tom Claycomb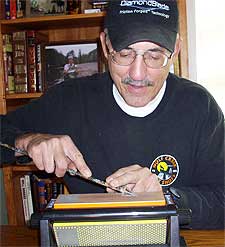 Tom Claycomb has been an avid hunter/fisherman throughout his life as well as an outdoors writer with outdoor columns in the magazine Hunt Alaska, Bass Pro Shops, Bowhunter.net, and freelances for numerous magazines and newspapers. "To properly skin your animal, you will need a sharp knife. I have an e-article on Amazon Kindle titled Knife Sharpening for $.99 if you're having trouble."
Disclosure: Some of the links below are affiliate links, meaning at no additional cost to you, Ammoland will earn a commission if you click through and make a purchase.