U.S.A. – -(Ammoland.com)- "Jackson Mayor Chokwe Antar Lumumba on Friday said he signed an executive order to temporarily ban open carry of firearms in the city, so long as there's a civil emergency related to the COVID-19 crisis. And he's also seeking a permanent ban of the state law," the Clarion Ledger reported Sunday. "The order remains in effect through Thursday. It is possible it will be extended, according to the city's existing stay-at-home orders."
It's a clearly illegal order that violates state law. That's never stopped "progressive" mayors from flouting duly enacted laws that stand in the way of their agenda before. In this case, Lumumba's "justification" ought to anger anyone who can see through the weasel-wording and grasp the significance of what he's really saying.
"Prior to open carry, when Jackson police officers saw a gun in plain view, it gave them probable cause to seize the weapon and determine whether or not it was an illegal gun," Lumumba asserted — like that was a good thing. In other words, the trigger for a potentially lethal police confrontation is not whether you're abusing a right, but that you're exercising it in the first place.
This is just a new twist on "stop and frisk," which evidently is dependent on who's doing it before it is objected to. It would be interesting to review police reports and trial transcripts to see if the stated concern has any bearing in fact and to see if even one case shows this has been a factor in enabling a later homicide.
There's a history of gun-grabbing politicians imposing "emergency"-based infringements. Hurricane Katrina confiscations come immediately to mind.  And perhaps surprisingly to some, that's also been backed by some who built a public reputation on being "conservatives," like former Fox News frontman Bill O'Reilly.
There's also a history of gun-grabbing politicians imposing disarmament in spite of "preemption" laws. The curious thing about the "home rule" argument is those demanding it never seem to raise it when a national or state law imposes infringements  — cases in point, they're all fine with national diktats to ban semi-autos or to impose due-process-denying "red flag" edicts.
Still, it's hardly surprising that Mayor Lumumba would prioritize going after guns. Endorsed by the Bernie Sanders-inspired Our Revolution and promising to make Jackson the "most radical city on the planet," as well as by the "quasi-Marxist" Working Families Party, he was a beneficiary of the Bloomberg Harvard City Leadership Initiative, where he received training from the "finest" apparatchiks rope-selling "capitalist" money can buy.  And while the sins of the fathers can't be attributed to their progeny, noting that his was prominent in the racist New Afrika separatist movement "that aimed to turn the Deep South into an independent black nation," shows the fruit hasn't fallen far from the tree.
It is instructive to see not just what the gun-grabbers would do if they had the power, but also to grok the company they keep. That said, Lumumba's order is legally DOA.
"Mississippians enjoy the right to lawfully open carry in all of Mississippi's 82 counties and in every municipality within the State. The City of Jackson is no exception," State Attorney General Lynn Fitch cautioned the mayor. "The City lacks statutory authority to suspend a state statute or constitutional provision. Accordingly, I ask that you rescind the Order immediately. I take seriously my obligation to protect Mississippians' constitutional rights, and I will take every action available to my office to ensure these rights are not infringed upon."
It's past time we saw some rights enforcement added to the law enforcement mix, especially when it comes to guns.
Additionally, Mississippi State Representative Dana Criswell filed a "Complaint for Declaratory and Injunctive Relief" Monday with the United States District Court for the Southern District of Mississippi. He's calling Lumumba's bluff.
"Rep.  Criswell intends to continue openly carrying a  firearm in a  holster while in public in Jackson, Mississippi, for self-defense," the complaint notes. "Rep. Criswell intends to be in Jackson, Mississippi, on or before April 30, 2020, and wishes to exercise his constitutional  right to openly carry a firearm in public in Jackson,  Mississippi, for self-defense."
Let's hope Mayor Chockwe has fun looking like an impotent fool. That's some Bloomberg training he's managed to misapply through arrogance and overreach. I'm just surprised organized armed civil disobedience hasn't been reported yet.
Can you imagine the lawsuit if the "leader" of the "most radical city on the planet" had his enforcers arrest anyone for defying a clearly illegal order? Or the fallout should illegal arrests be resisted by those who can?
---
About David Codrea: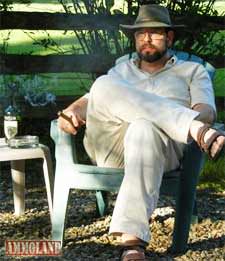 David Codrea is the winner of multiple journalist awards for investigating/defending the RKBA and a long-time gun owner rights advocate who defiantly challenges the folly of citizen disarmament. He blogs at "The War on Guns: Notes from the Resistance," is a regularly featured contributor to Firearms News, and posts on Twitter: @dcodrea and Facebook.