U.S.A. – -(Ammoland.com)- "A man who shot and killed an elderly couple at a veterans cemetery in Delaware earlier this month was fatally shot by police during a shootout in a wooded area," the Associated Press and other "news" outlets reported Saturday. The couple was visiting the gravesite of their son when their murderer opened fire on them for yet undetermined reasons.
Here's what the "Authorized Journalists" did not report, and what the readership would never know about unless they frequented niche blogs that specialize in pointing out infringements on the right to keep and bear arms: The cemetery was mandated by law to be a so-called "gun-free zone," meaning "law-abiding" visitors are at a disadvantage when confronted by law-breakers who pay no attention to such diktats.  Per the Delaware Office of Veterans Services:
"Visitor's Stands Of Conduct: In keeping with the honor bestowed on state veterans' cemeteries, it is considered fitting and appropriate that visitors to these hallowed grounds refrain from any conduct or activity that is unbecoming to the final resting place of our nation's heroes. Accordingly, visitors are not authorized to … Bring firearms or explosives of any kind into the cemetery. Authorized military escorts are exempt."
Not that a reversal of that policy would have done these particular victims who were residents of Maryland any good, as "may issue" there overwhelmingly means "may not." There's even a relevant Supreme Court case awaiting word on whether "cert" will be granted, Malpasso v. Pallozzi.  The state's requirement for a "good and substantial reason" before issuing a permit to carry a handgun outside the home for self-defense purposes is being challenged on Second Amendment grounds.
But we're not talking just Maryland, and we're not talking just Delaware. The veteran's cemetery gun ban applies throughout the Republic, and it's past time our "friends" in politics who enjoy gun owner support and "A" ratings from our lobbying groups did something about that.
If you want to go visit the resting place of a veteran loved one, you must do so unarmed, at least if you don't want to put yourself at risk for violating Veterans Administration regulations, which:
"…prohibit the carrying of firearms (either openly or concealed), explosives or other dangerous or deadly weapons while on VA property, except for official purposes, such as military funeral honors.  Possession of firearms on any property under the charge and control of VA is prohibited. Offenders may be subject to a fine, removal from the premises, or arrest."
That's further spelled out in the authorizing Code of Federal Regulations:
"Conduct in violation of the rules and regulations … subjects an offender to arrest and removal from the premises … Whomever shall be found guilty … is subject to a fine. Violations … may also subject an offender to a term of imprisonment of not more than six months…"
"It seems a curious attitude for the government to impose on the living, particularly on ground established to memorialize those who risked, and sometimes gave all in defense of freedom and the Constitution they swore an oath to uphold," I noted the last time I broached this subject on AmmoLand. "There is no legitimate reason the government … can give that should supersede the rights of deceased veterans' survivors."
"Will it take some Bad Guy With A Gun doing something horrible in one of these Certified Defenseless Victim Zones to get any action?" comment poster "Tionico" asked in response to that column. With the Delaware murders, we have the entirely predictable fulfillment of his prophecy, while any hope for positive action is far less certain.
We saw no such action when Republicans were in control, and these are politicians who, for the most part, owe their elite positions to gun owner support and votes. Don't expect to see any movement until after the November elections, and then only if the Democrats do not expand their power. But if by chance the GOP can hold the Senate, retake the House and keep that idiot Joe Biden out of the White House, it won't be out of line for gun owners to demand an end to Veteran Cemetery "gun-free zones." And while many of us would prefer to see "shall not be infringed" adopted, realistically, it would still be a net gain and "good first step" to see a parallel to what has been done in National Parks, where military cemeteries defer to the laws of the states in which they exist.
If it's not a waste of time with them, please join me in making this expectation known to your representative and senator(s), and to the president. And have a meaningful and reflective Memorial Day as we strive to remain worthy of the inheritance bequeathed to us by those who lost their lives believing they were fighting for freedom.
---
About David Codrea: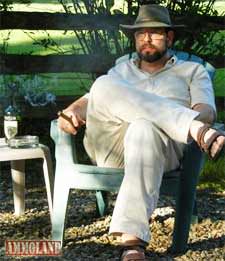 David Codrea is the winner of multiple journalist awards for investigating/defending the RKBA and a long-time gun owner rights advocate who defiantly challenges the folly of citizen disarmament. He blogs at "The War on Guns: Notes from the Resistance," is a regularly featured contributor to Firearms News, and posts on Twitter: @dcodrea and Facebook.